Tongariro Landscapes 3
Living nearby means when the weather is good, you can jump in the car and go. However during the winter of 2008 there has also been a bit a tendency to also jump on the snow storms.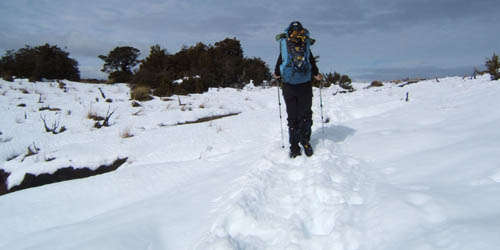 One of many weekends out. Snow shoeing around Blyth hut after a meter of fresh snow.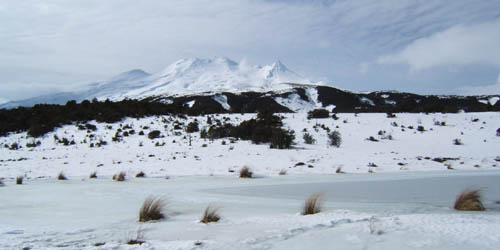 Girdlestone is prominent from the south.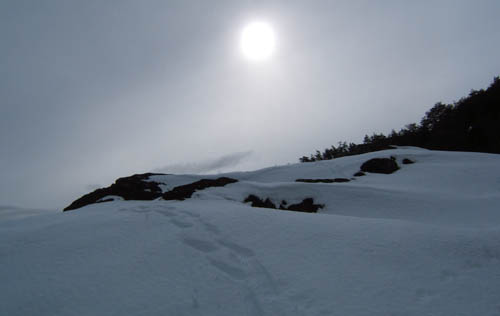 Yetti aka snowshoe tracks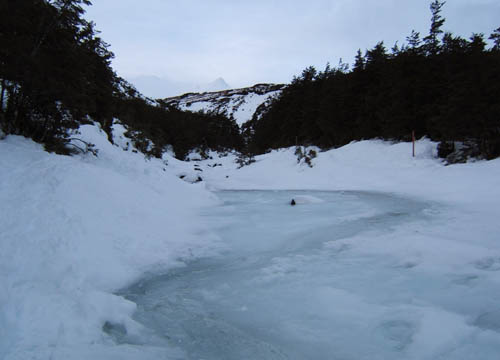 River of slush, just crossable in snowshoes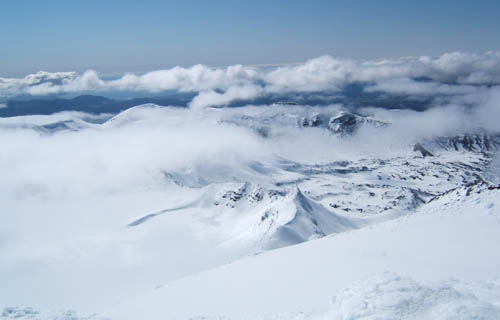 Oturere area from Ngarauhoe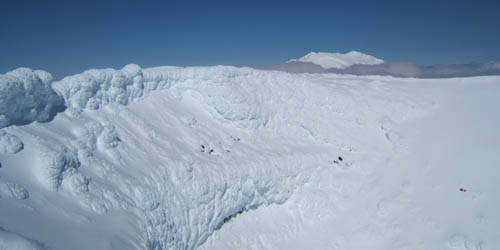 Inside Ngarauhoes crater, Ruapehu behind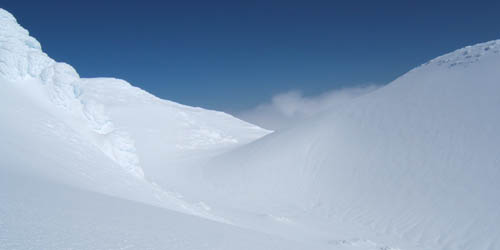 The half moon valley outside the primary crater.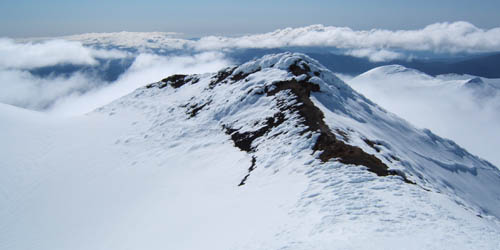 Some thermal activity here and there.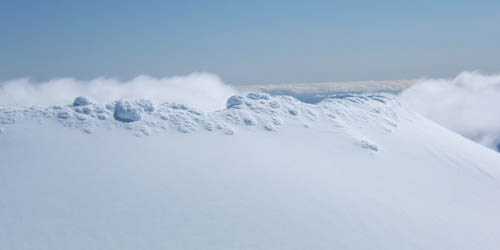 Crater rim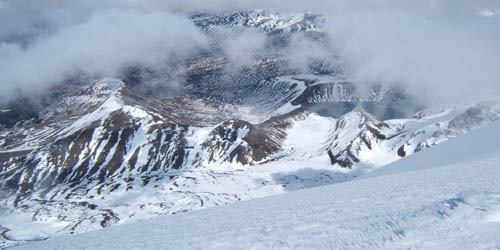 Looking down to Tama lakes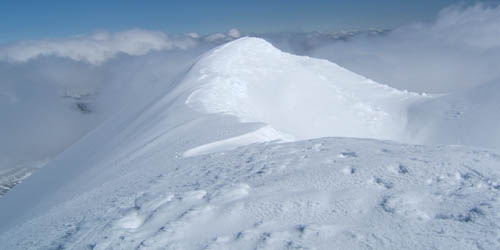 Old crater rim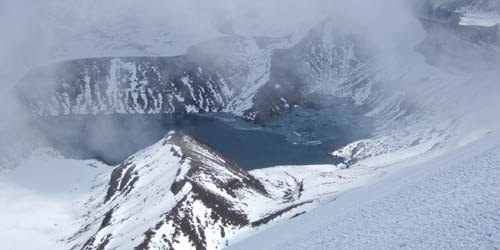 Upper Tama complete with icebergs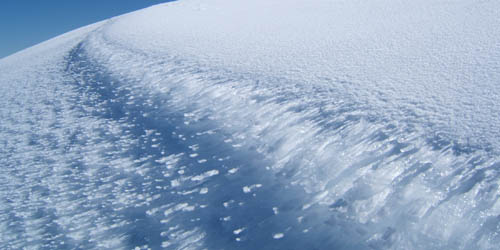 Icicles on the rim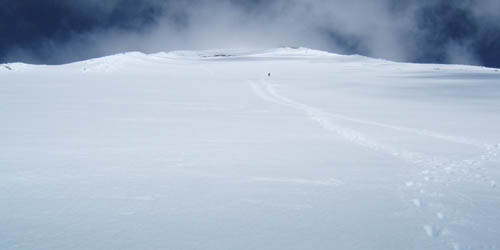 1000m and 2 hours up, 20 seconds down.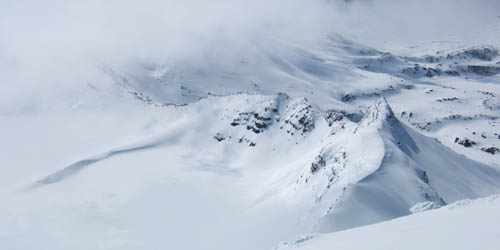 Bump on the edge of south crater.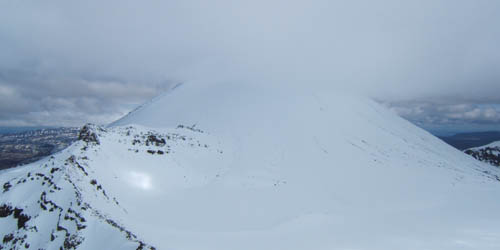 Ngarauhoe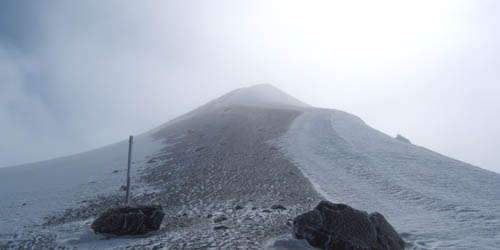 I decide to do the Crossing in a spring storm. Redcrater on return trip from Oturere, the wind and sleet have eased, but it will knock you over from time to time.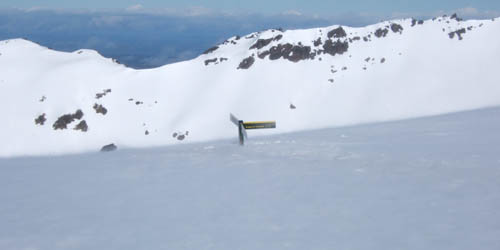 Red crater, still blowing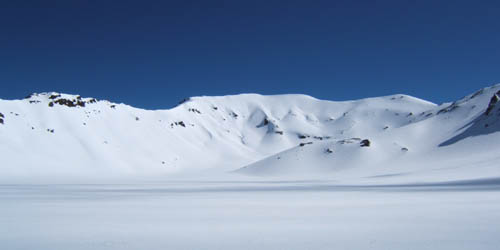 South crater, beautiful now.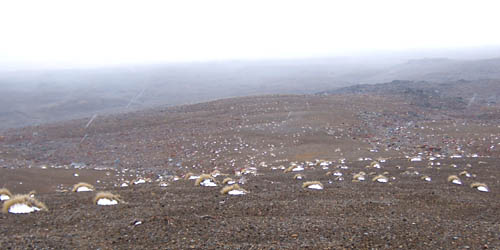 Round the mountain with Oliver. These are us humans with our heads in the sand, hoping the crisis that is our civilisation will go away.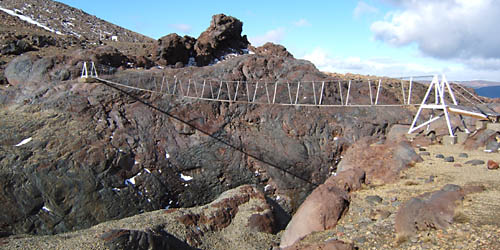 Whangaehu swing bridge
Its a long way down and still the lahar has washed this bridge out three times.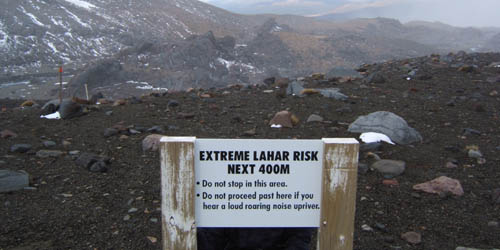 We were inclined to wonder what a loud roaring noise would actually sound like.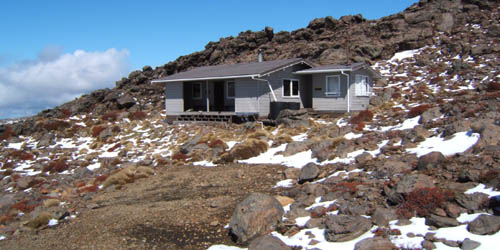 Rangipo Hut, an isolated spot to rest, and ponder.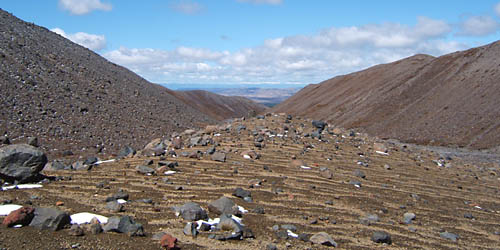 Just some of the vastness that is the Rangipo desert.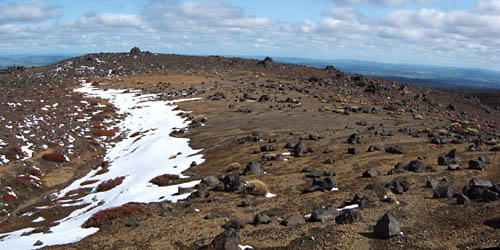 More of same.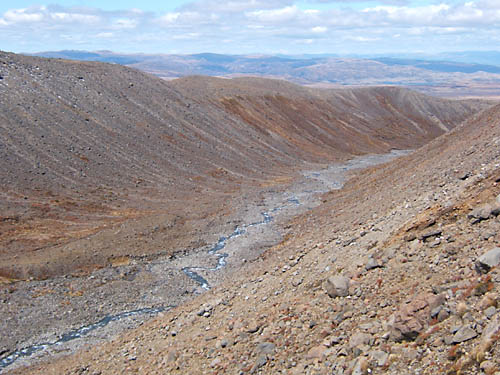 The massive Waihianoa Gorge.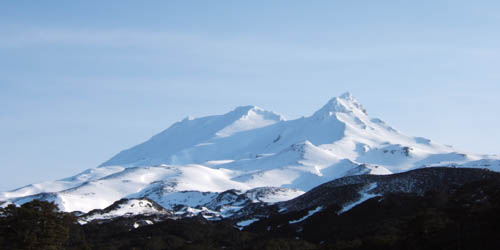 Girdlestone again.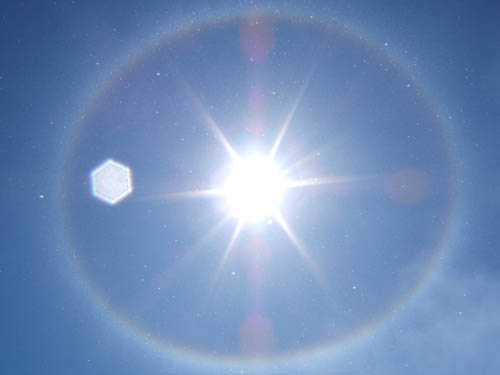 A passing snow shower creates a circular snow rainbow, on a daytrip to crater lake.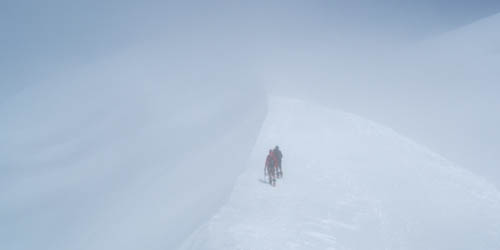 Cloud has risen up to engulf us.
Just clouds and the mountain.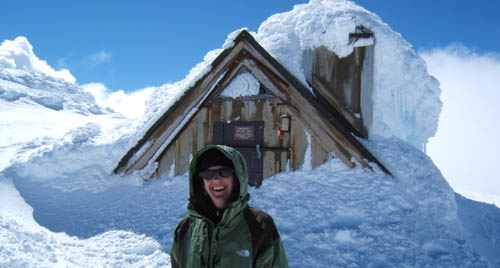 Dome shelter, highest building in NZ.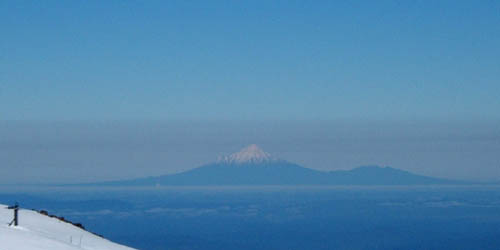 Another daytrip to the summit. Hazy, warm spring weather.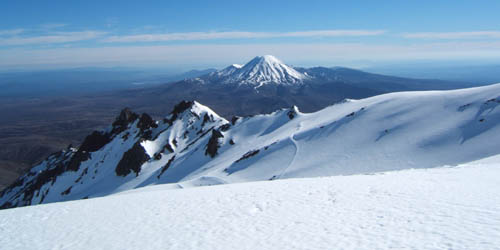 Ngarauhoe losing its snow now.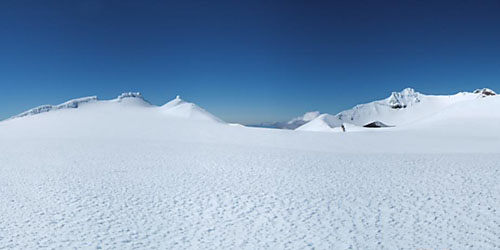 Vast ice land. Tahurangi peak at right, Lake tucked beneath.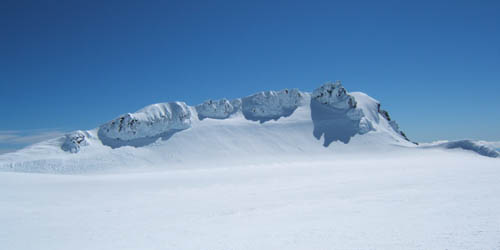 Tukino with its winter coat.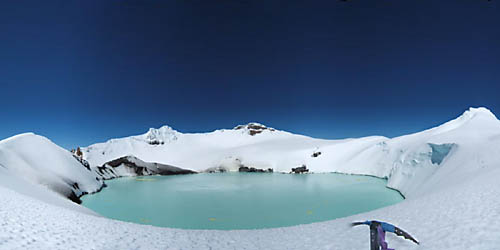 A good view of the lake from the lip to the north. Pyramid at left, Paretetaitonga at right.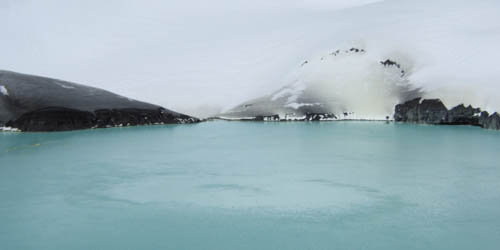 You can clearly see where the spring emerges.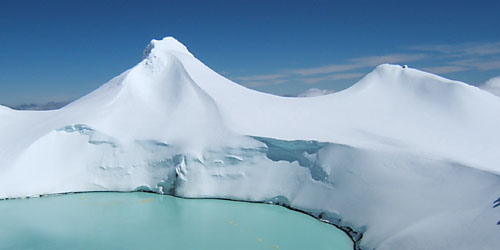 View of crater lake and Paretetaitonga from the Little Pyramid. Dome shelter just poking out at right.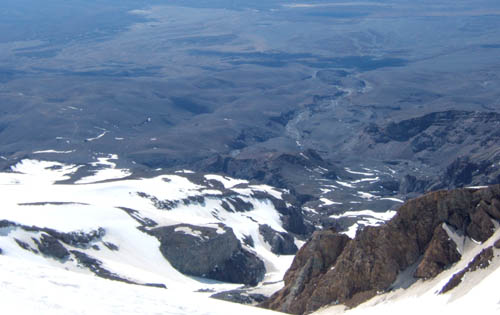 The Whangaehu glacier, and catchment. Hut on bluff, middle, low center.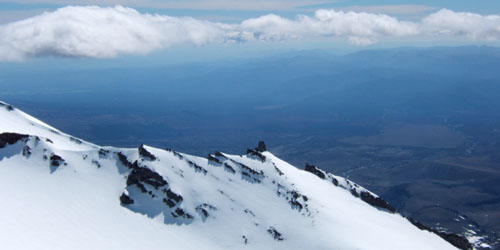 Rocks on ridge.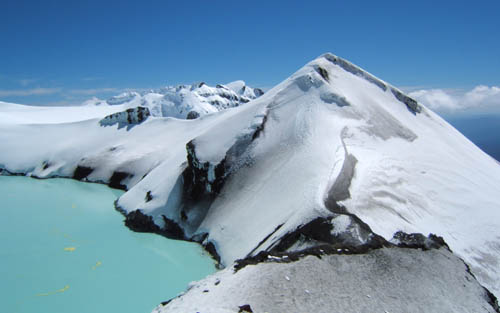 Pyramid from south,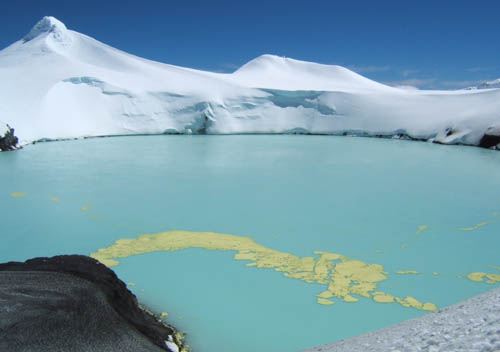 Lovely sulphur residue
Descending the south side of the Pyramid involves a bit of 50 degree icy downclimbing.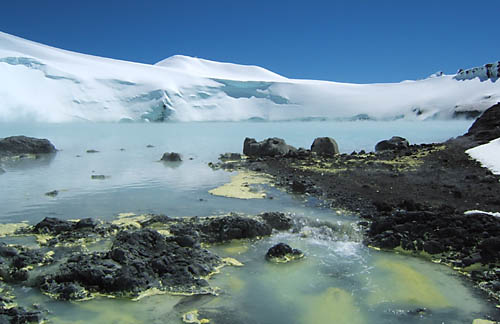 Taken from the outfall.
Returning home via Paretetaitonga.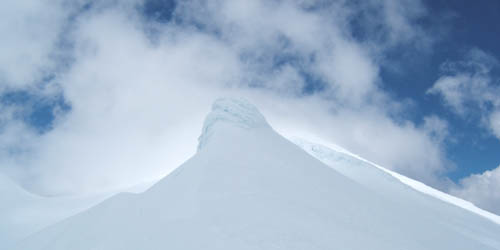 The Pare ridge is punctuated with numerous icy steps. All can be skirted or downclimbed.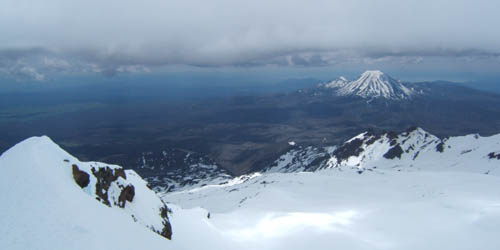 A whiteout comes and goes exposing or hiding the sheer drop down into the Whakapapa glacier. Um, ex glacier.
---
Photos Index
---
2008-11-14 www.zoneblue.nz/cms/page.php?view=tongariro-landscapes-3