North Island 2020
Returning to NZ was something that took some time to grow on me. The co-driver was keen to see the North Island, and over three months it would become clearer why. But first we had to pry ourselves free of the mainland. Having decided to walk the St James Walkway, the still springish weather was unsettled, and stormy.
It had been a very long time since i saw Ada Pass Hut, but good to be back and to see nothing has changed. The track was a little rough in places, but we had the park to ourselves.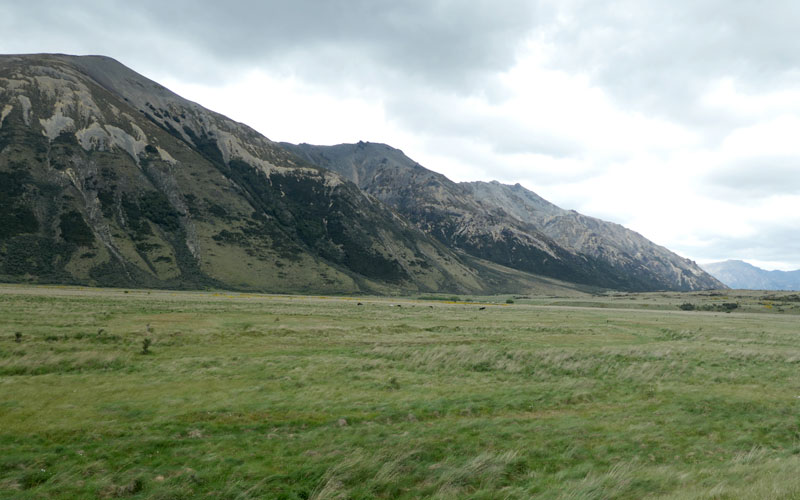 Big open spaces are one of the features of this walk. If you look closely you can see a herd of the famous St James wild horses, including a few foals.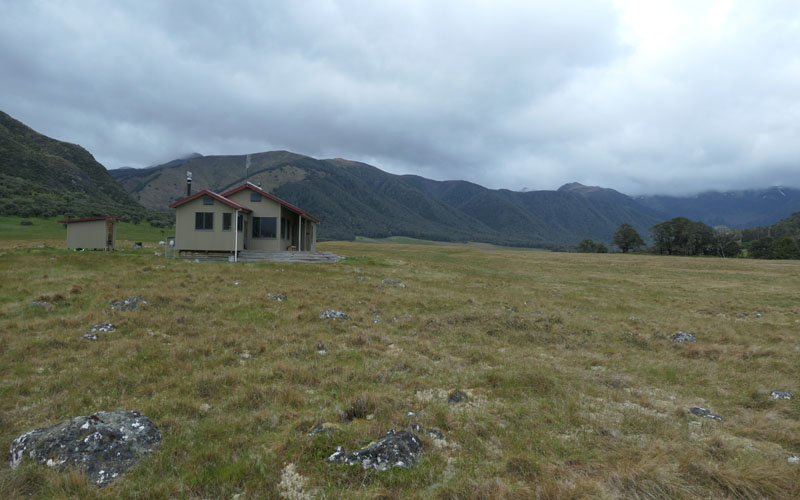 Anne Hut has been rebuilt in the mansion style, and on a new and much more exposed site. The wind howled through the hut penetrating every pore.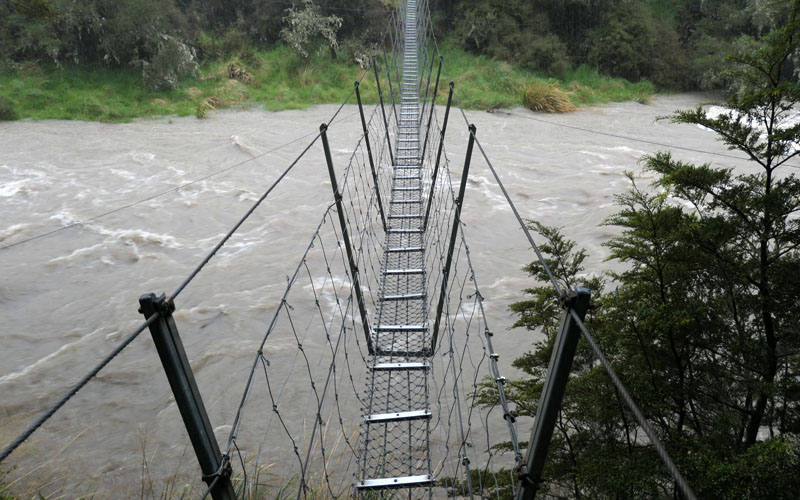 So right on schedule this storm front arrived bringing at least 8 inchs of rain. This meant a hut day, spent spring cleaning the hut. There might have been a swing bridge over the Boyle, but many small side creeks are unbridged and become unpassable in such weather.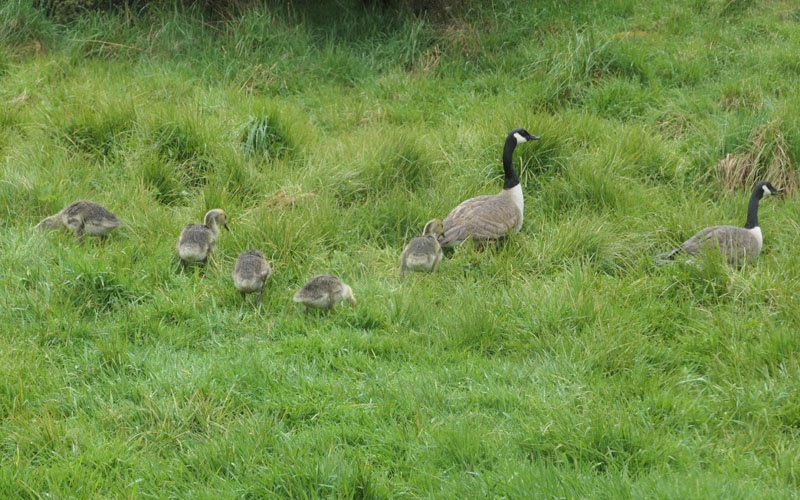 The park contains more Canadian Geese than cattle, vast mobs of them.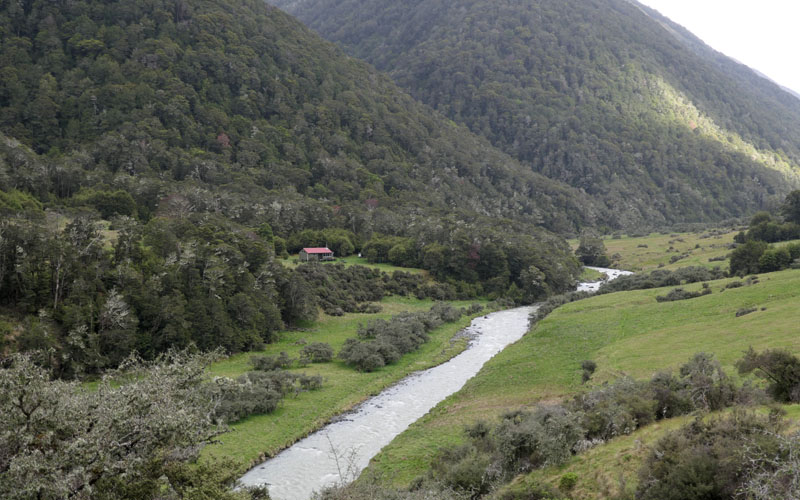 After a second night the river had dropped enough to move.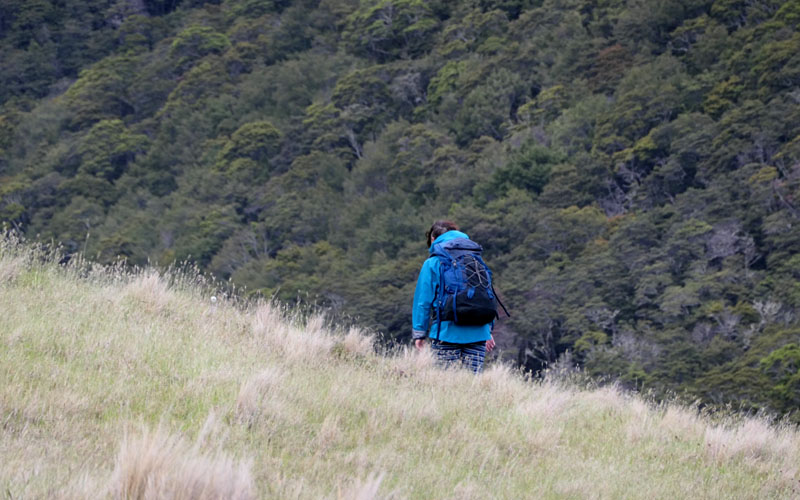 Blue is of course always a good choice.

The crossing was a stunningly clear day, and the interislander ferry puts us once again in the North Island after a 2 year absence.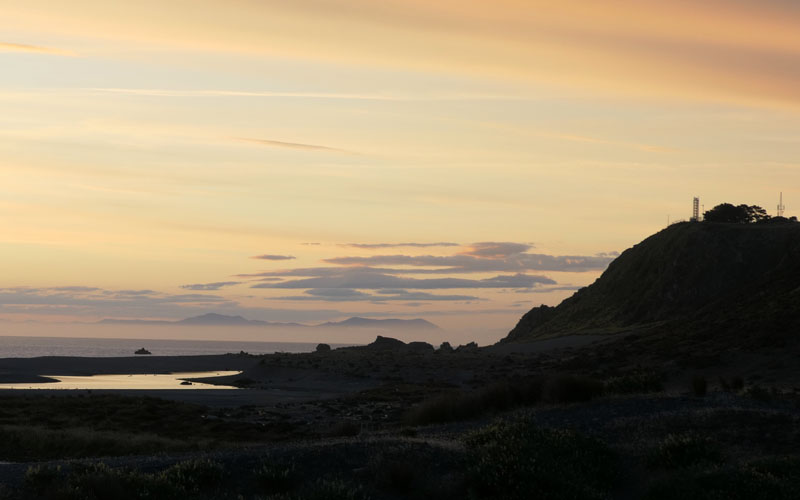 After the obligatory Wellington visit, and a surprisingly pleasant stay in the Wilson's Carpark next to Te Papa we head off to Baring Head. The sun sets over Marlborough.

This is a view to Wellington Central overlooking Lower Hutt. Never having explored around Wellington it nice to visit the various headlands and lighthouses going east into the Wairarapa.

Lake Wairarapa is a quiet spot, and nearby Featherston has an excellent Danish Baker, and farmers market.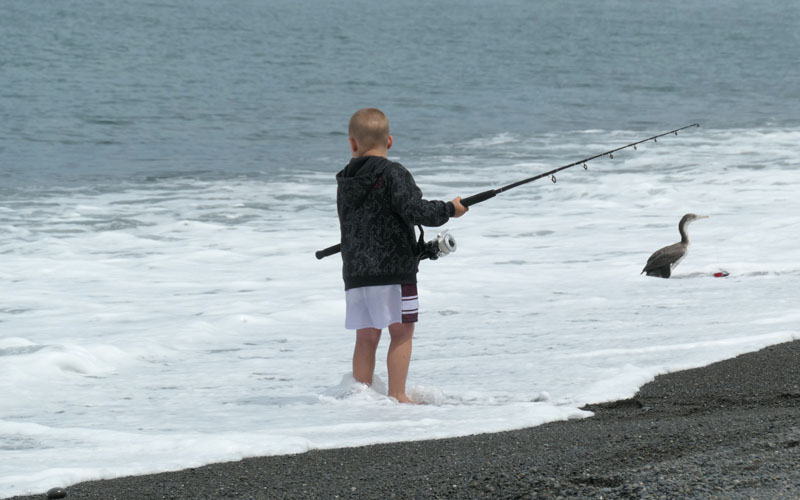 At Lake Ferry, among the fisherpeople, there is this boy and a shag which seem to have adopted each other.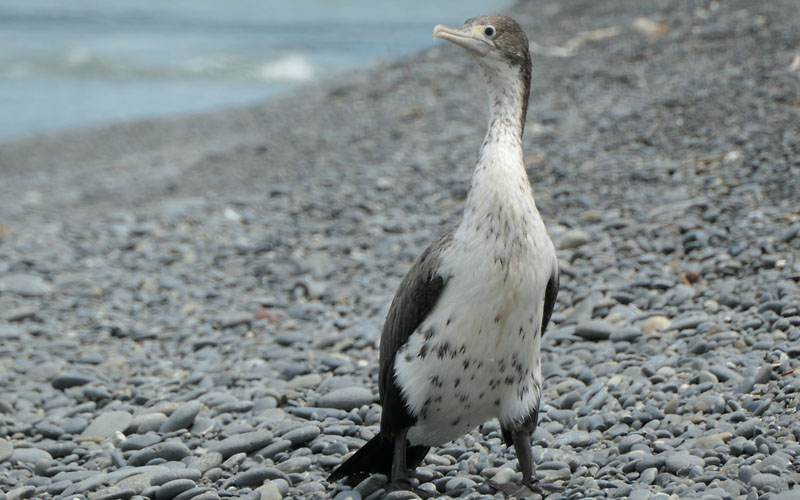 Where its possible to get quite close.
Actually very close.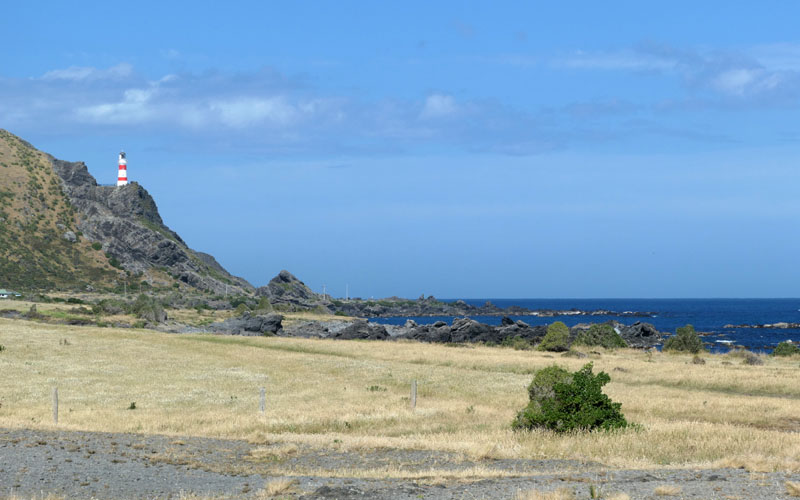 So after a few days we end up at Cape Pallaiser and its striking lighthouse.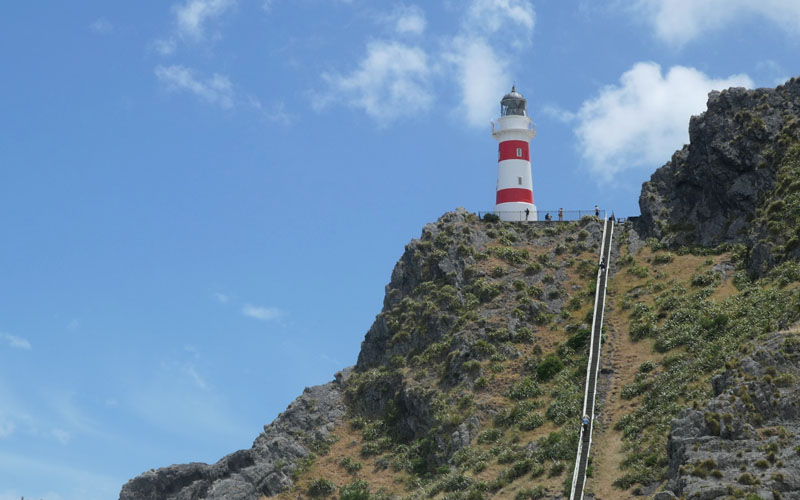 I think the former lighthouse keeper would have had no problems keeping fit.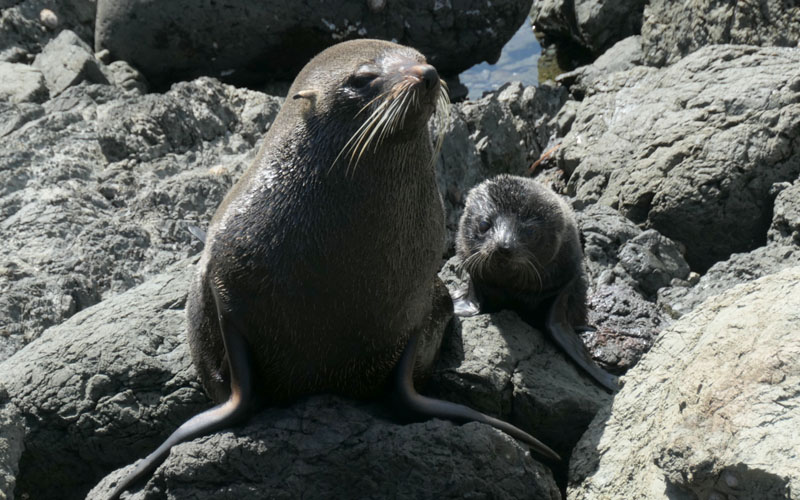 There are a lot of seals in the area, and they in in full on nursery mode this time of year.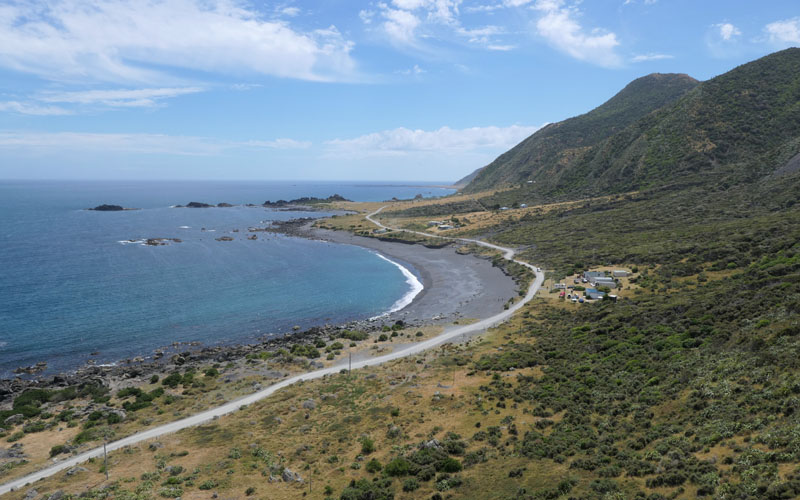 This is the view looking north, on what is i assume a tectonically lifted old seabed.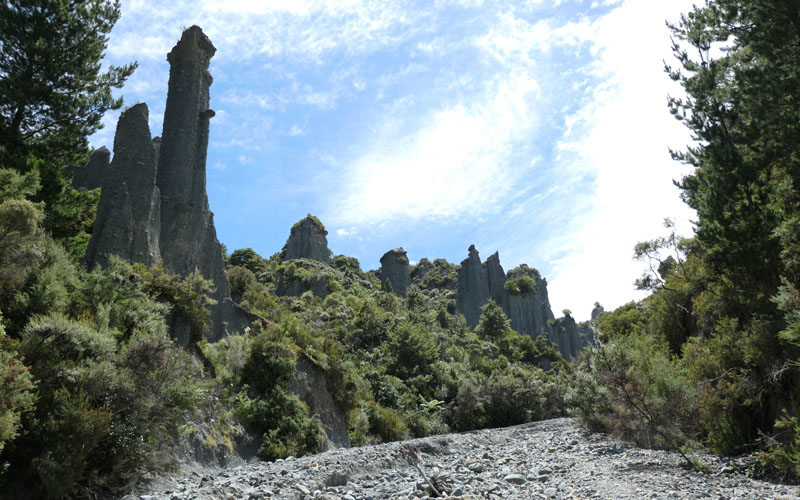 Some striking erosion in the creekbed nearby.
Ditto.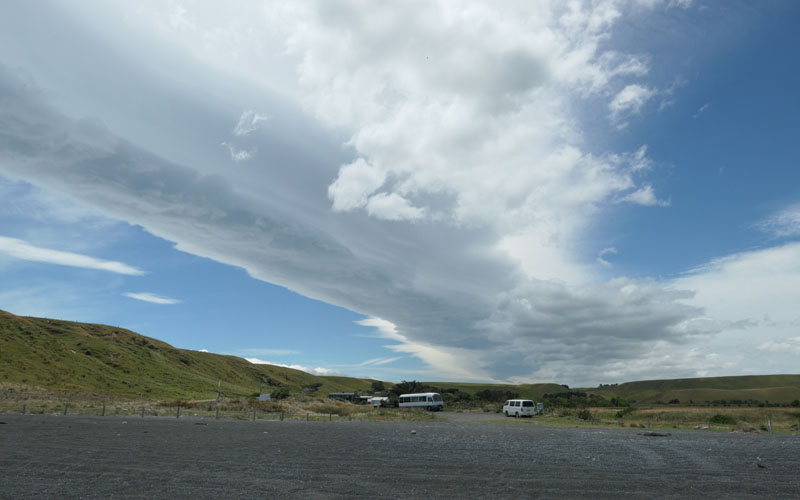 There is a incoming front in the forecast, and as it broaches the Tararuas, forms this impressive cloud bank. Shot taken from the coast near lake Ferry.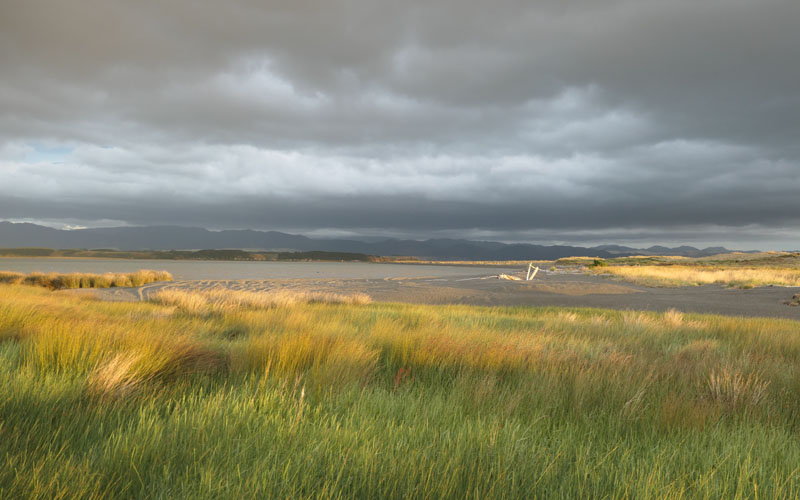 And the view from our camp site that night. A truly beautiful spot.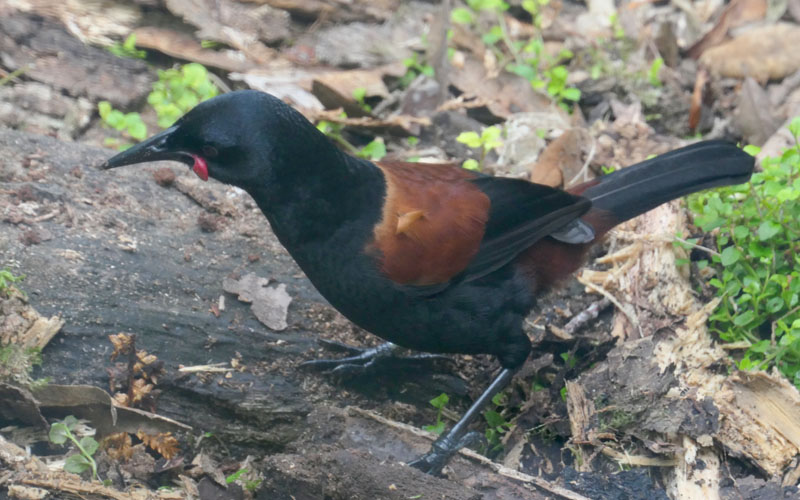 After that we visited the wildlife center at Mt Bruce. The place feels sparsely inhabited, but we manage to see some saddlebirds, bell birds, takahe, and their white kiwi.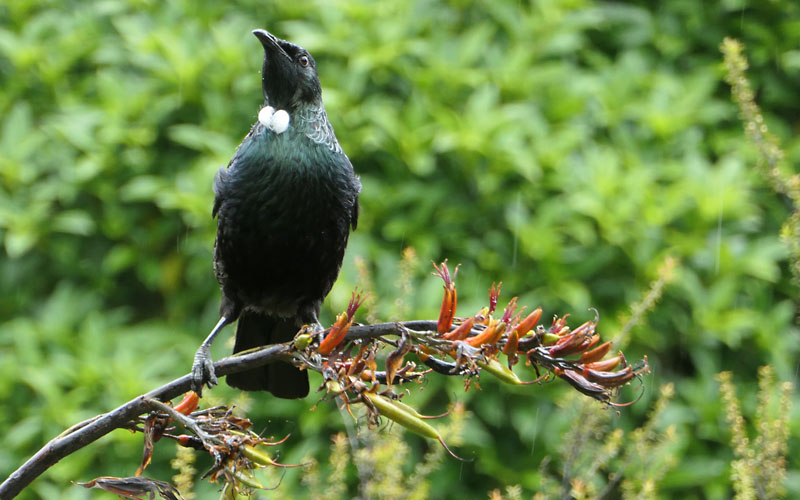 This tui wasnt in an enclosure it just dropped by.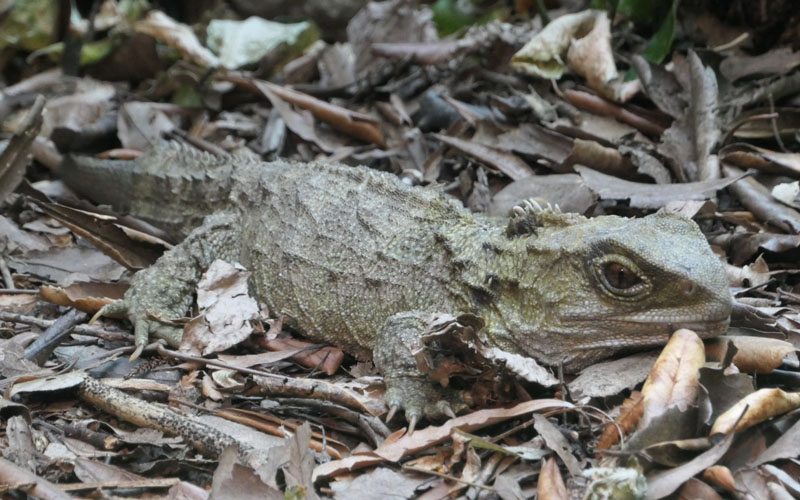 There are a couple of Tuatara too.
Castlepoint is a popular place to visit on the east coast, and fortunately for us, the weather was bad that day, so only a few hardy souls were there.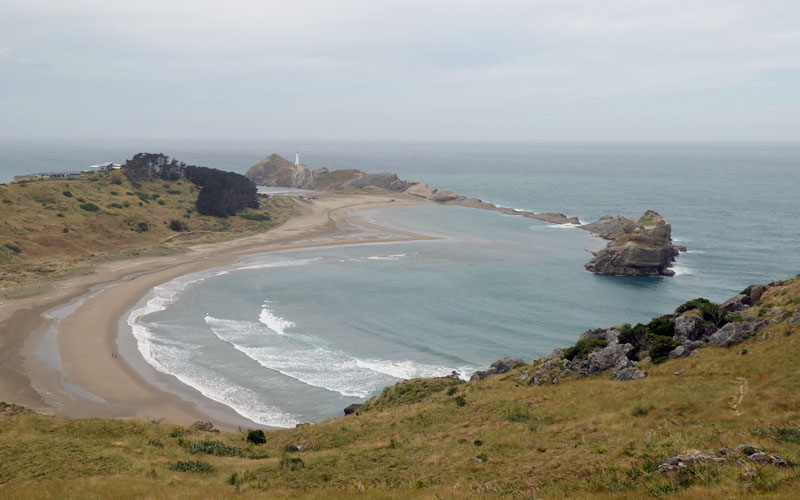 The place also has tectonic signatures in the form of this uplifted sea barrier. Which makes for a sheltered bay on an otherwise rugged coast.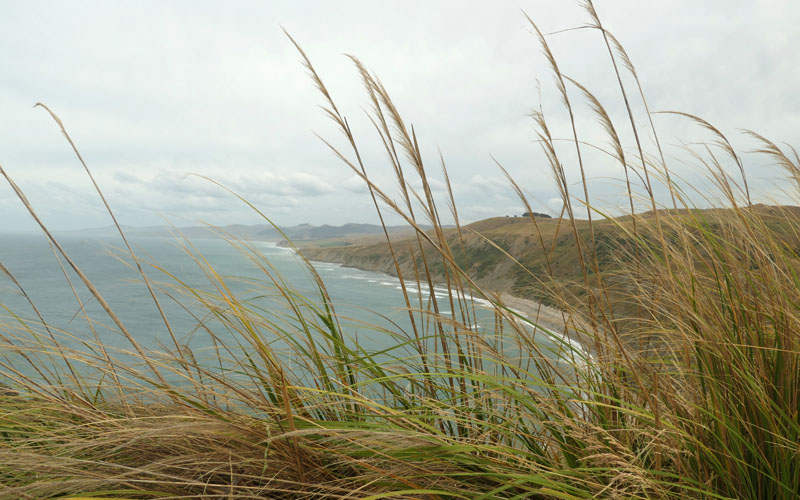 Looking north from the coast walk.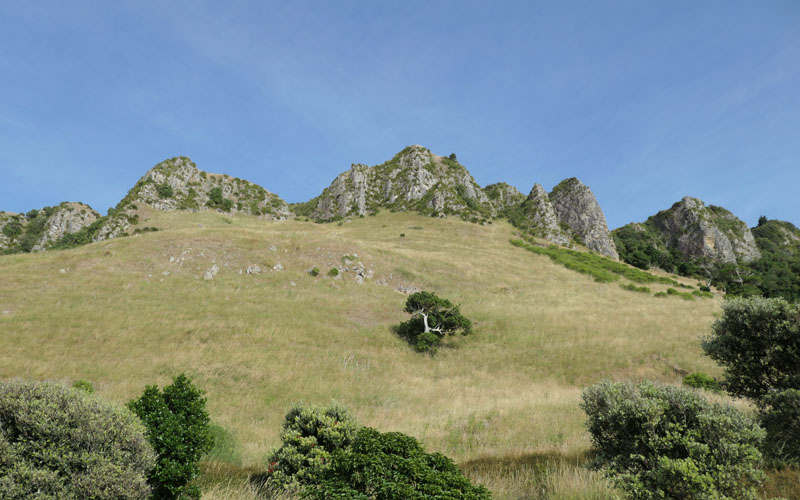 At Wairangakau Beach towards Hawkes Bay, we climb this hill behind the camp.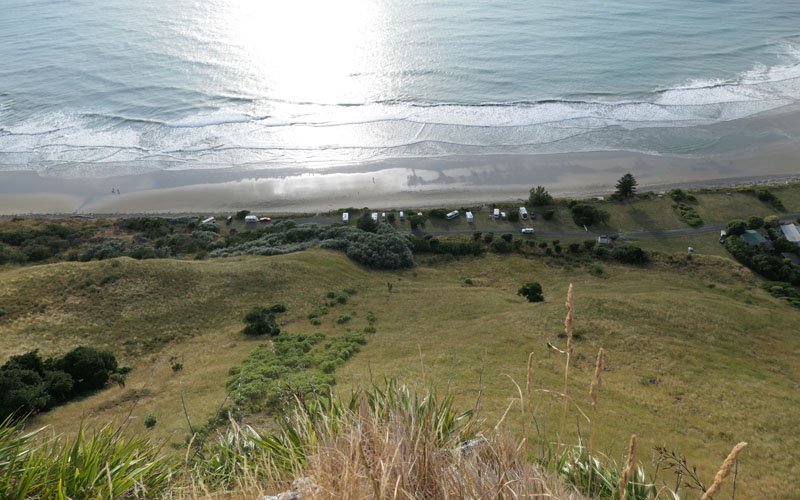 Up top.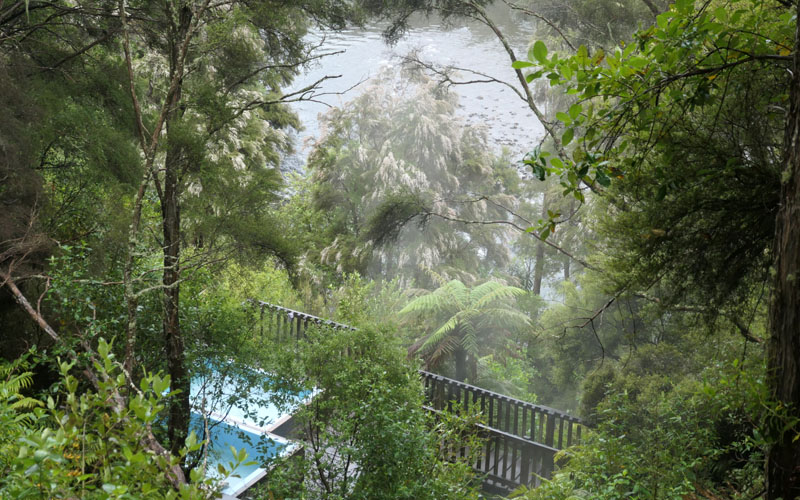 For Christmas we head to Mangatutu Springs in the Kawekas. Its a long drive into the hills on progressively less civillised roads. But the springs were delightful in the misty weather, and the Manuka flowers hang heavy in the trees like Xmas decorations.

At Mahia, this is view looking east along the broad expanse of curved beach.

And looking back from a hill on the other end.
After a stay in Koanga and rather quicker visits to Gisborne and Wairoa, we head around the east cape to Tolaga Bay.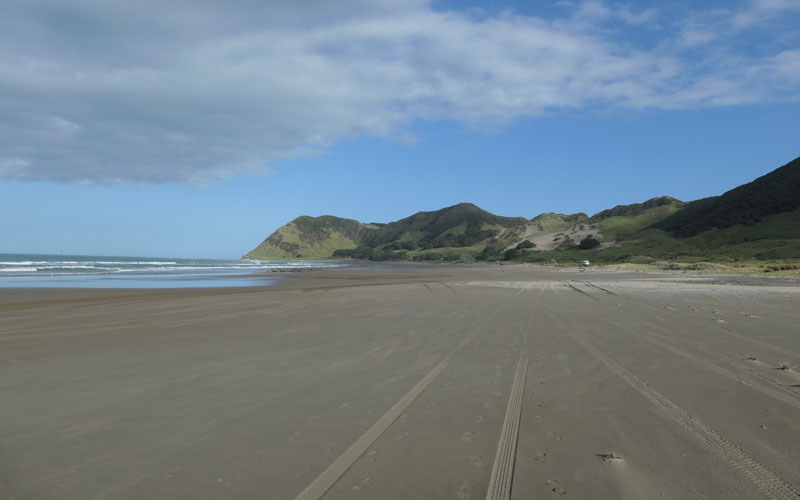 I'm pretty sure this is Te Araroa.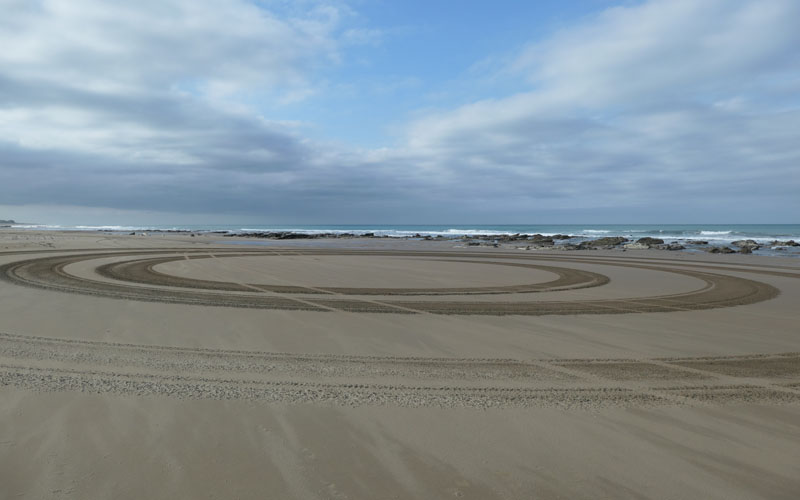 Yes it is. Here there is a long section of accessible coastline.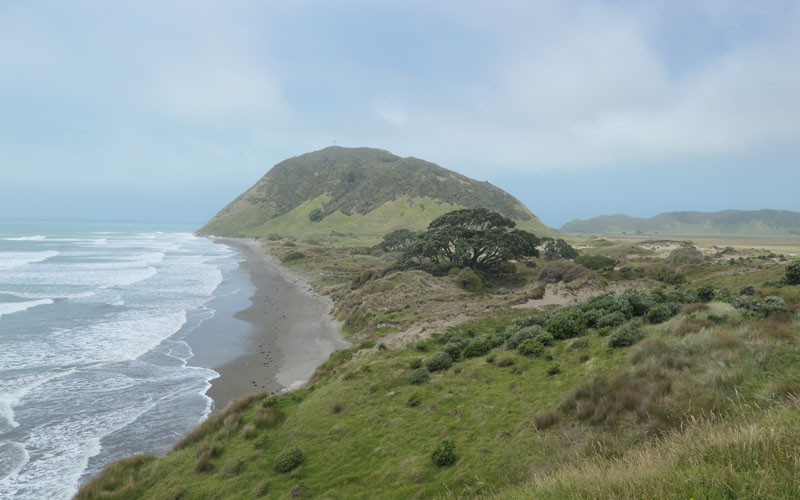 By some coincidence we arrive at East Cape on the last day of the year. We (and more than a few others) have this silly notion to climb up to the lighthouse at dawn, like 4am.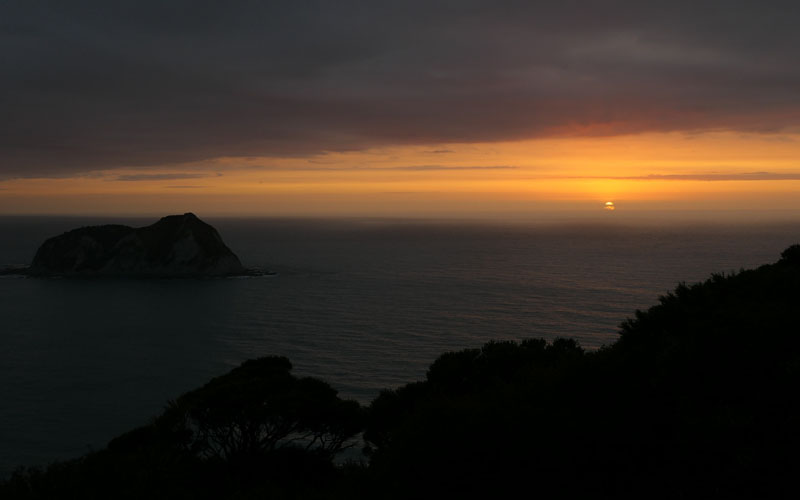 So for the record these are the very first rays of the 2020 sun.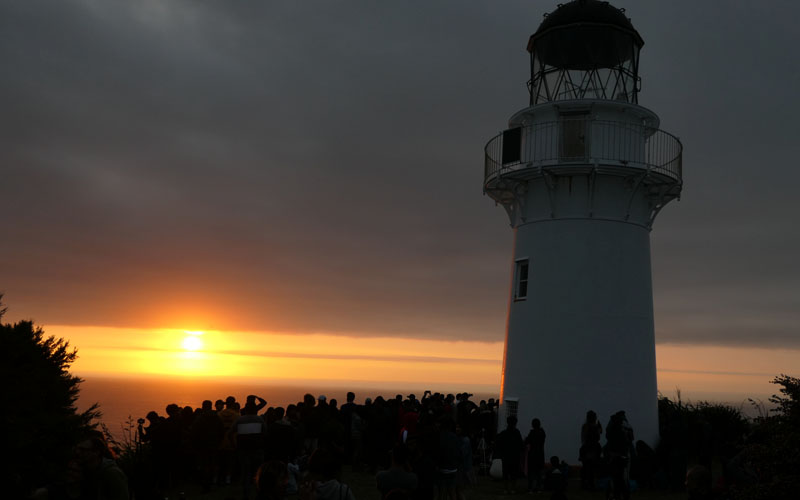 Many overseas tourists with cameras.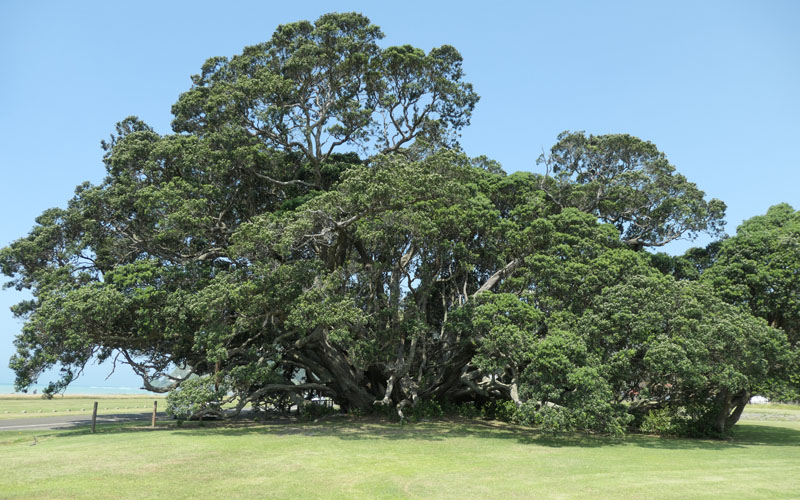 At Te Araroa there is a very large 600 year old Pohutukawa tree.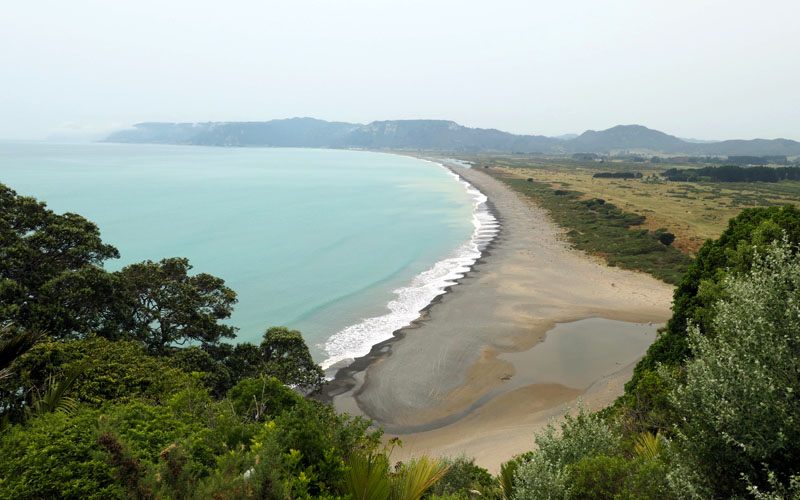 This is on the way out of Te Araroa, looking north.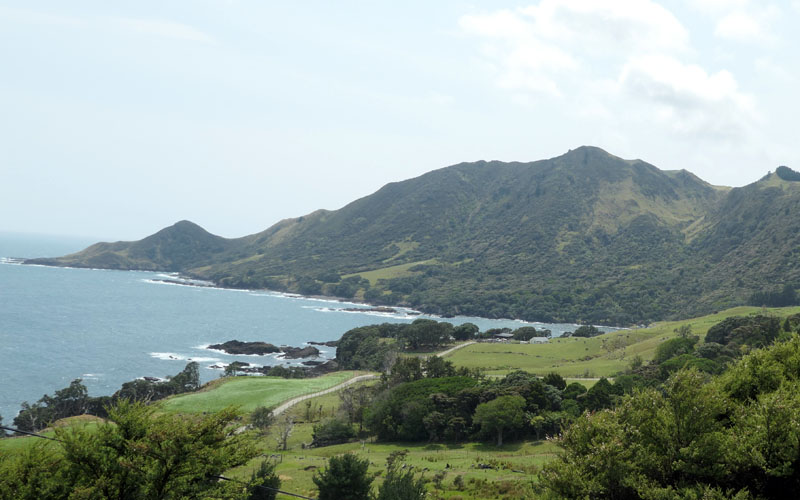 While i was perusing the map, i circled the little bay at Lollets Point, and it is a slice of paradise for sure. Worth digging out the mask and snorkel.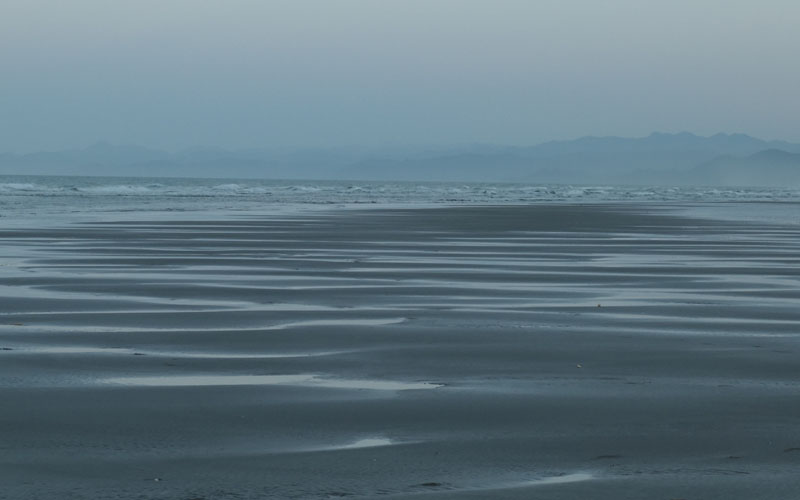 Somewhere along that coast near Whakatane. The grey photo, from the late evening light.
We had to go through Rotorua, and our visit was a mix of tourist hotspots and lesser known thermal wonders. This is Whakarewarewa, the cooking pool.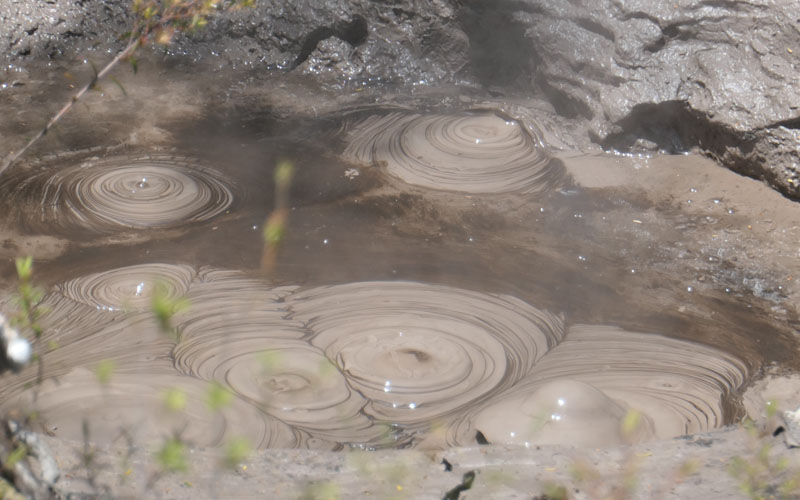 Mud pools at the Waiotapu Thermal area. Its also home to several non commercial hot springs, which we much enjoyed.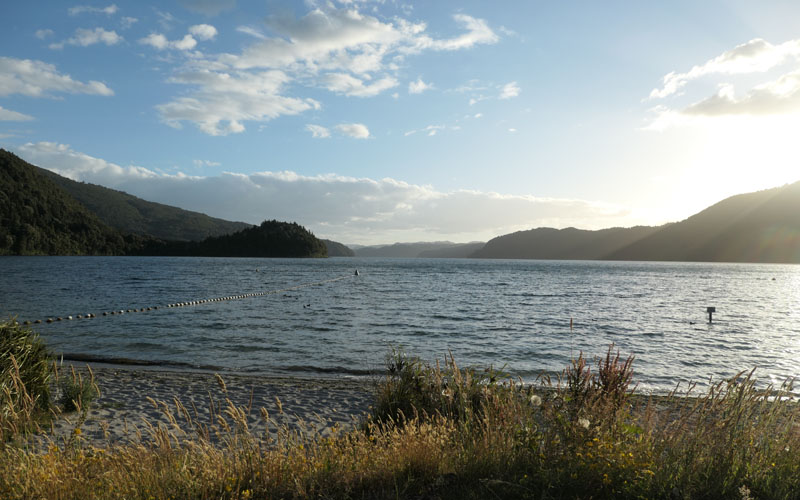 We studied the jurisdiction maps and concluded that the Lake Okataina Boat Ramp (which is almost all scenic reserve) was fair game as a place to stay for a night. Had the bay to ourselves and gosh it was quiet.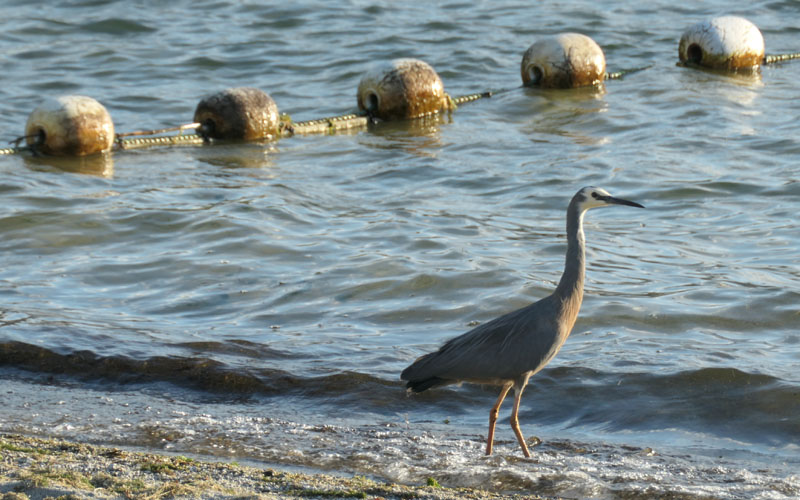 Morning Herons.

With our Tongariro Crossing thwarted by a tramper fatality / rahui, we continued on into the forgotten world. This is a dawn image from the Tahora Saddle.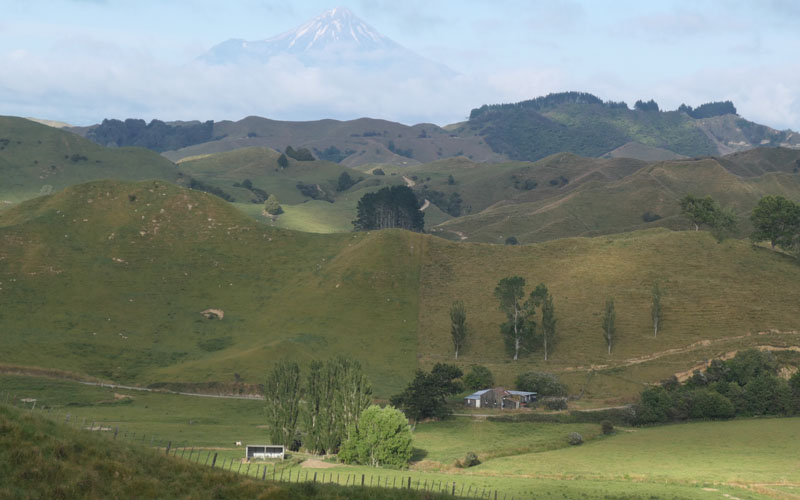 And on the last saddle we get to say hello to an old friend, feint in the haze.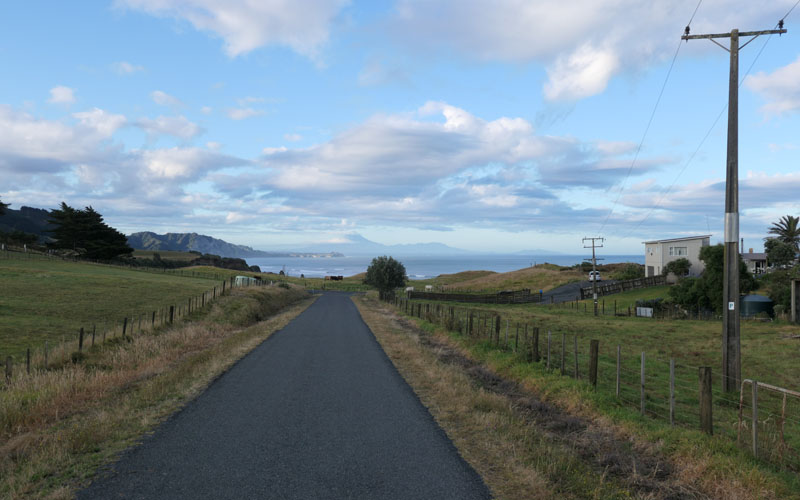 So we stayed one night on the hill (and of course it rained). But the next day onward and northward, with this parting shot from Mokau.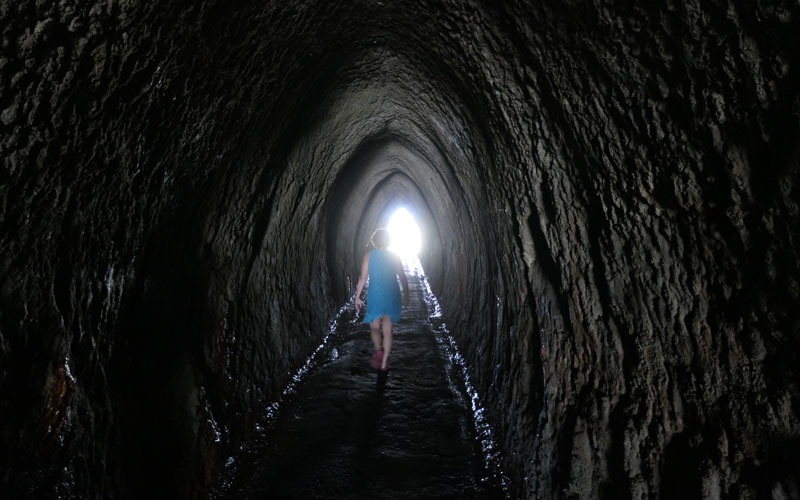 Avoiding the highways as much as we can, we take the back road to Kawhia. Its a good call. The Waikawau Beach Tunnel.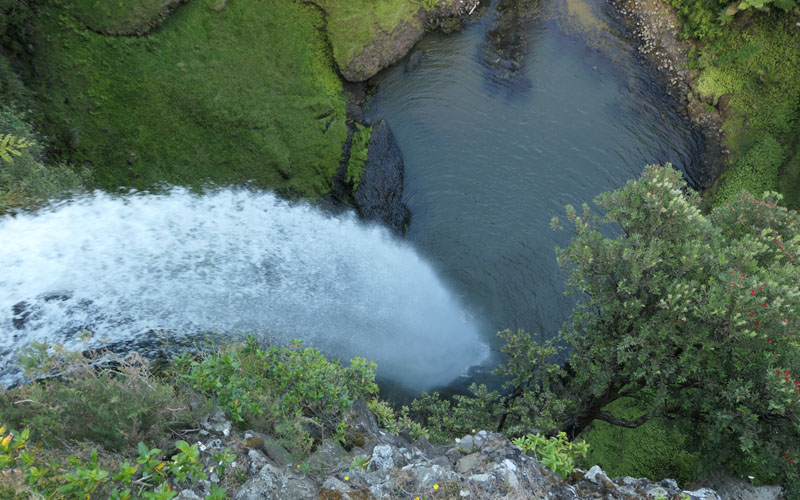 Bridal Viel falls near Raglan.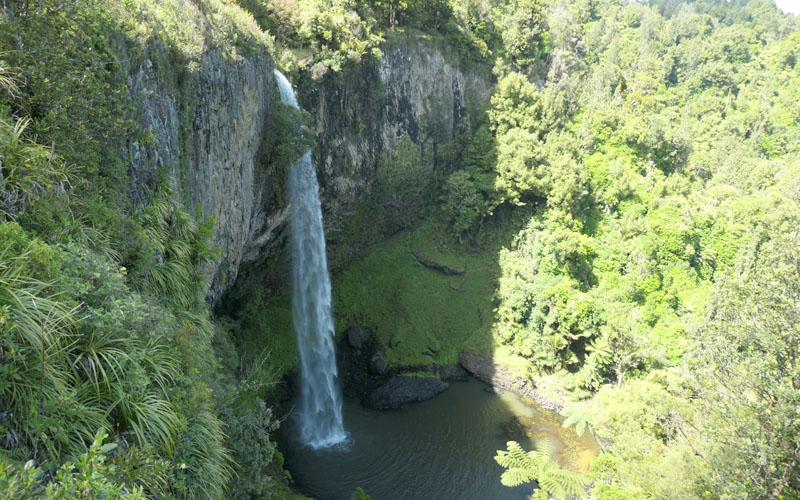 Really quite spectacular, with its 60m freefall drop off a basalt scarp.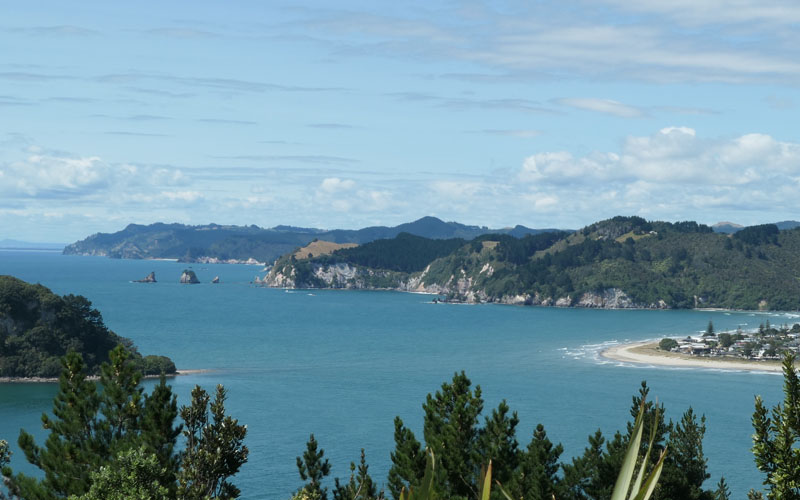 After a night at Waihi, where there is another excellent german baker, we pass through Whangamata.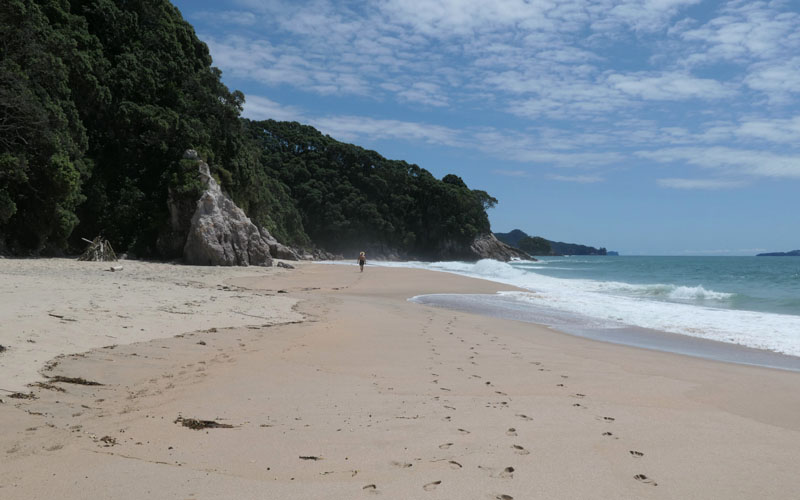 And its 'secret beach'. Well i guess its not so secret as we found it on google.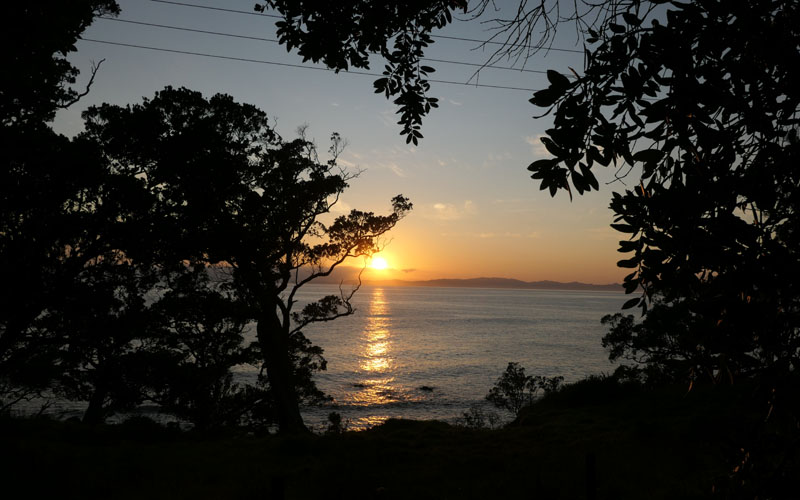 Then we are expected at Tuateawa, which for the geographically carefree is near Kennedy Bay on the Coromandel. Where we help with our hosts garden and children.

This is the view from the Kennedy Bay road looking towards Coromandel town.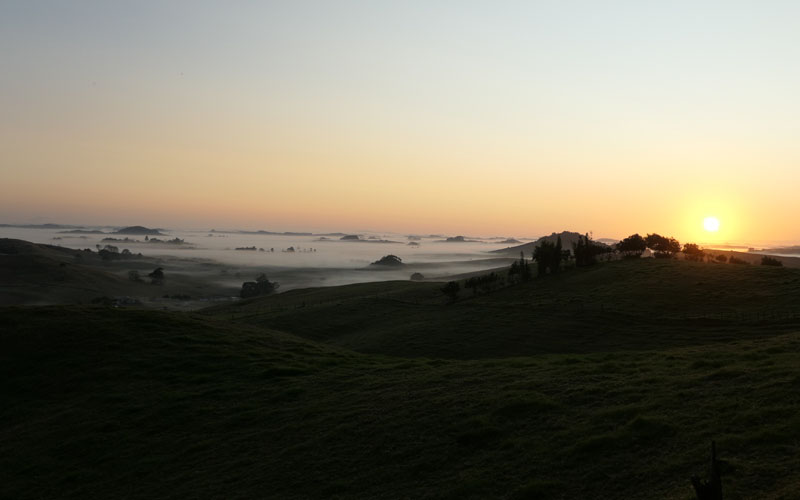 So skipping over the Auckland metropolitan area, after a night at Kaiaua and a long days drive, we make it as far as Dargaville. One of the most interesting features of the area is several old volcanic basalt plugs. Which you can climb, if you have some billy goat in your gene pool. Dawn, always, a good time to do these things.

A great way to start the day, surveying the rolley northland country ahead of us.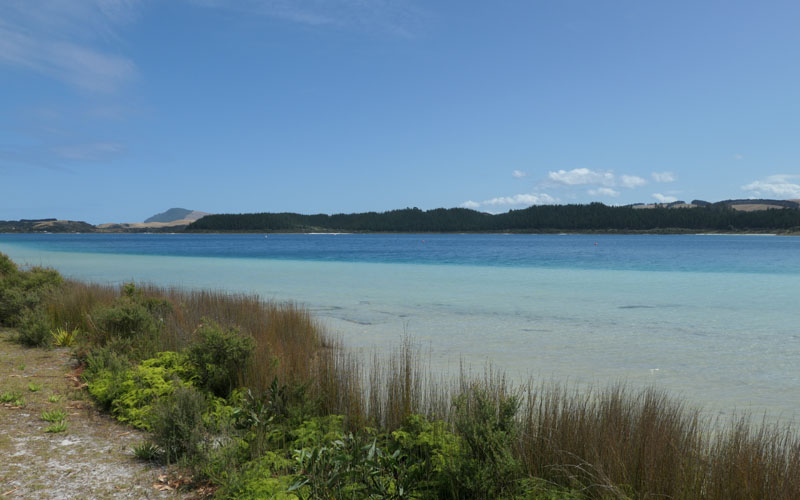 Carrying on with the theme of places ive never been to, this is Kaiiwi Lakes. Some of the clearest water you'll ever see, oddly enough in a coastal freshwater dune environment.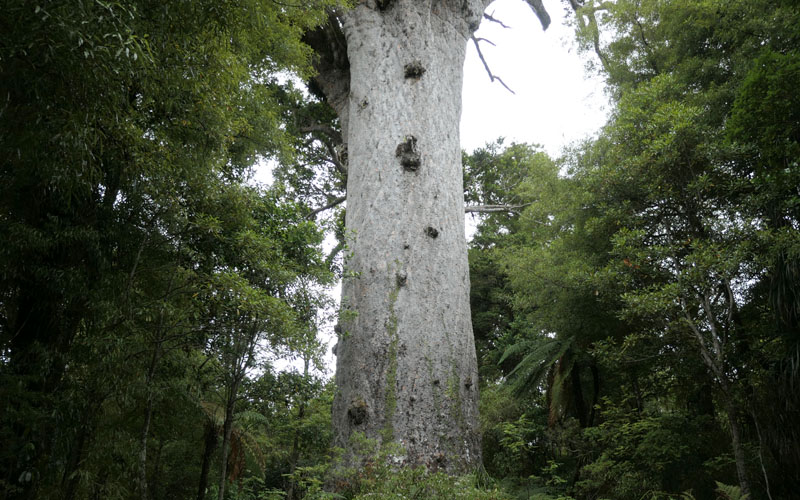 The obligatory stop to pay our respects to Tanemahuta. Which is still (for now) accessible, where much elsewhere kauri dieback is closing kauri forests.

Hokianga south head with the surf breaking on its infamous bar.
After that we head to Russell, where we manage to have an entirely different visitor experience. Someone mentioned a secluded beach at Russell, and it is indeed beautiful. And not hard to find or access (unlike Newchums on the Coromandel which is now a veritable highway).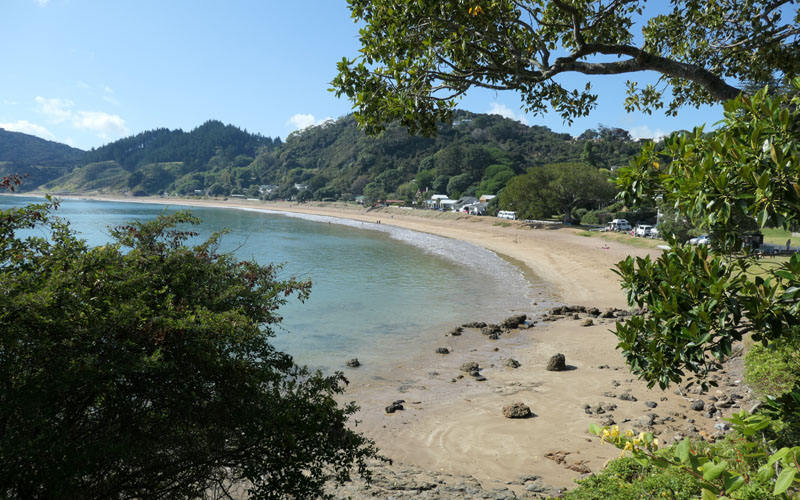 Russell on the ocean side. Long beach i think its called.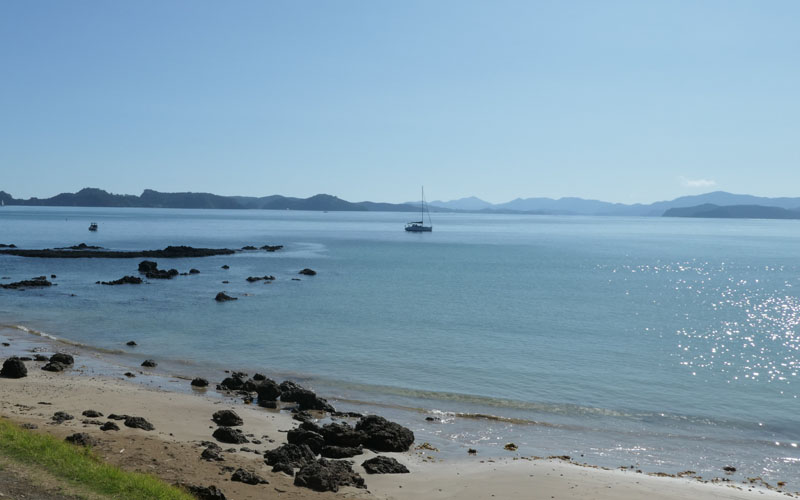 The Bay of Islands is a bit like the Catlins, in that im sure its very nice if you have a boat. Otherwise the coast is privately owned.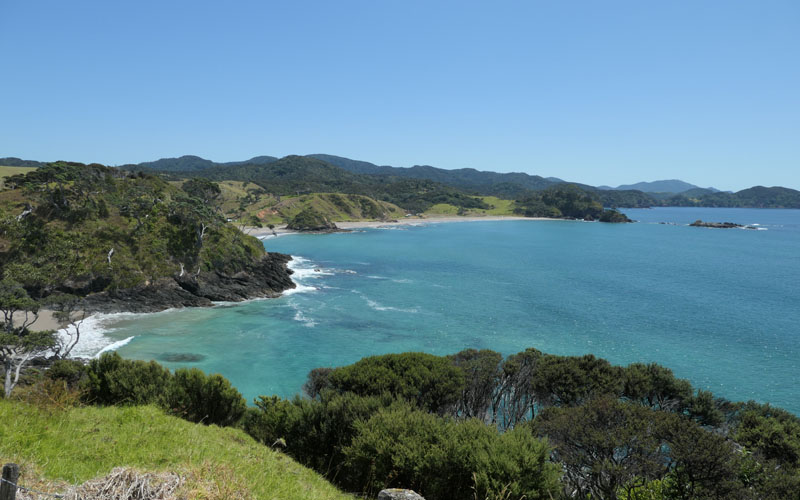 There is the odd place you can take a peek.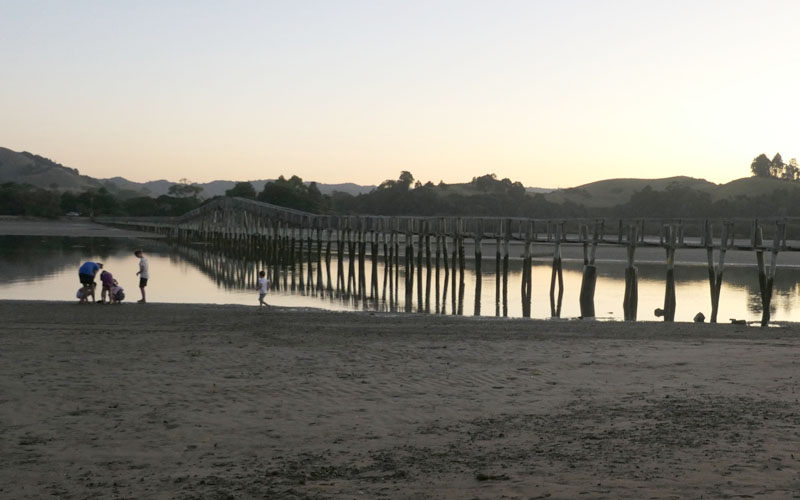 Heading down the back road we stop at Whananaki. This is the long foot bridge across the harbor.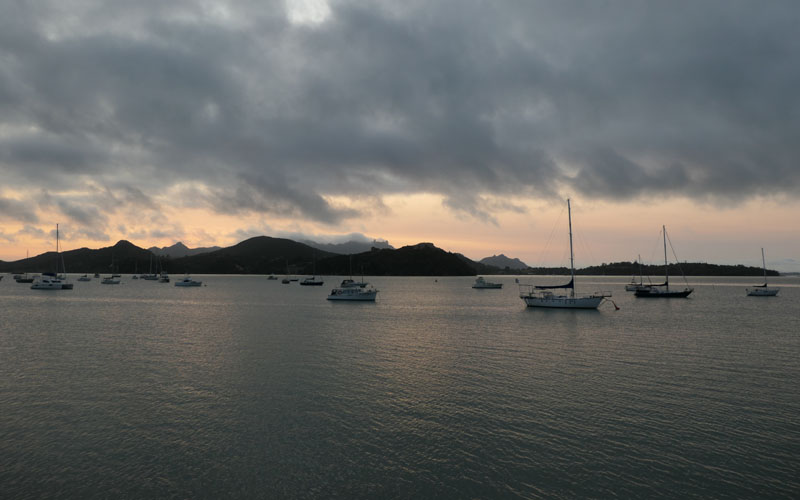 We are left with a good impression of the Whangarei coast and its many beaches, bays, hills and walks. This is taken in the Whangarei Harbor.
Sunrise at the marina.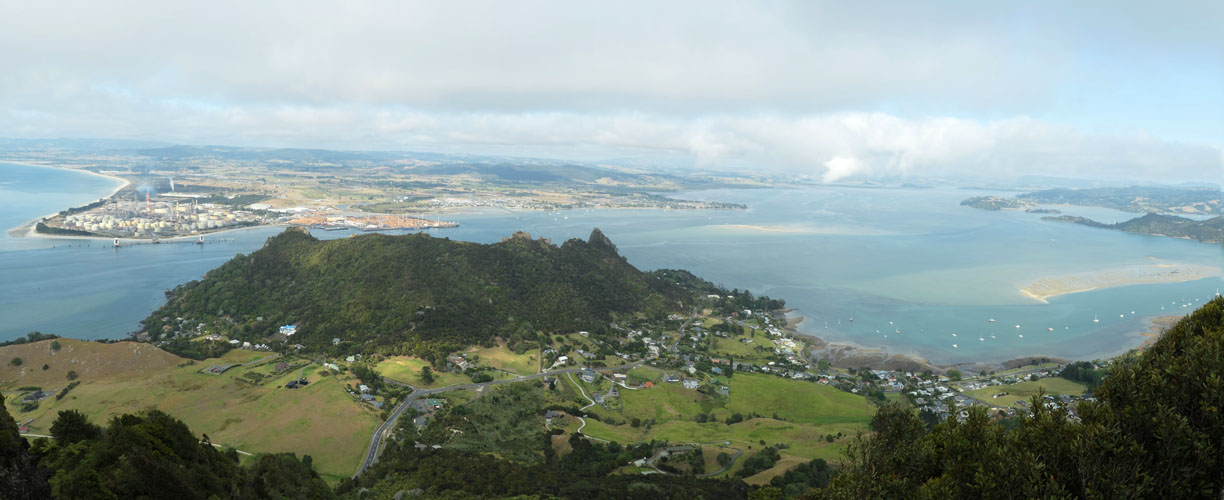 Having spotted these jagged peaks from the harbor, we climb a couple. They are steep going, but have great views of the harbor and surrounds.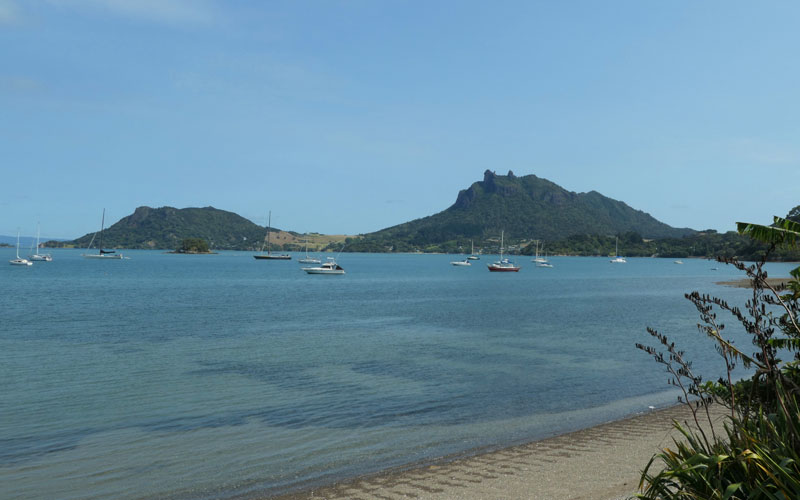 Mount Manaia, which has a good set of steps, but its 400m vertical climb on a hot day.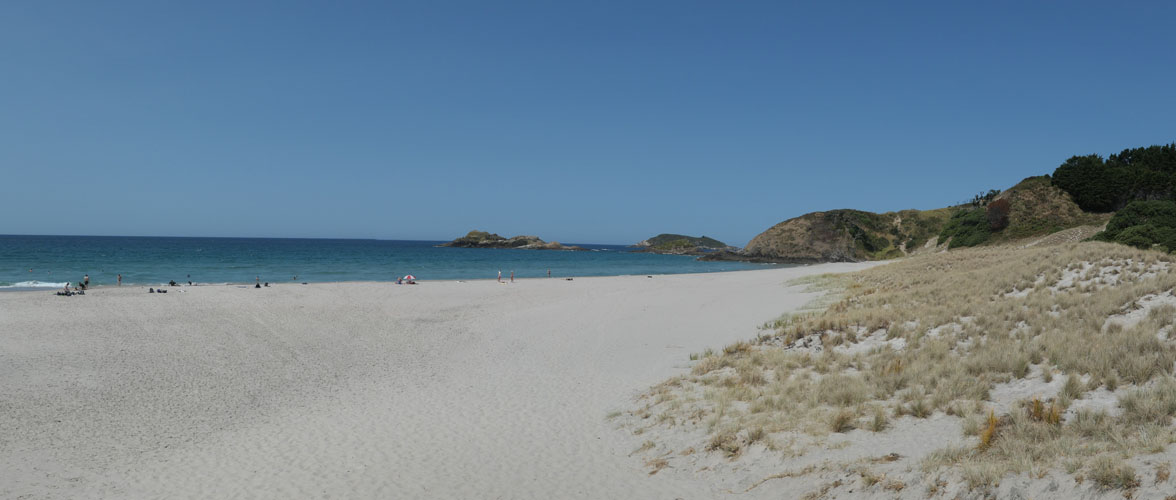 Ocean Beach and Smugglers Cove are some of the nicest beaches youll find in this world.

Pataua with its interesting river outlet islands, and prominent Pa.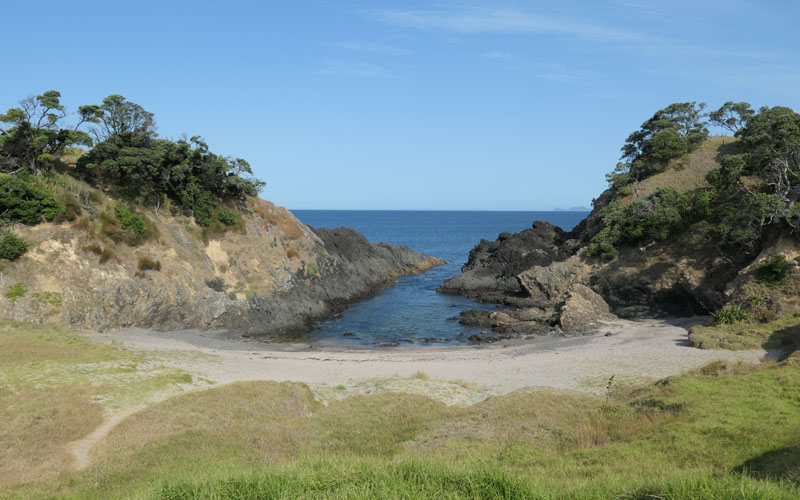 A candidate for the smallest beach. We had a lot of swims that day.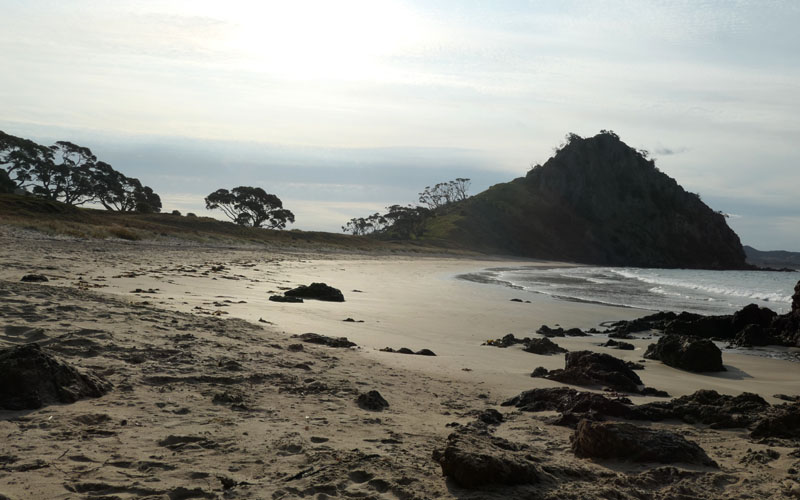 Pataua 'Island' and Pa.

Ditto.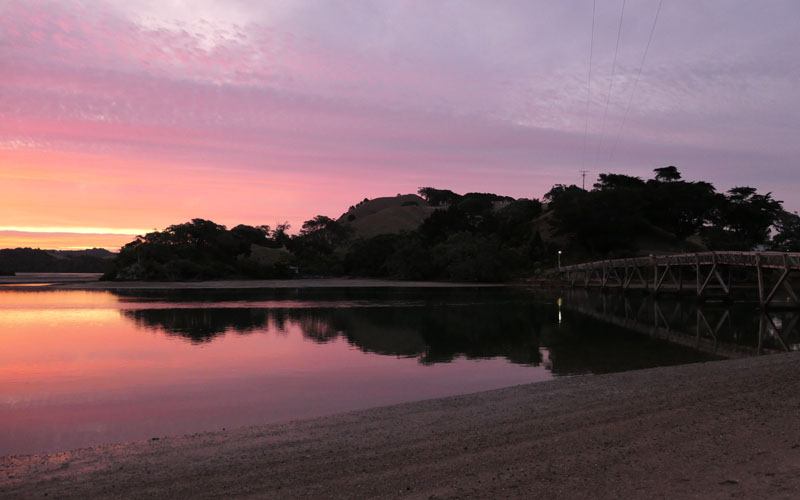 And quite an unexpected late sunset from the footbridge there.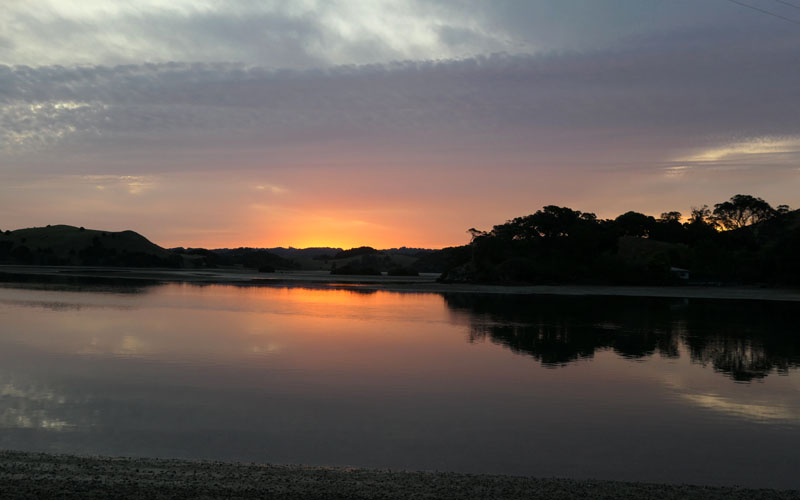 And so ends our North Island 2020 trip. Happy, but traveled out.
2020-02-10 www.zoneblue.nz/cms/page.php?view=north-island-2020

Summary
Three months discovering the North Island anew.
Mountain Imagery