South Island 2019
Early 2019 involved a slow circuit of the south island, filling in missing bits, and looking down back roads. It involved lots of dust and mud, and pretty average weather.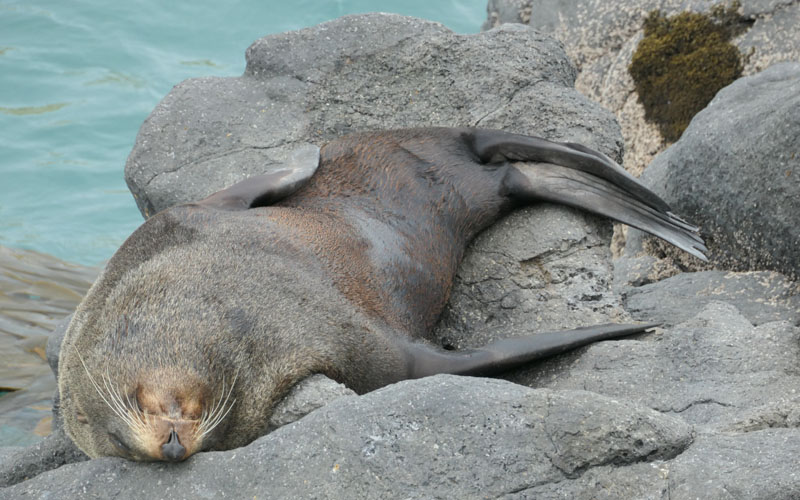 This was one of many seals encountered walking along the rocks at Tumbledown Bay, Akaroa Peninsular. They we so thick if it wasnt for the braver fisherperson in front of me i would have turned back.

The road to Tumbledown Bay is narrow, more or less one lane the entire way. Take a motorhome there at your peril, or pick a quiet time of the day as i did.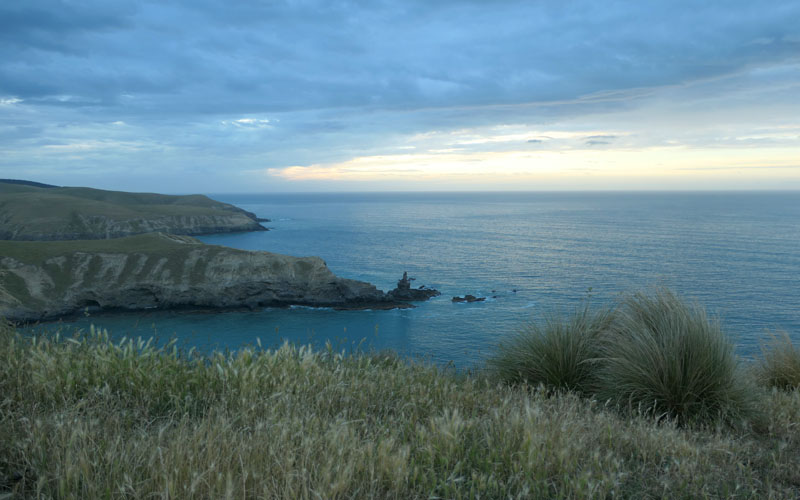 Its one of many incised bays on the peninsular.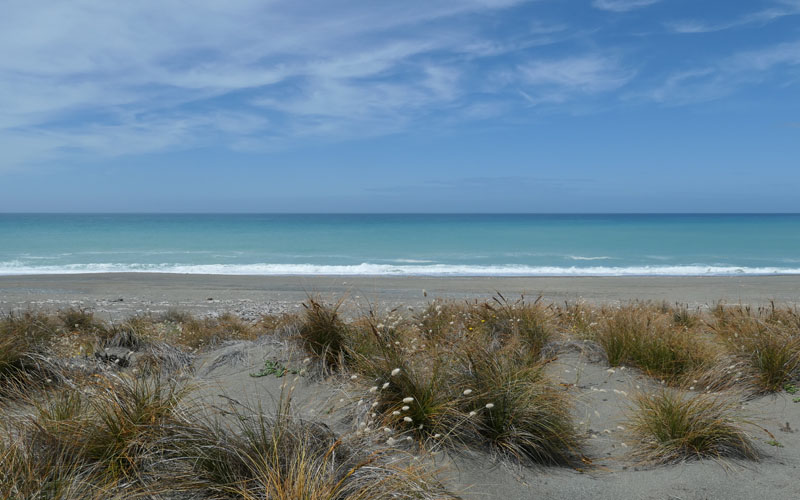 The beach near the Rakaia river mouth.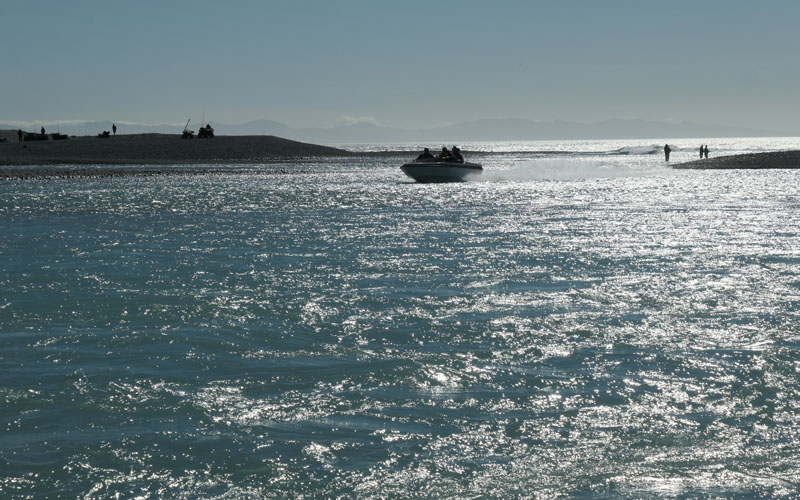 Sea run Trout fishers at the mouth.
Ok, bus packed, new tyres, and headed first on a circuit of Canterbury. This view of Napenape from high on a hill at the end of the beach.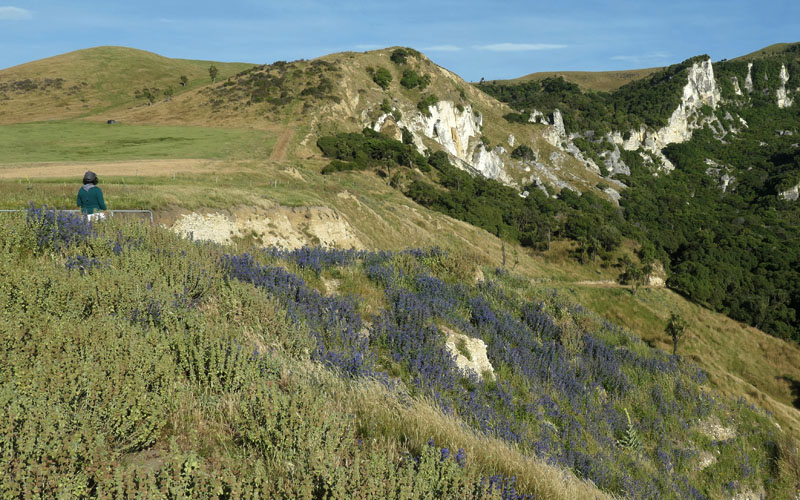 The flowers the locals call Blue Borage, is not Blue Borage, but in fact an echium related to fireweed, and a local honey source.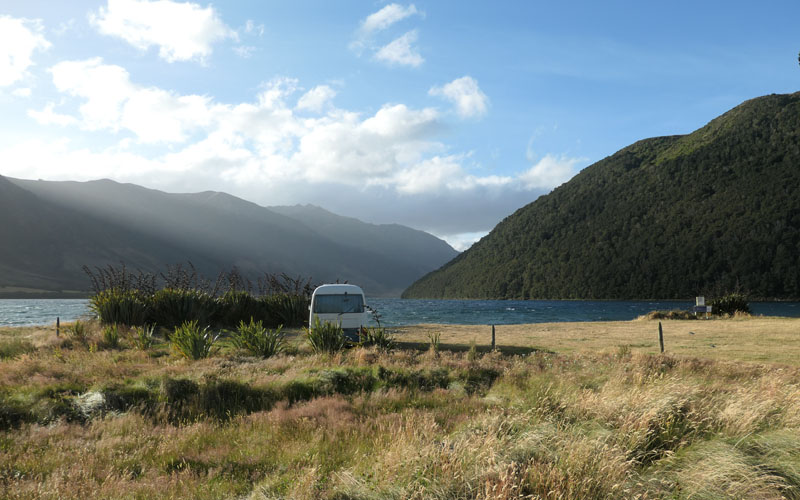 Camped at Lake Taylor (Lake Sumner) during a norwester. The swell on the lake is almost oceanic.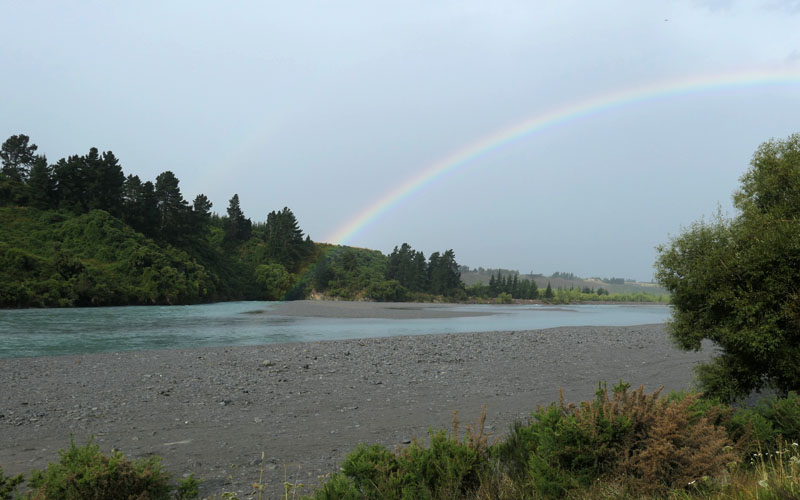 We arrive at the Waimak bridge in the rain, and finding noone else there strip off for a refreshing swim, cheered on by the tooting cars above.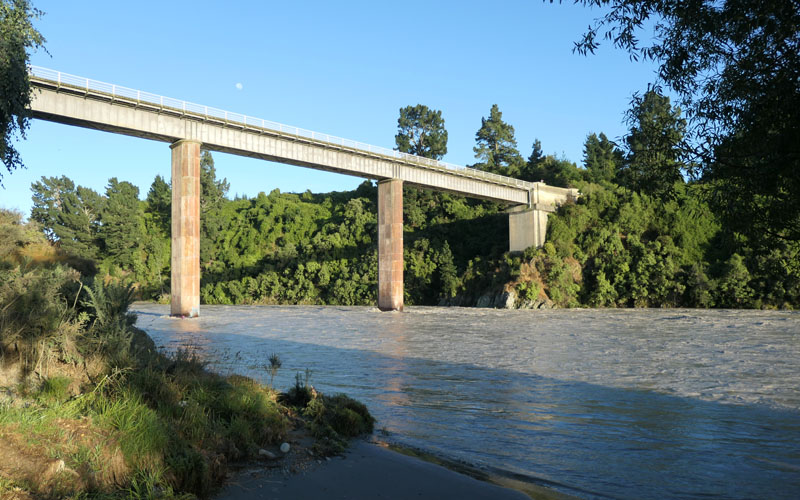 By morning the river has risen several meters, good thing we camped on higher ground.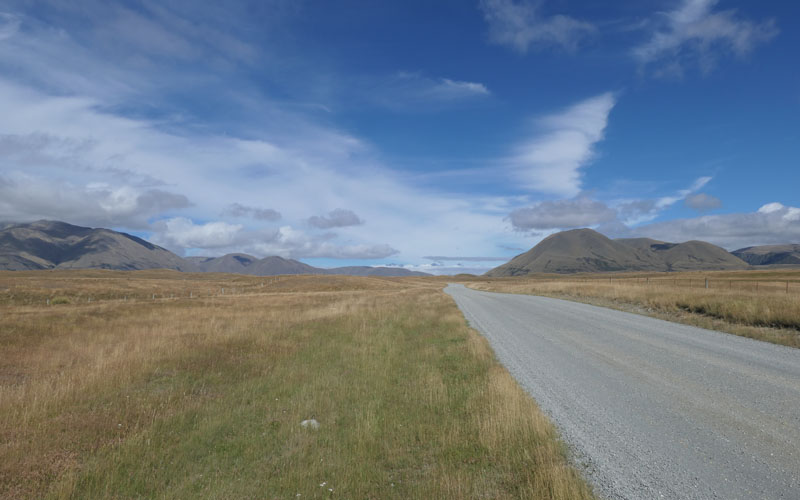 Dirt roads were to be a feature of this trip. And many of them not of the kind variety. In late summer canterbury dirt roads seem to be heavily corrugated. This is the road out to the Rakaia headwaters, home of the misnamed Ashburton lakes.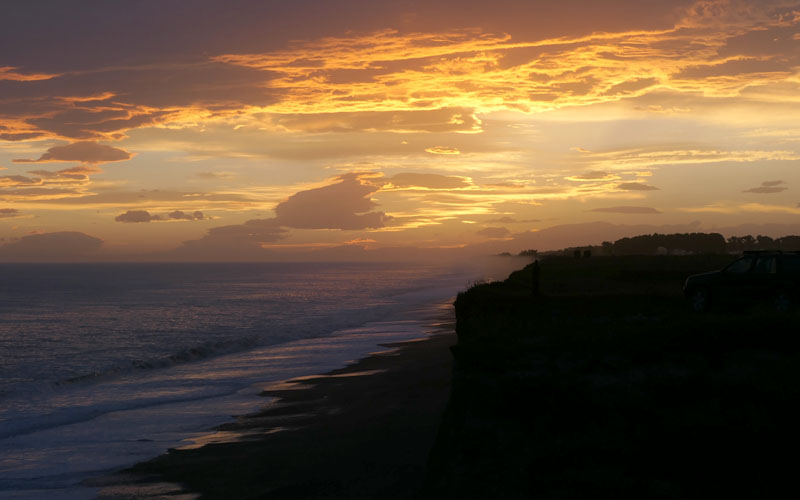 After Mt Summers, and Lake Camp, we camped on the wild coast south of the Rakaia. And then turned the bus north.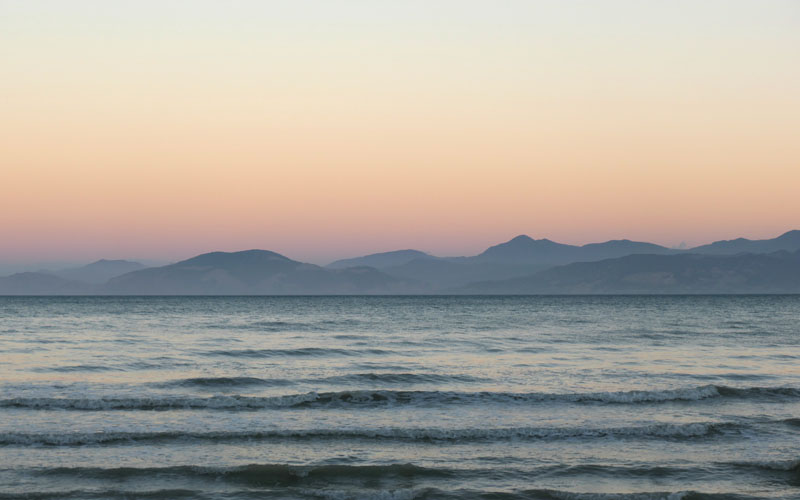 Going through the Lewis to Motueka, we camp at the always pleasant McKee Beach, where this sunset image is of the Marlborough sounds.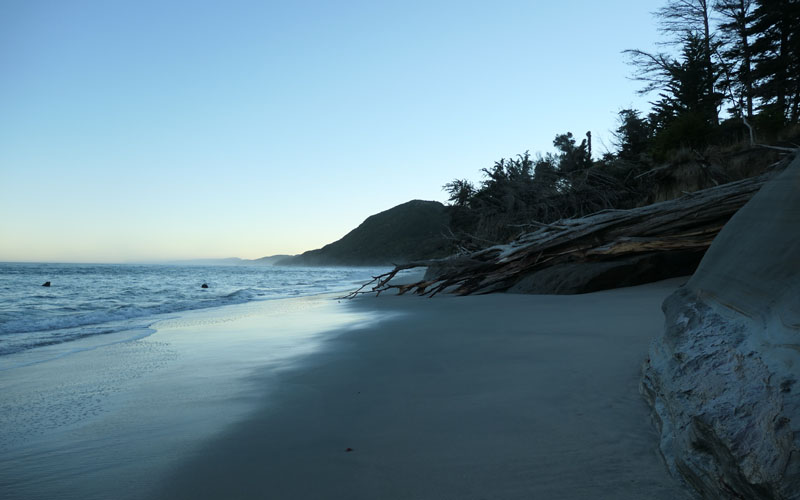 Then several wonderful days at spent at Anatori, including a walk out to the lighthouse. 35kms barefoot on the beach.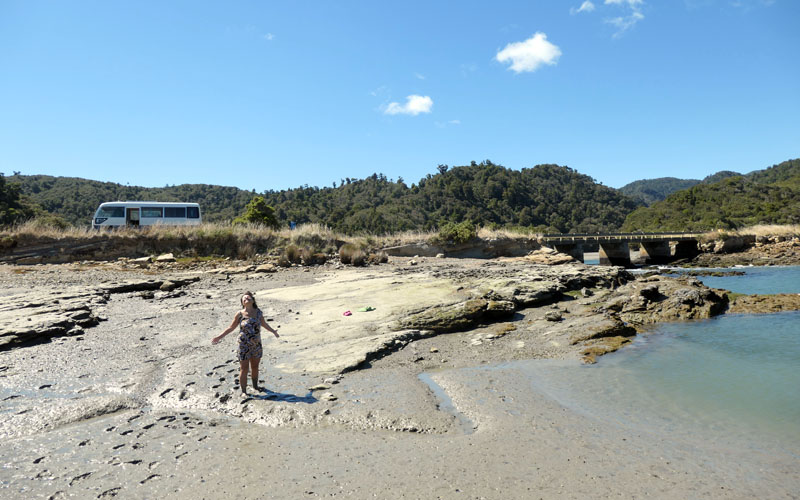 Mud in the serene Whanganui Inlet.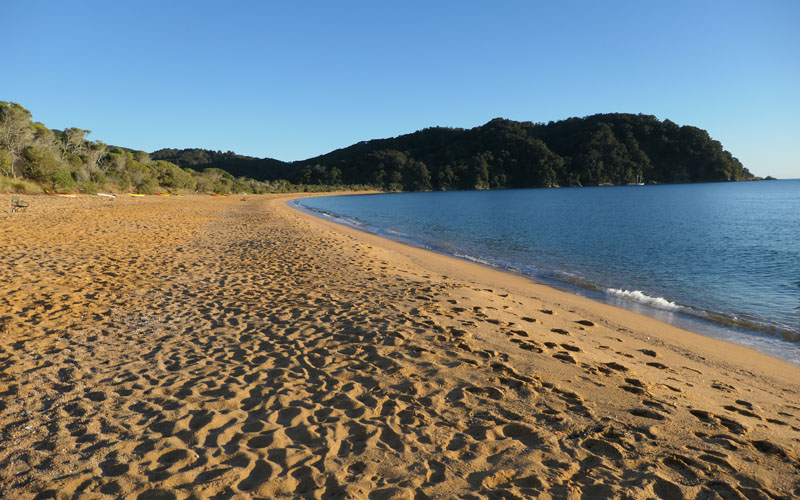 The last time i went to Totaranui was as a lad. It doesnt get any more golden that that. But its a massive camp ground. We have a great walk up the coast, an Abel Tasman experience of sorts.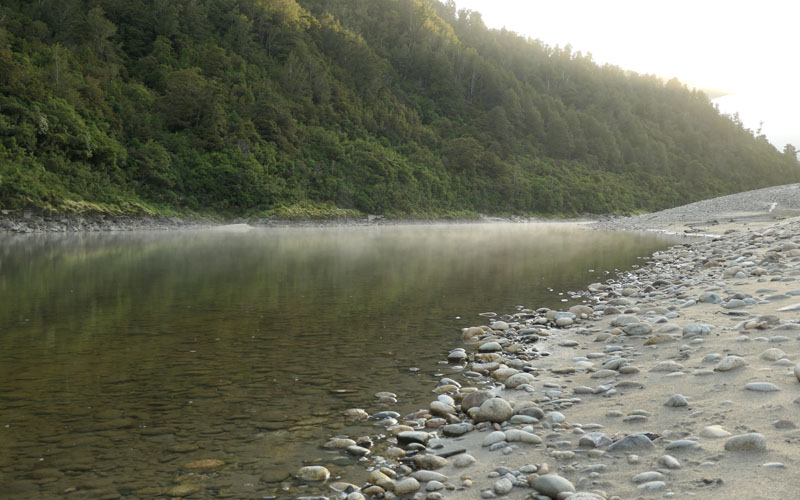 After several more stops in the ever interesting Bay, its time to turn south. We camped by the buller, and the morning mist was quite special.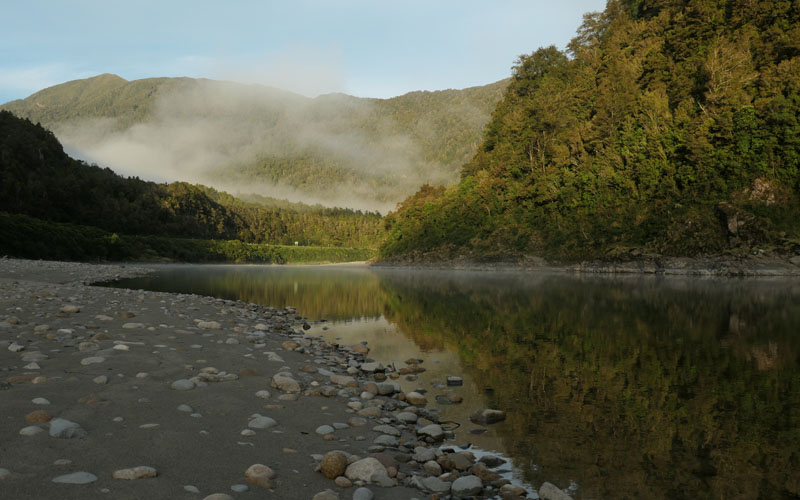 Same spot, downstream.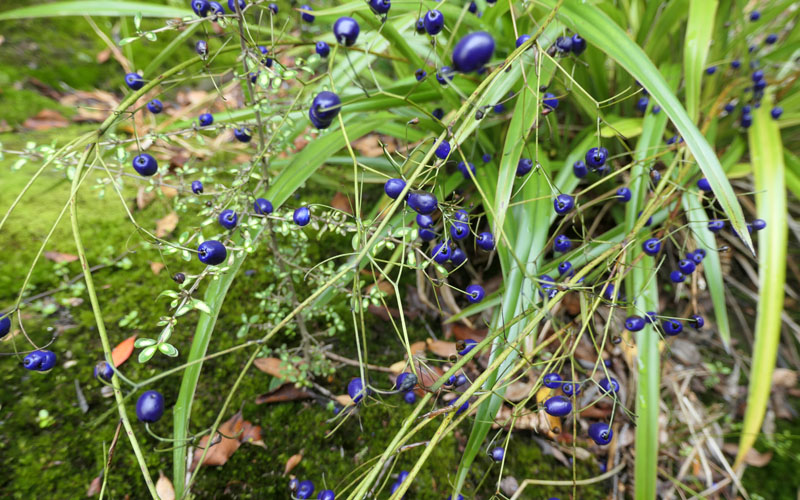 We encounter pretty good weather on the west coast, and spend some time exploring old mining ghost towns. Blue colored berries everwhere (and we pick more than a few black berries as well).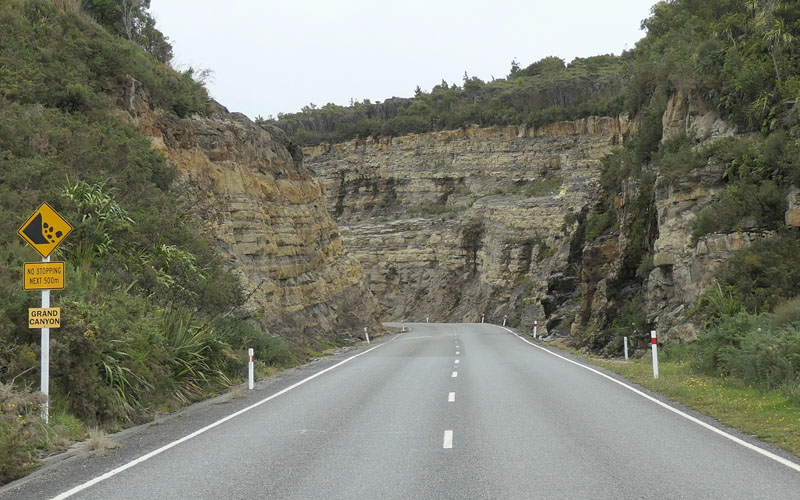 The "Grand Canyon" on the road up to Millerton. Stops at Charming Creek, Mohikinui etc. Peter refuses to go over that hill.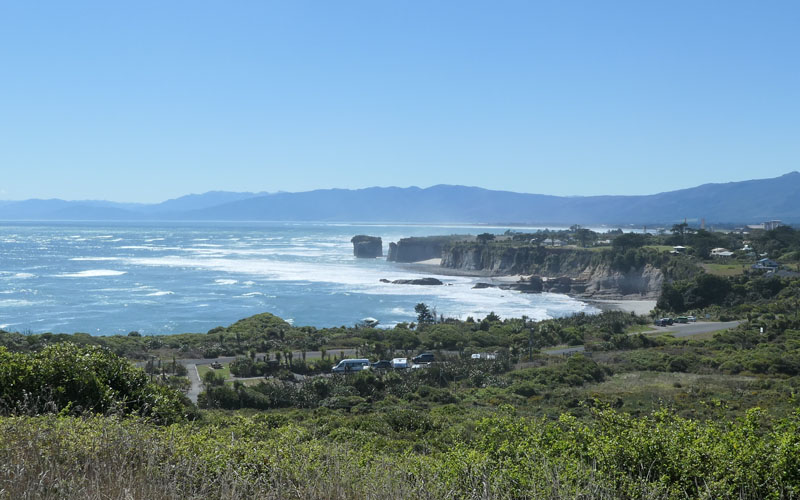 Cape Foulwind. While the roads seem empty the many toursts all seem to accumulate at certain points.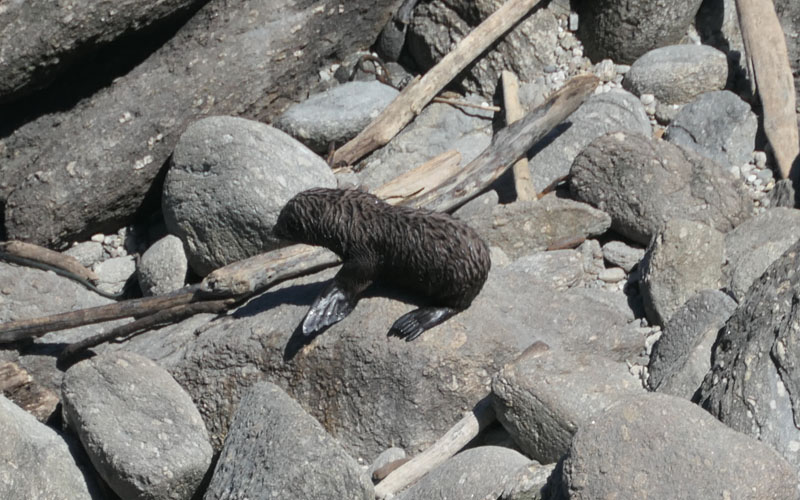 Seal pup at the colony there.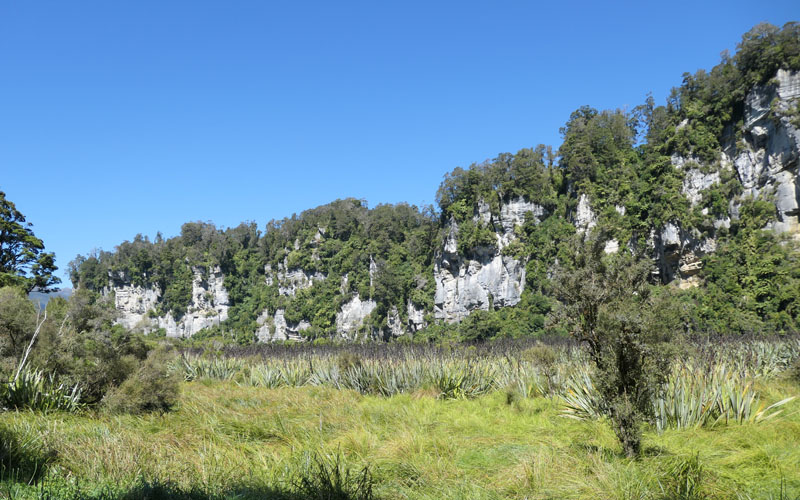 Its kind of a pet project to go find out what happened at Cave Creek. The road in is gets worse and worse, until we reach a washout and can go no further. Getting the bus stuck trying to turn around, was a good test of calmness.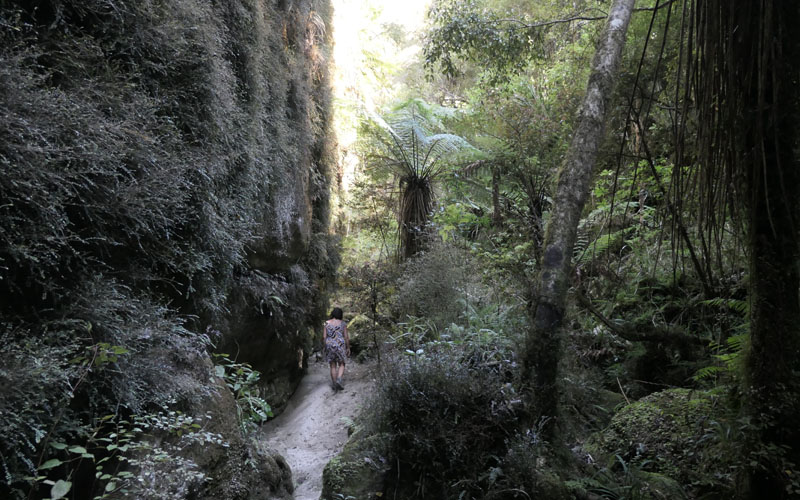 This is the actual cave creek resurgence.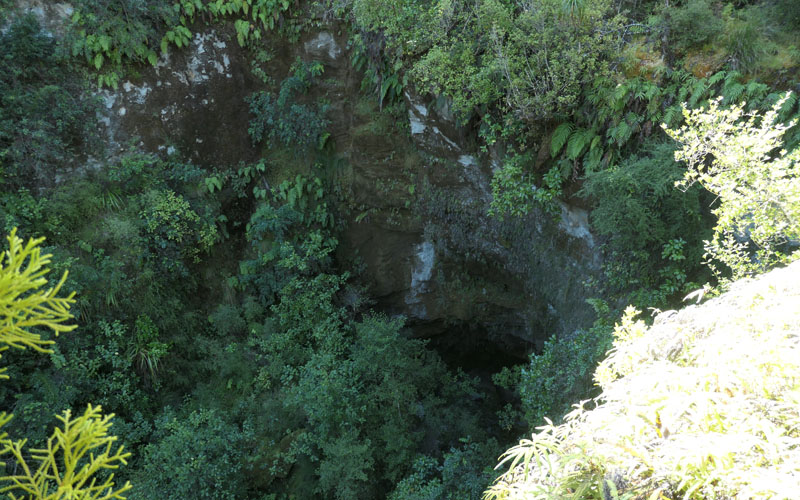 And looking down from where the ill fated platform once stood. Its all gone now, gone without trace. Wiped from the map.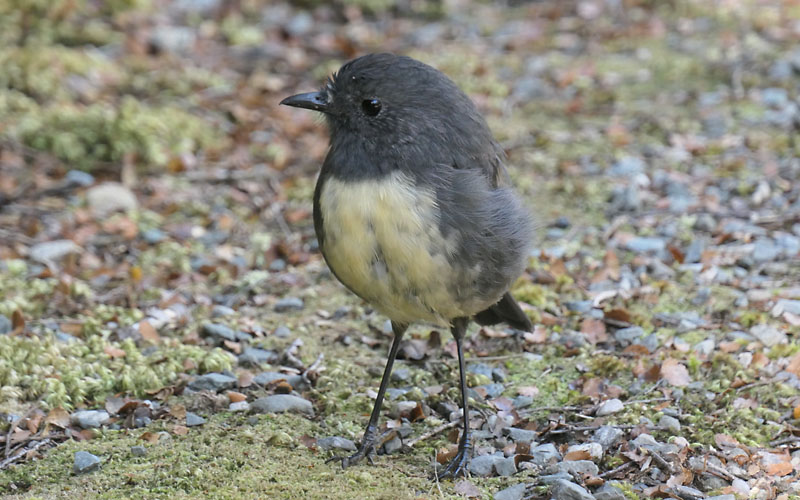 Bush Robin.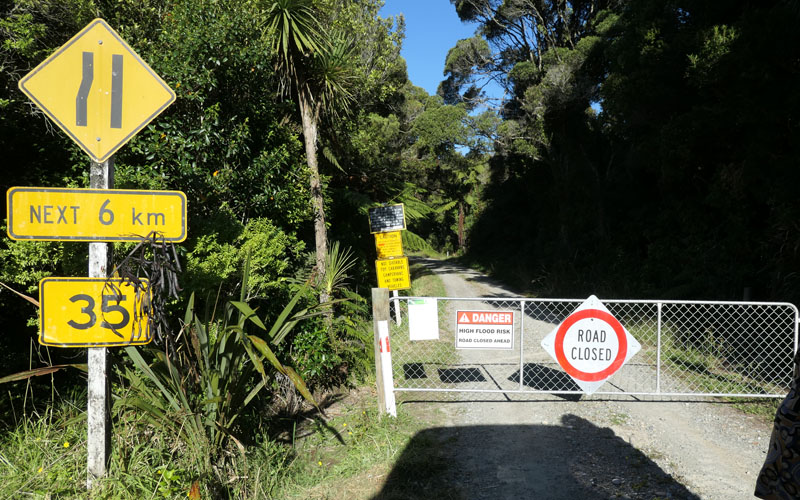 When we get out finally, we find the gate closed and literally plastered with warnings. Which we would have seen had not the DoC guys forgot to shut the gate. We forgive them, cause they helped us out.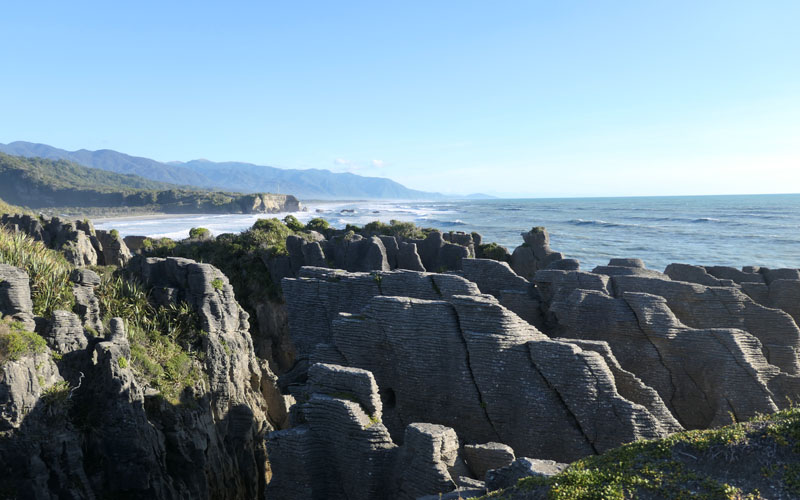 Then on to Punakaiki.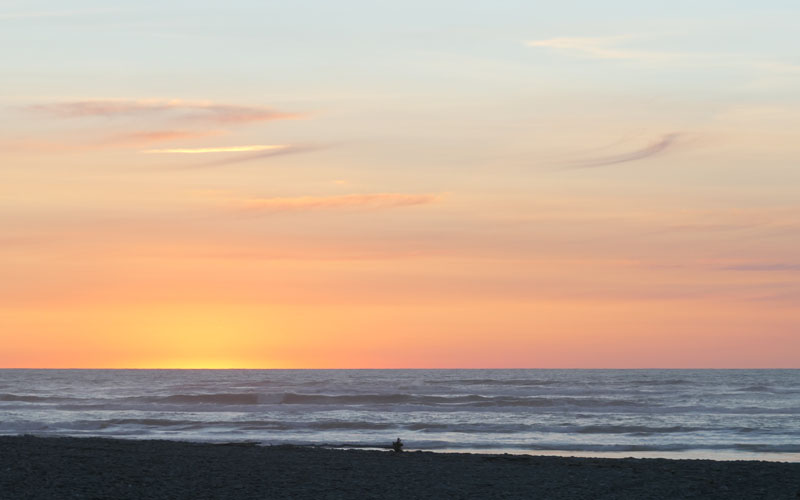 Where in spite of very high tourist density we find a perfect beach nearby.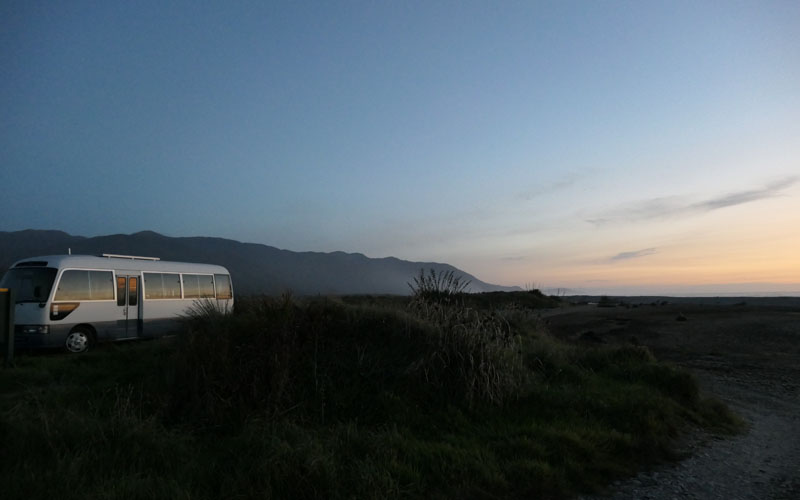 A beach to ourselves. After that we stay with a greenstone carver for a week.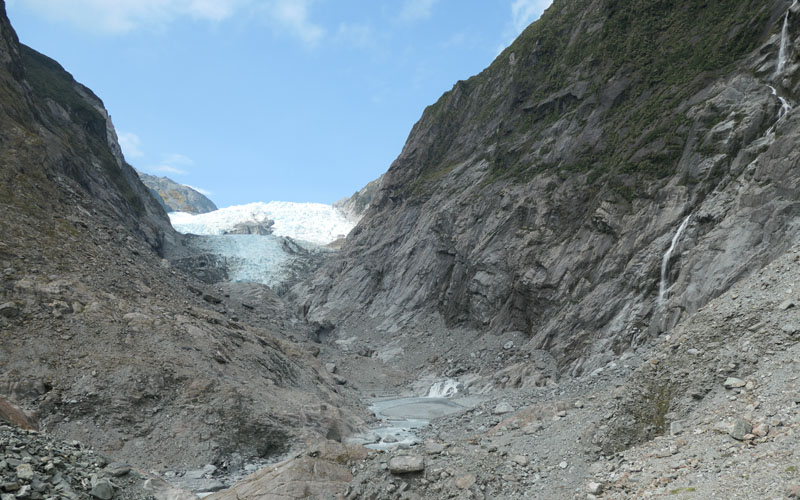 Continuing south to Franz Joseph glacier. Each year the walk gets longer.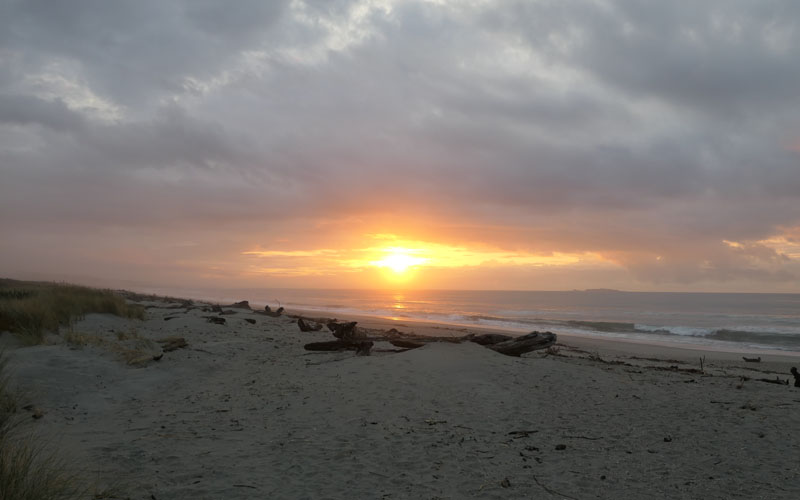 More Haast sunsets.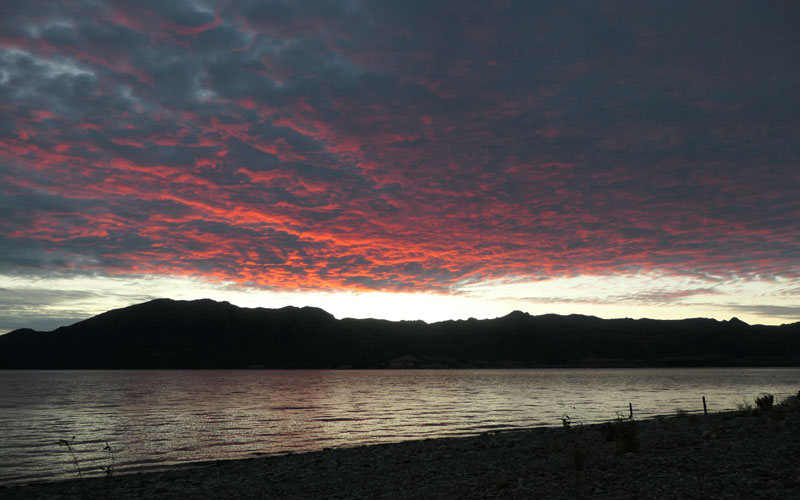 Lake Hawea. A quieter version of Wanaka. The marvellous campsite on the west bank gravel delta is gone, closed by those attempting to do good, but we find good spots on the west shore. Dirt roads, cool.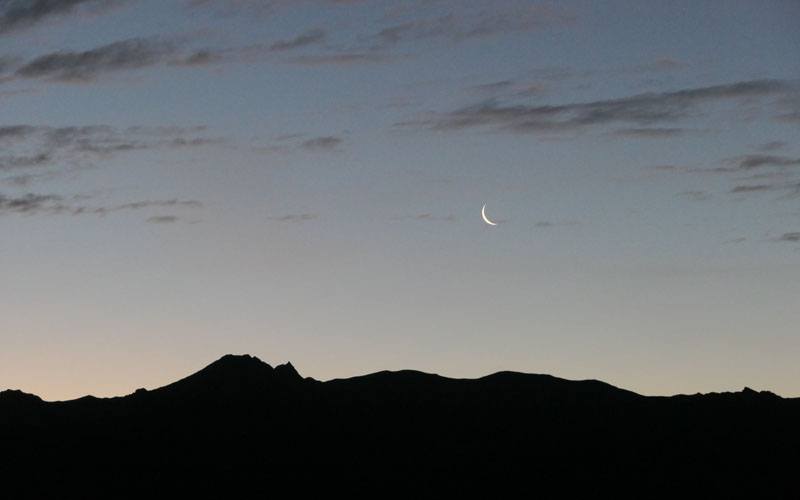 So many sunsets, so many moon rises.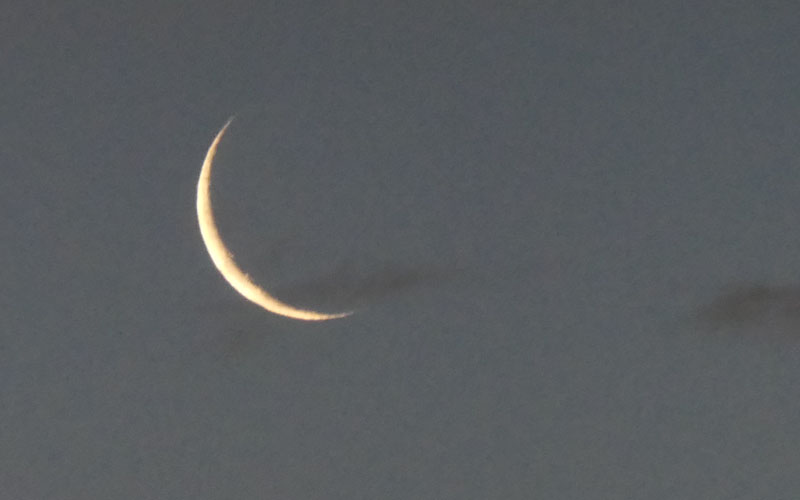 Not bad for a hand held compact camera.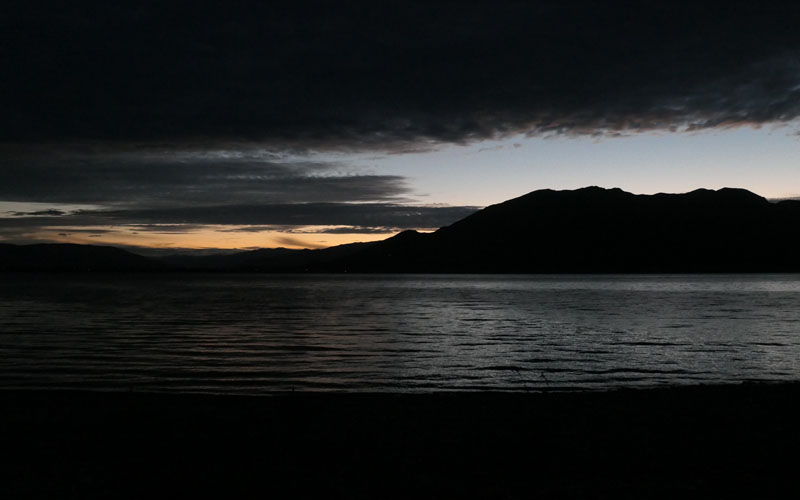 We stayed several nights as a recall.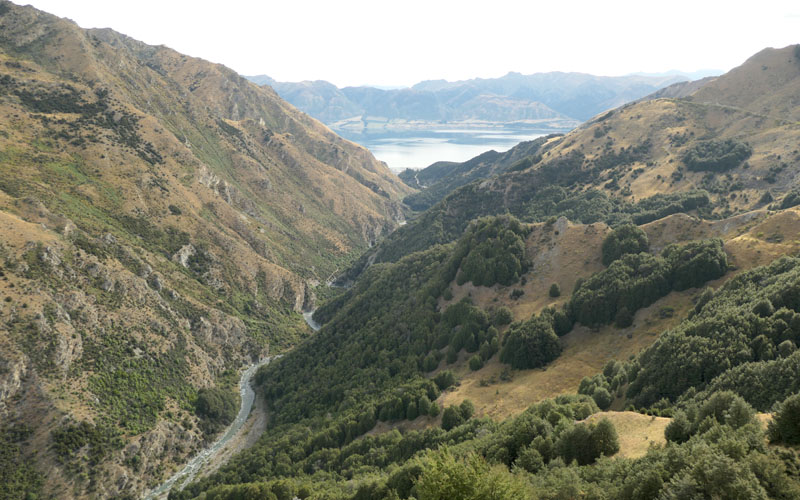 Seeing as we are on the west bank, we go walk up Timaru Stream.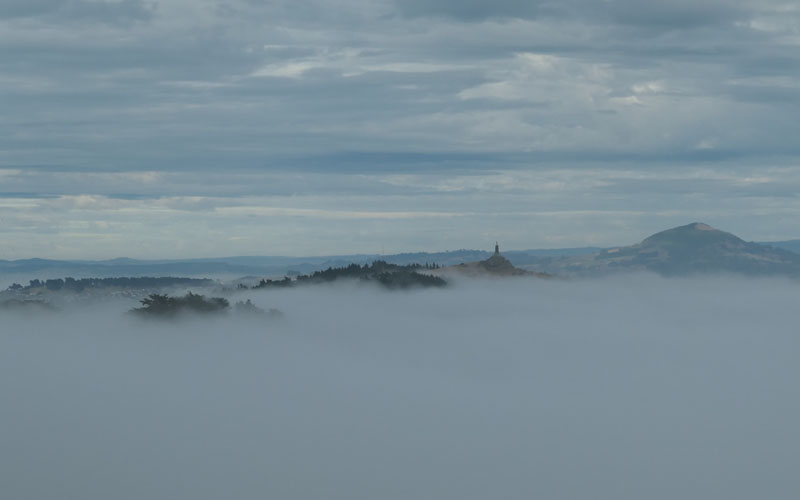 From Wanaka, we make stops at Kinloch, Omakau, Middlemarch. Then onto Dunedin, where go full on into Museum mode, before camping at Aromoana. This is looking along the high road at the soldiers memorial protruding from the fog.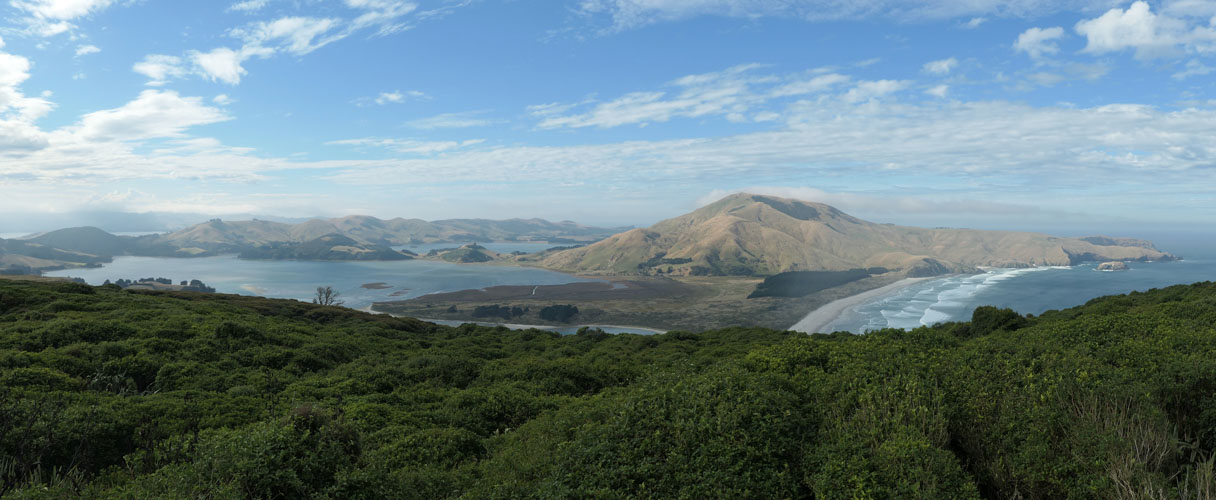 The view from the Sandymount Road carpark is expansive.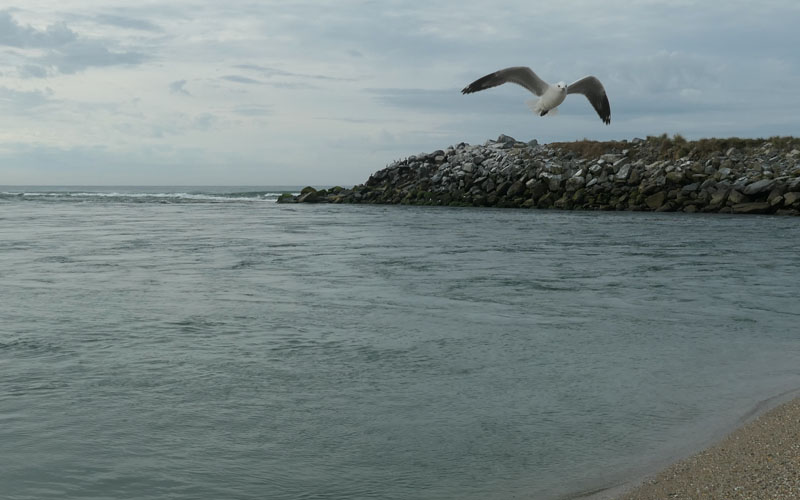 So we um and ah about the Catlins, but decide to give it a second chance. Second time lucky? Driving south of Dunedin staying as close as you can get to the yeilds almost nothing. Such a marvellous coast with so few places to access it. The gexception turns out to be the golf course at Wangaloa. Anyway this is the Clutha river mouth (where a plot is formed to work our way back up the Clutha to Cromwell which felt like a place to explore some more.)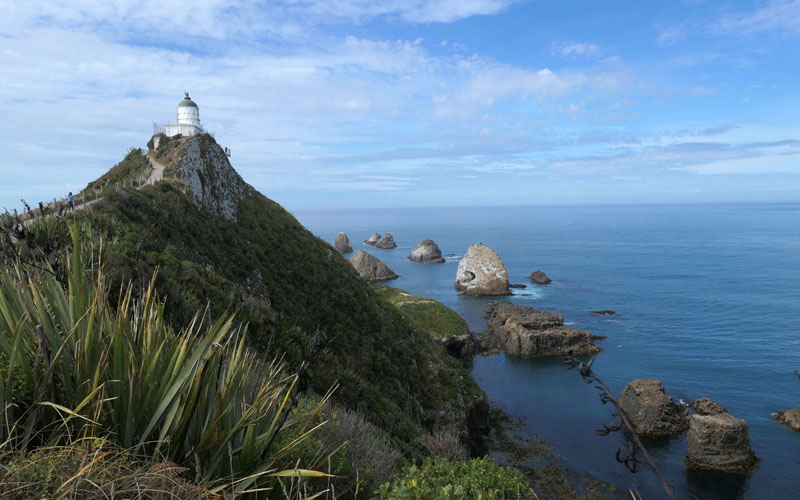 Starting at Nugget point, we got the postcard. Jacks Blowhole, kind of interesting. Purakaunui Bay and Falls. Nice but dusty. River walk dusty road times ten.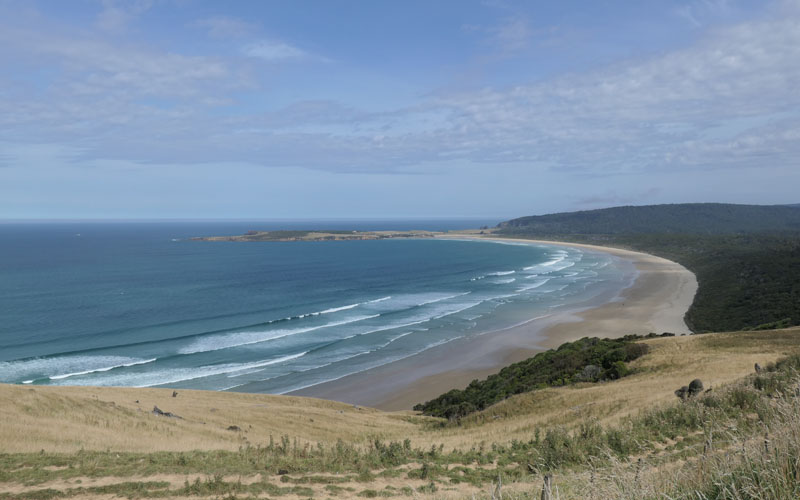 Tautuku bay, one of only a tiny number of good coast accesses, but almost unsignposted.
Cathedral Caves, shut. Driving down various promising side roads to the coast. Alas, no gems to be found, we drive on until finally coming to halt down a little sideroad on the Waikawa or Haldane estuary. Sometimes the best things come of unlikely sources
.
And the great dawn there was proof.
After that we did manage to follow the Clutha all the way up to Lake Dunstan. Where we spent some time exploring back roads. This is a secret bay way up the right bank. One of many "dry weather roads" to be found in the central area. These are basically unmetalled, firm when dry, but turn to porridge when wet.
After an interesting detour via Fraser Dam (someone pulled the plug out), we ended up at Conroys Dam. Another beautiful and quiet spot.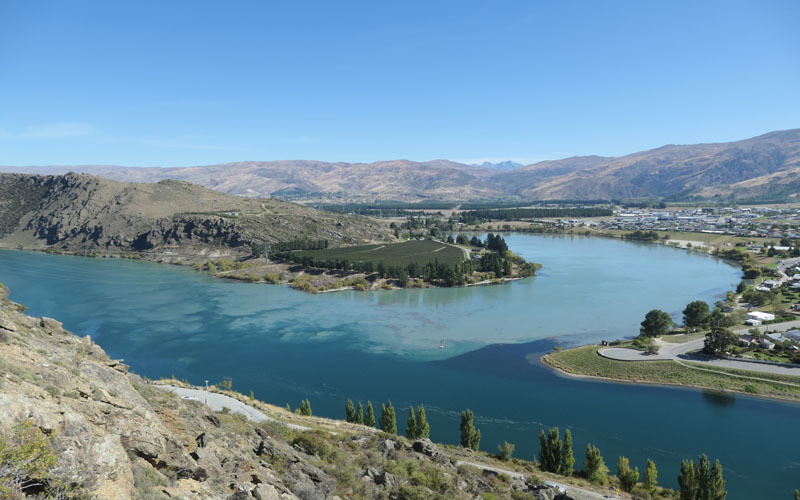 On one of numerous day walks is this view of the Kawerau, Clutha junction.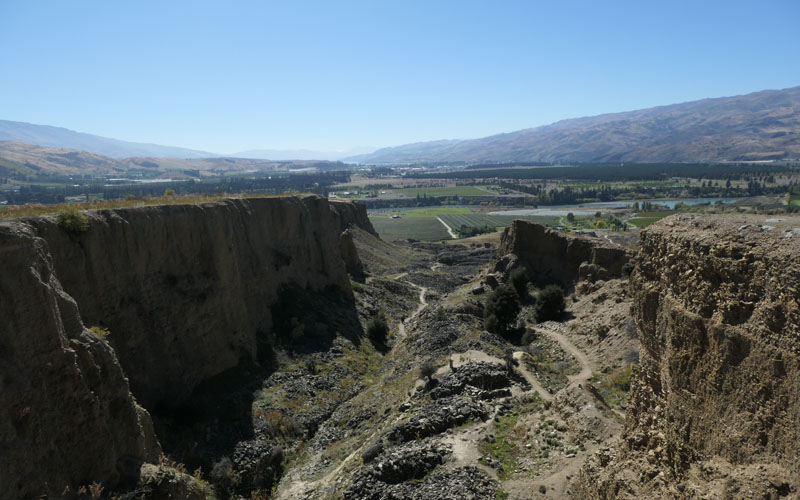 Old hydraulic alluvial gold workings at Bannockburn.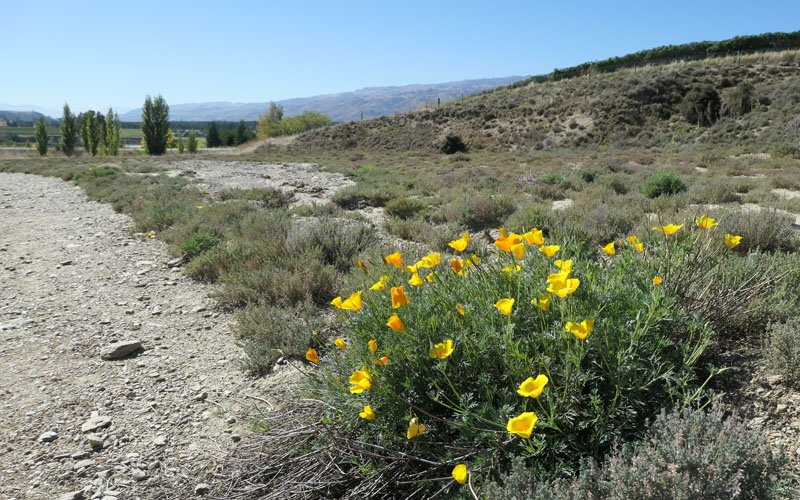 Stray Californian poppy.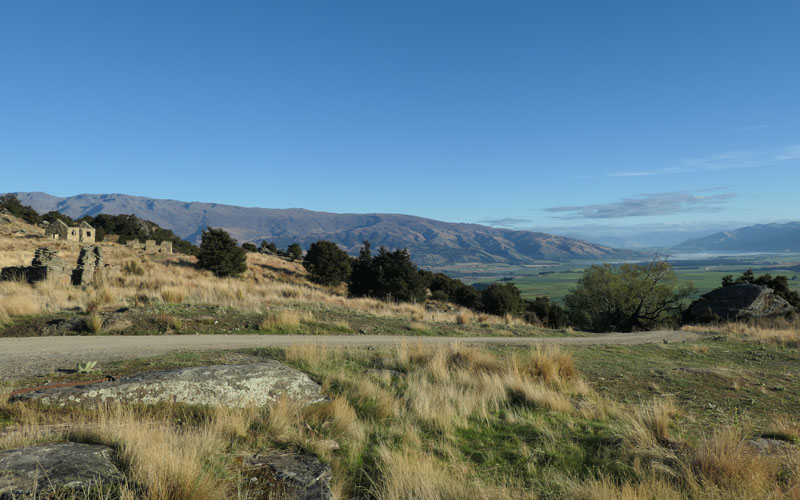 Underground 'hard rock' mining at Bendigo. This entire area is fascinating country that ive nevered had the chance to explore previously.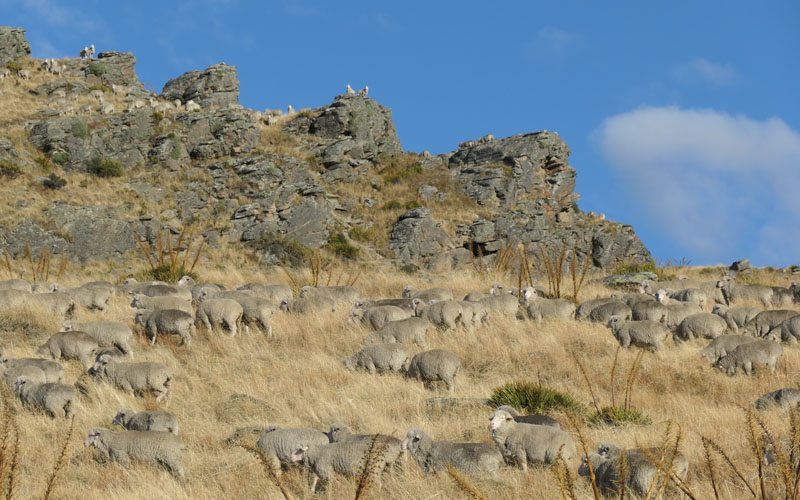 On route to Lindis Peak at the head of the lake. The weather was a bit average for the climb, but it was good exercise.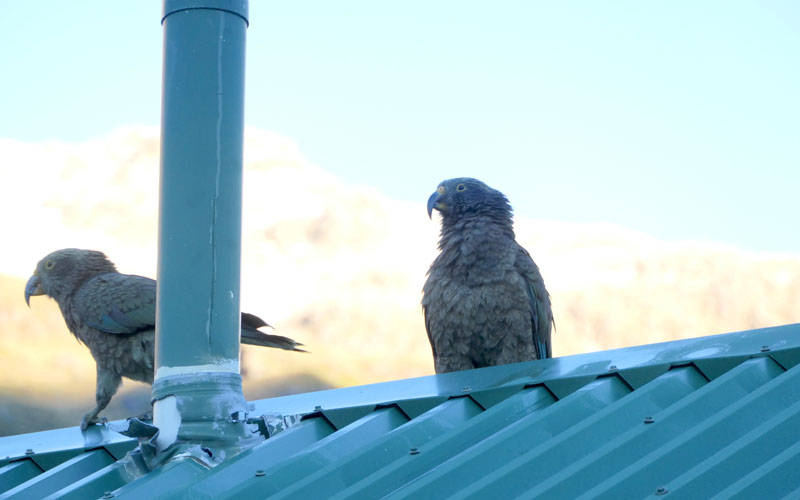 Making the traditional stopover at Mt Cook National Park, we hoof it up to Sealy Tarns, explore the Tasman terminal lake, and camp in peace and quiet down river of the bridge. At one point we saw 6 kea on the wing, some thing like 0.3% of the total population. These two were definately up to no good on the roof of the amenities block.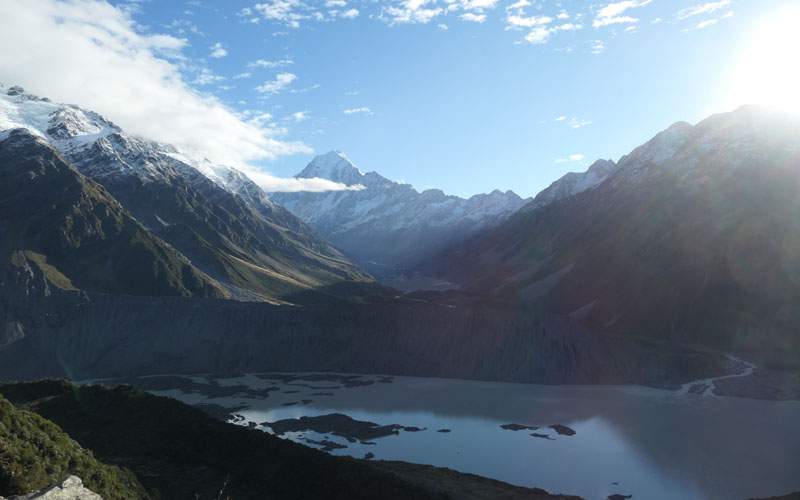 The Sealy tarn outlook that morning was misty and quite nice.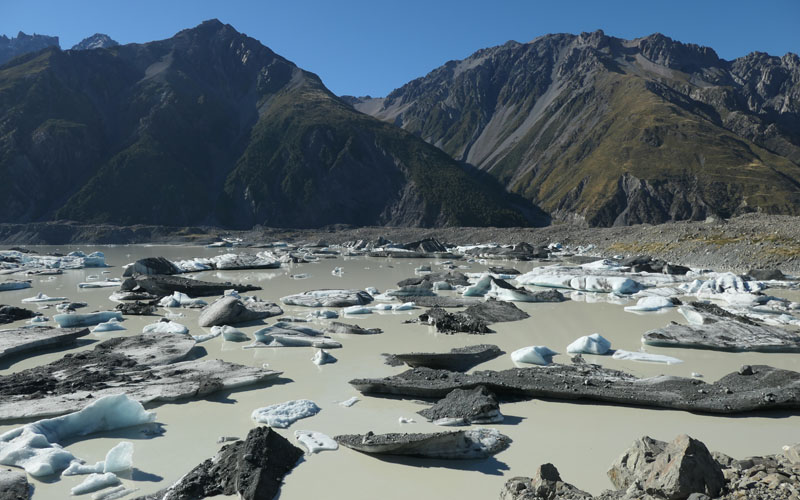 It might be seasonal, or might be recession related, but there seemed to be a lot more ice bergs in the Tasman outfall.

We strike it lucky with a glorious day, after the rainy spell we started with.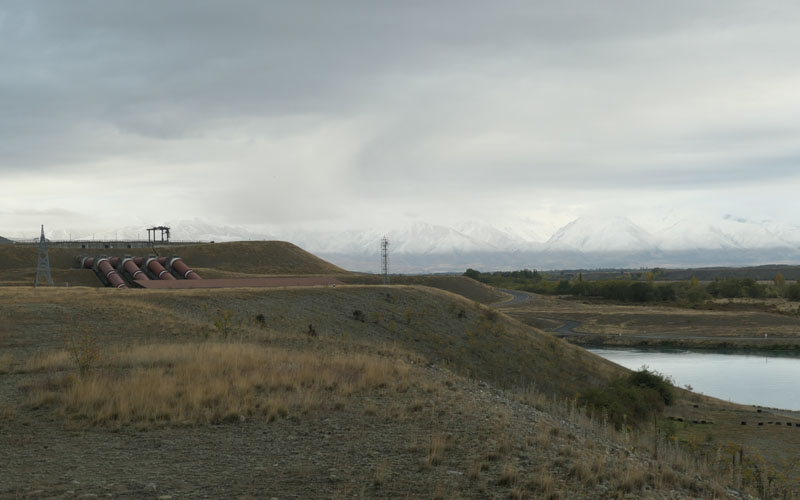 After that some more exploring around the Ohau area, this is one of the Ohau Power stations, three identical power plants on the canal between Twizel and Lake Benmore. We also went down this horific road on the west bank of the Lake Ruataniwha, that should have been labelled 4WD, and it was a miracle that we did in fact emerge at Lake Ohau unscathed.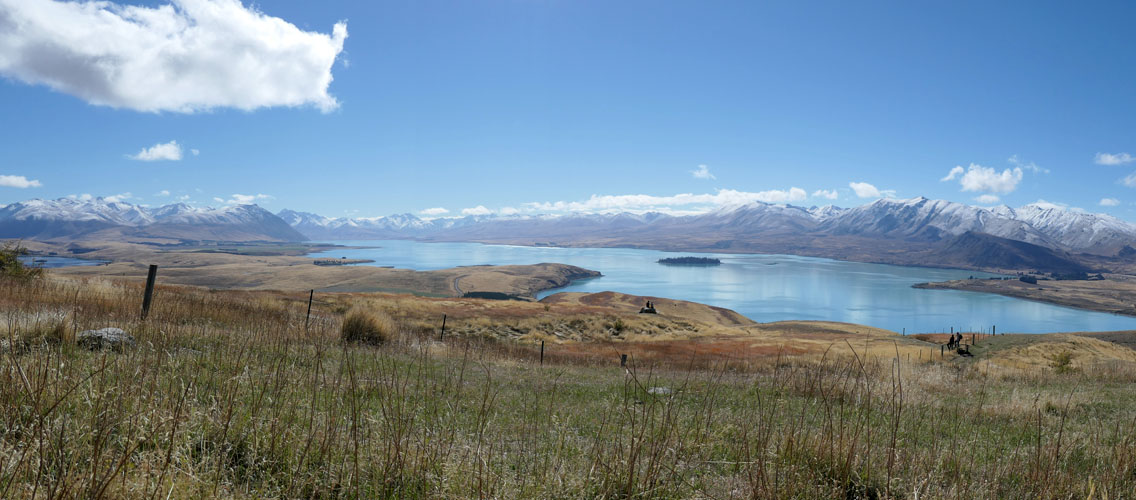 Another tradition, the climb up Mt Johns at Tekapo. Walked the entire circuit from the village, and ended with a hotspring and sauna.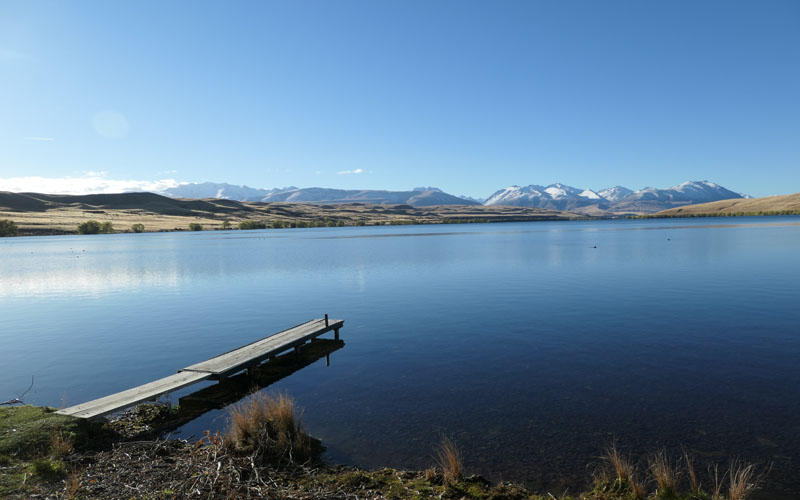 A visit to the always picture perfect Lake Alexandrina.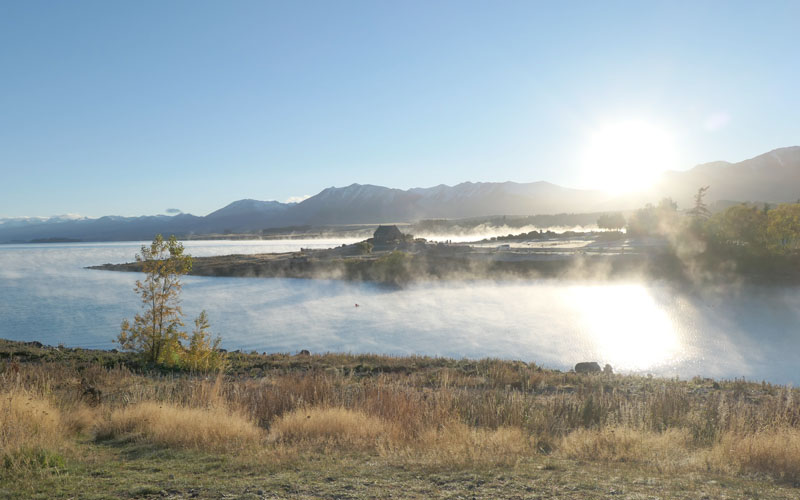 Dawn at Tekapo, was misty and moody. Lots of asian tourists with big cameras.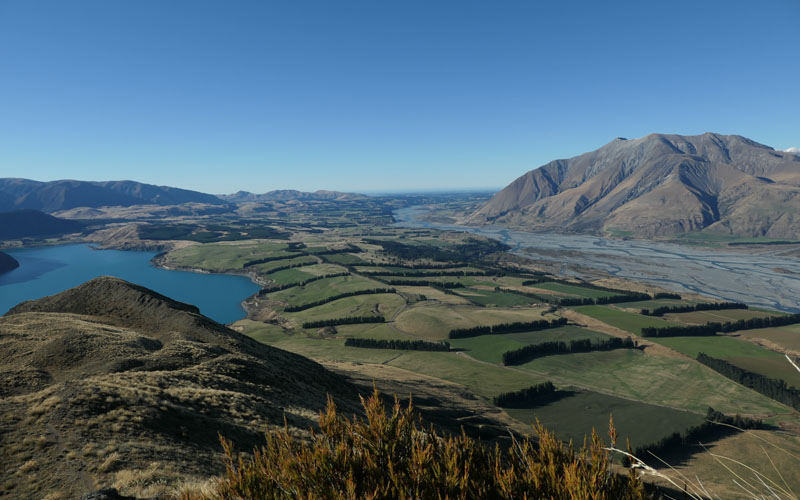 Seeing as we were getting our climbing legs, we continued with a trek up Peak Hill at Lake Coleridge, which was on the way to Arthurs Pass, (at least via the Linden Road it is.) This is rightly a local gem, thats Mt Hutt off to the right.

With panoramic views of Lake Coleridge and the Rakaia River.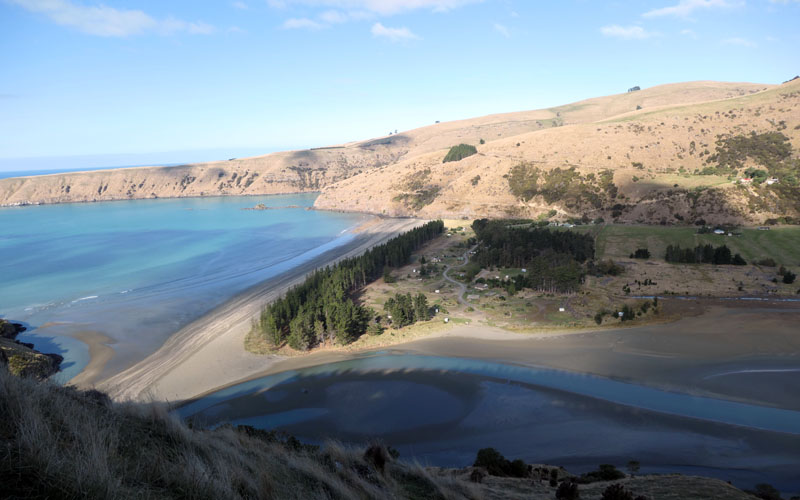 Finally back in Christchurch after three months away we have a week to kill, and spend it exploring the many bays of Akaroa. This is looking down on Okains Bay. The roads are steep as anything, and its slow going in the bus, but the narrow roads and minimal traffic make for an interesting time, and we manage to find places to camp with some creativity.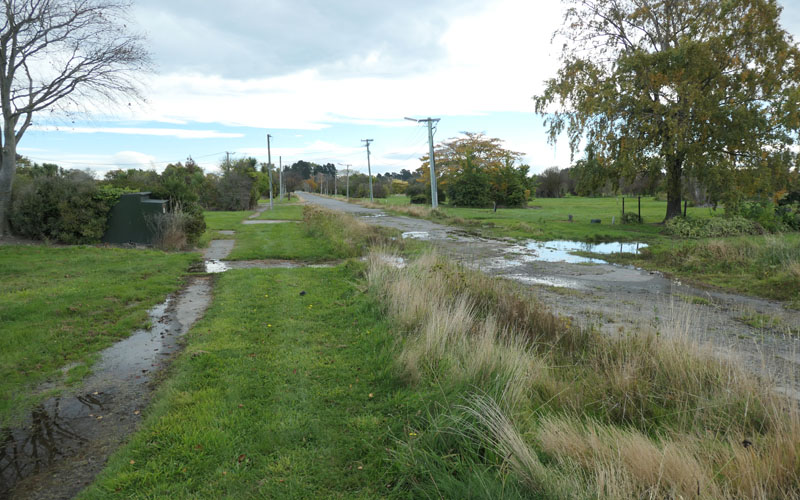 Finally i decide to take a look at the Red zone . Whole suburbs are now empty, ghost towns. Hit satellite view on that map to see the extent of it. I spend a couple of afternoons wandering, looking for fruit, and thinking about life.
2019-05-03 www.zoneblue.nz/cms/page.php?view=south-island-2019

Summary
Being the tour guide with a very special person visiting from Europe.
Mountain Imagery