Taranaki Landscapes 6
Over the Christmas break we went on a couple of trips to Taranaki by way of farewell. Our goals for these trips were to do the round the mountain circuit, and to explore the Kahui hut surrounds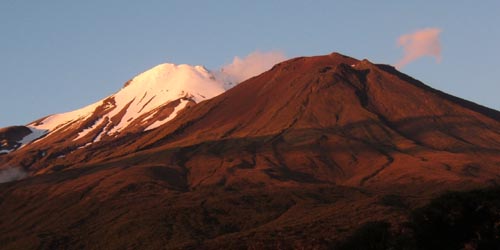 Fanthoms and Taranaki seen here--from Lake Dive at dusk--as equals, certainly good friends.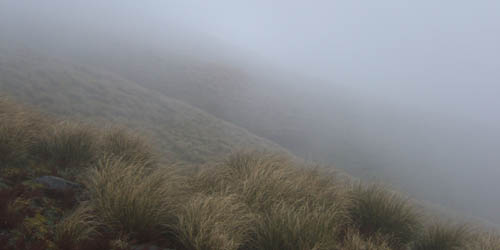 Walking the upper route to Waiaua Gorge via Brames Track in the mist. Beats wallowing around below like a pig in the mud.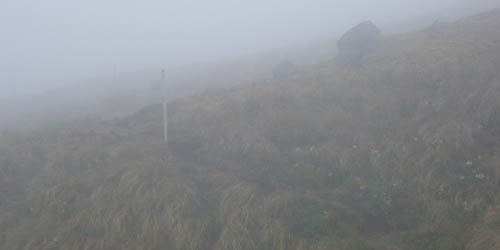 Its a really nice walk, no wind, no view, and well marked with hundreds of DOC`s new orange poles.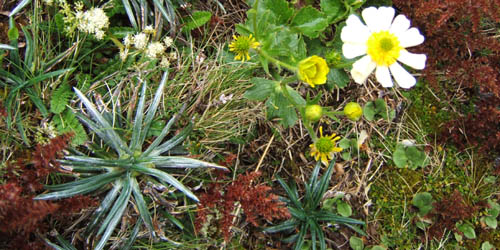 A freak cream colored mountain buttercup.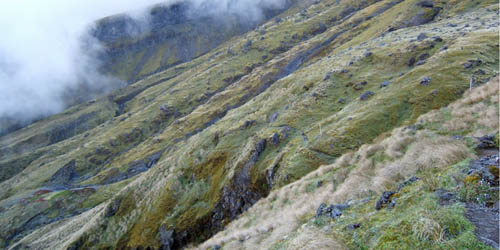 The route comprises a short sharp climb then a traverse across to bobs ridge, seen here in the distance.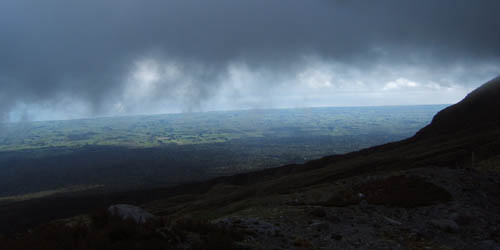 Sometimes the whiteout lifts.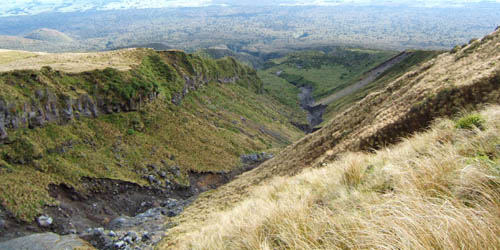 A few good sized gorges have their origins around here.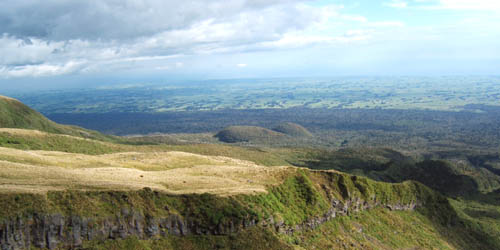 The beehives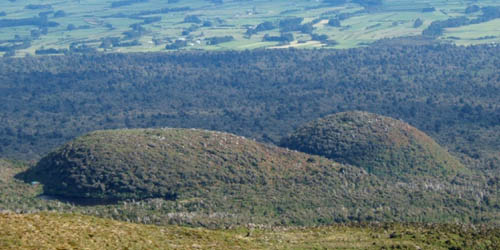 Lake Dive at left and the hut at far left.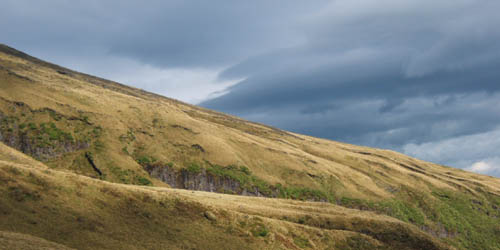 A clearing of sorts later on.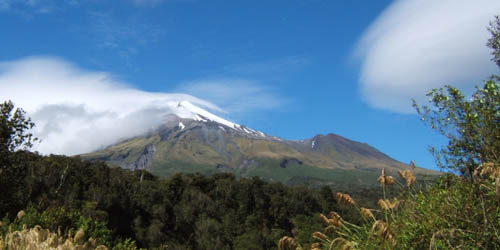 All sorts of weahter in a single day. View from Waiaua Gorge Hut after a good day up in the tussolk.
Based at Kahui Hut, among heaps of rest, we managed a day trip ascending from the hut to Turehu, traversing to big pyramid, little Pyramid and returning via the old Pyramid track.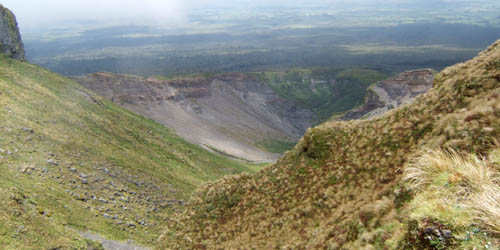 Looking down the Okahu gorge from opposite Hughsons ledge.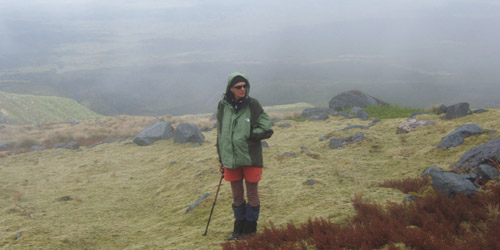 Doesnt she look at home here on the western moss fields?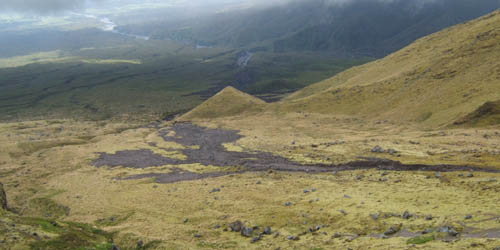 Climbing to the col above Turehu, there is this view of the pyramids and the stony river in the distance. This catchment has seen some dramtic erosion in recent years.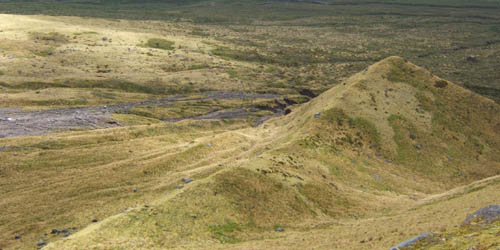 Little pyramid from big pyramid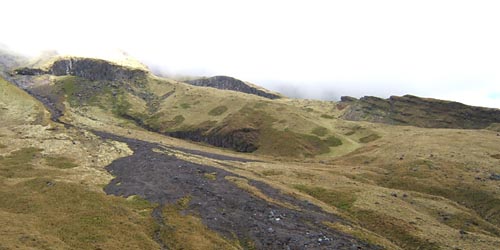 Shows the traverse across from turehu hill, at right.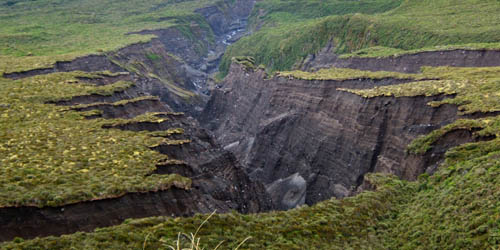 Pyramid `creek` erosion. Perspective from little pyramid.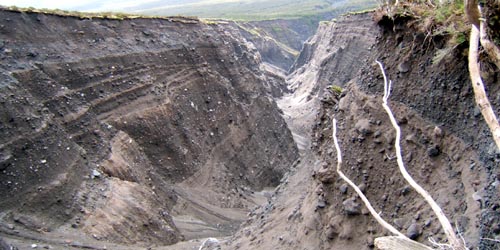 Perspective from where the old track disapeared. The canyon is probably 100m deep.
A couple of weeks later in a follow up trip with Oliver to explore more of this great area. Daytrip one: Kahui, Jacobs ladder, Okahu, Hughsons, Black Rock, Kahui.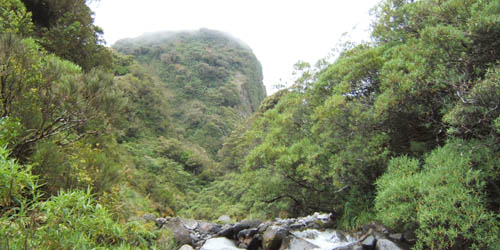 Looking upstream to the historic Maru pa. It was here that the remaining local iwi sheltered but finally overcome by armed Tuhoe. (Maru i gather means shelter, and Taumarunui `big sun shade`)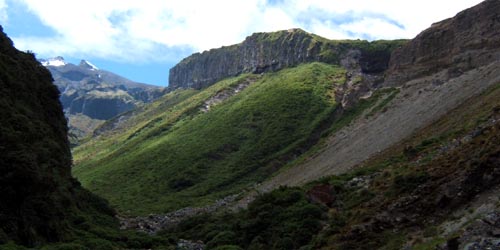 You can see how steep Maru (at left) is on most sides. Hughsons ledge is central, and as such represents one of only a couple of breechs in the massive Okahu Bluff. Skeets slide is at right.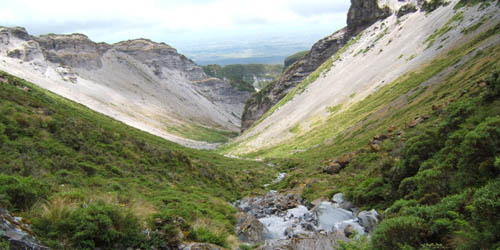 Looking back down the Okahu.
Day trip two: Kahui, old Pyramid track to Turehu canyon, then descending same as far as the Stoney and return via track.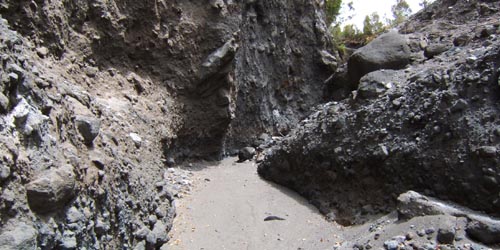 Thats your average sort of terrain, sandy bottomed dry stream bed.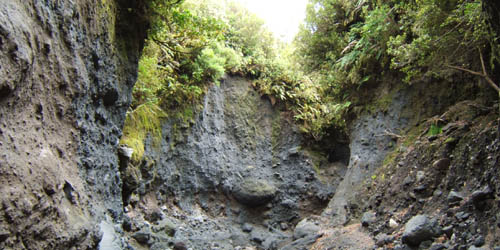 This shot shows the canyon at is darkest. There are 3 jumps between 1-2m.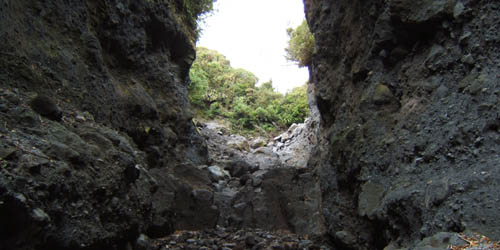 Thats one of the boulder jam jumps. It would be difficult going upwards.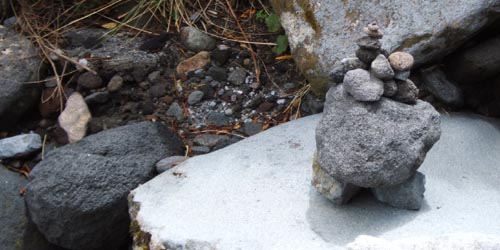 Olivers rock creation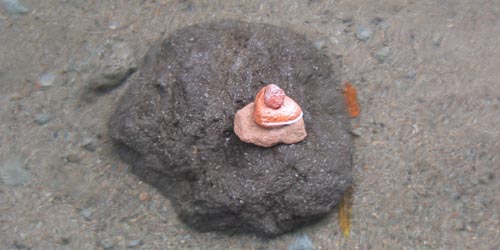 Peters stone creation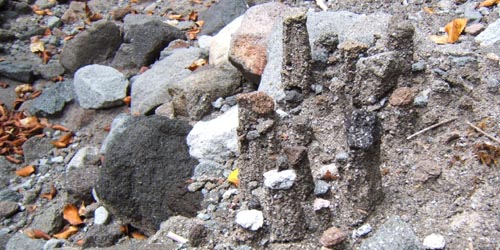 Natures stone creation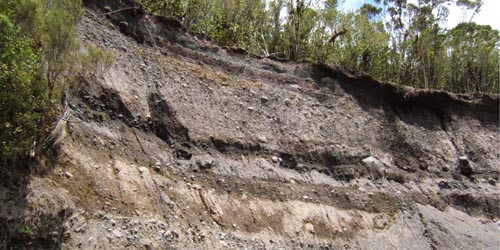 Interesting volcanic sidewall cross section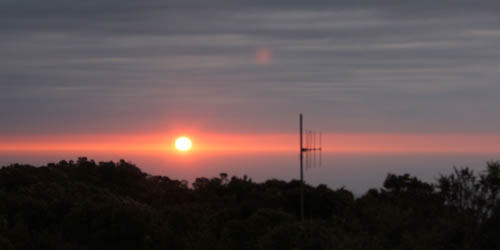 Sunset from Kahui Hut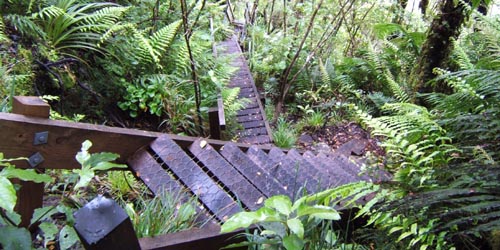 One of dozens of ladders and stairs on this precipitous side of the mountan.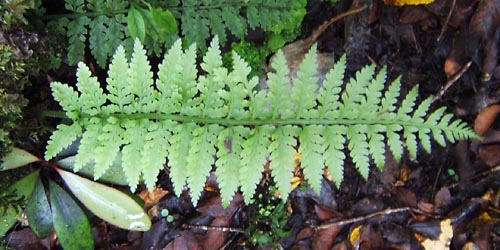 A lone fern frond.
Farewell Taranaki, we will miss you.
---
Photos index
2008-10-25 www.zoneblue.nz/cms/page.php?view=taranaki-landscapes-6