Germany Ecovillages
Being interested in the larger ecovillages, i pick the largest three. Zegg, Seiben Linden, and Schloss Templehof. By the generosity of english speaking Germans, i was fortunate to have amazing experiences at all three projects.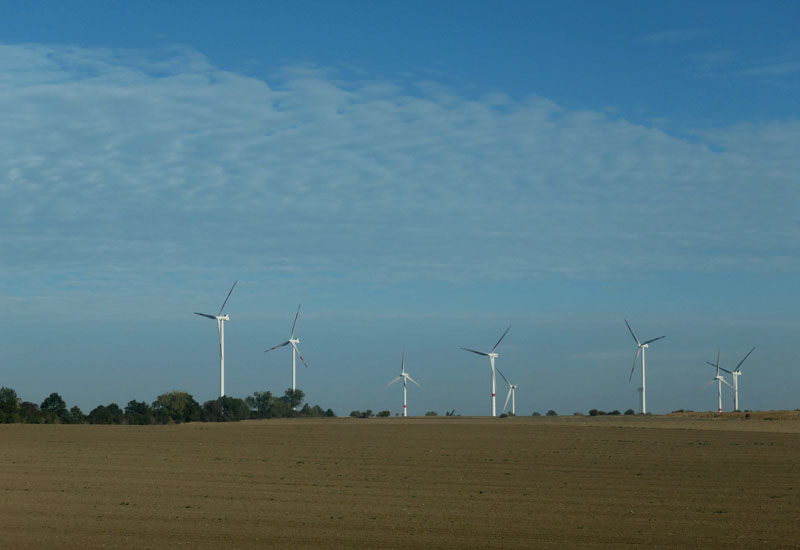 Traveling on the big cheery red Regio trains, several things stand out about the rural areas. First the german countryside is positively littered with wind turbines. Even though Germany is a really really not windy country. Such is their enuthusiasim for renewable energy. As for the farm land, its more or less devoid of livestock or crops. There are a lot of trees, and the rest is cornfields, some for animals in confinement, but mostly for biofuels.
My first stop is Zegg, not far from Berlin, and on the outskirts of the small town of Belzig. The name is an abbreviation of Center for Experiments in Social and Cultural Design. One hundred residents live on a 15ha property that has had some colorful previous uses including an SS training camp. I was there during their summer camp festival, with guest speakers, workshops, dance, yoga and much else besides. After the festival i stayed on as a garden volunteer to get a sense of normal day to day life there. This building is the main building, and includes seminar rooms, guest accommodation, ablutions, library, and some resident accommodation. Everything mixed up.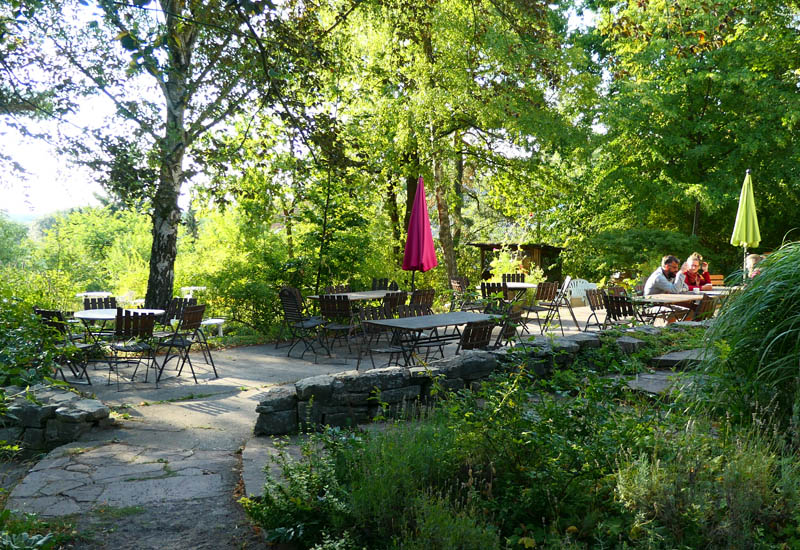 An separate large building serves as a kitchen, dining room and guest house. And this view is its extensive dining terrace. There's a large wood workshop, an internet cafe, an office building, and several other accommodation buildings. '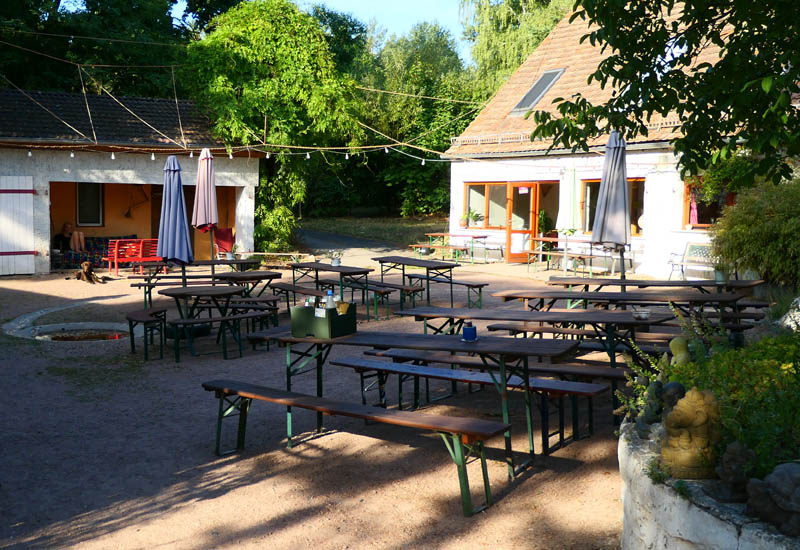 The community does common spaces really well. This is the Dorf Kniepe or village pub. Its open each evening, and people can get a beer and hang out. Theres also a few little shops for essentials, books and crafts. Another interesting building is the San Diego Cafe, which is a meeting space, slash cafe. All the spaces come complete with great sound systems.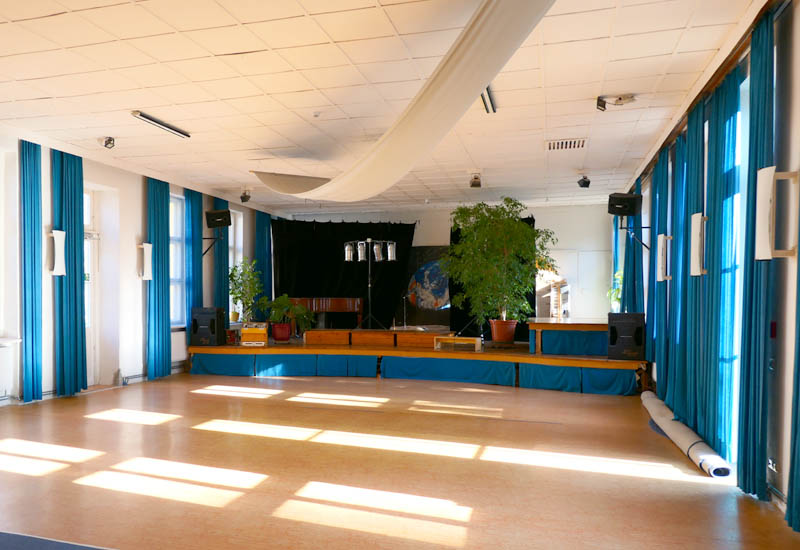 This is the largest seminar space, and is fantastic for dance, for which the community has a special passion. Five rhythyms, contact improv, plus much else.
There is a large round paved area for outdoor celebrations, which i am sure is visible from space. And this large tent which is used for festivals.
The community has gardens, and orchards, and a plant based waste water system. I found the village quite spread out and walking was at times lengthy.
The culture of the community is quite intense, with healing and connecting openly and transparently being a big focus of the community. The Forum process they pioneered is an intensive interpersonal sharing, learning process, and they train trainers all around europe and elsewhere.
The project attracts a lot of interest with several hundred people attending the summer camp. I got the impression that the community is growing, and through hard work with the wider community and planning processes, they have won the right to embark on a new phase of building development needed to expand the project.
My next visit was to Sieben Linden west of Berlin. This project was impressive for its commitment to food production, and the extent of its onsite businesses. These businesses employ members, and sell services to the community, in a somewhat closed cycle. Like Zegg the community brings in money from the outside world from hosting and running seminars and conferences.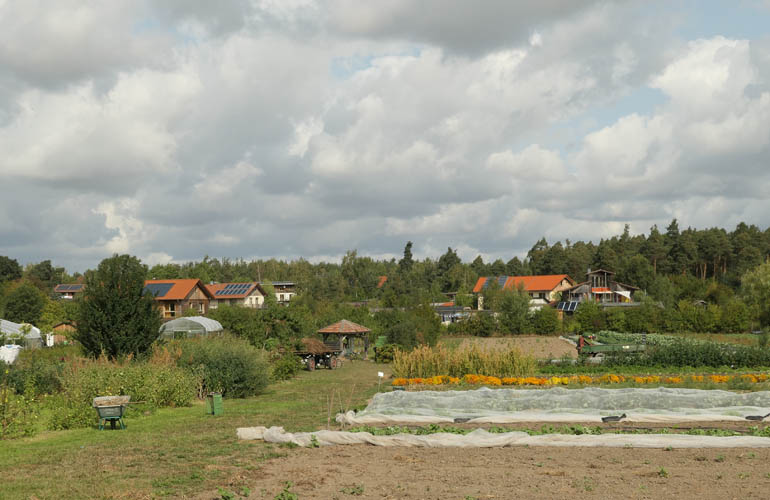 The extensive gardens, are a short walk from the village center, and there's ripe peaches, plums, grapes, and apples hanging from the trees. Tomatoes, egg plants and vegetables of every variety get grown and harvested by paid workers as well as participants of several different volunteer schemes. The food finds its way to the cellar, which is like a small supermarket. There is also quite a little industry preserving food for the winter.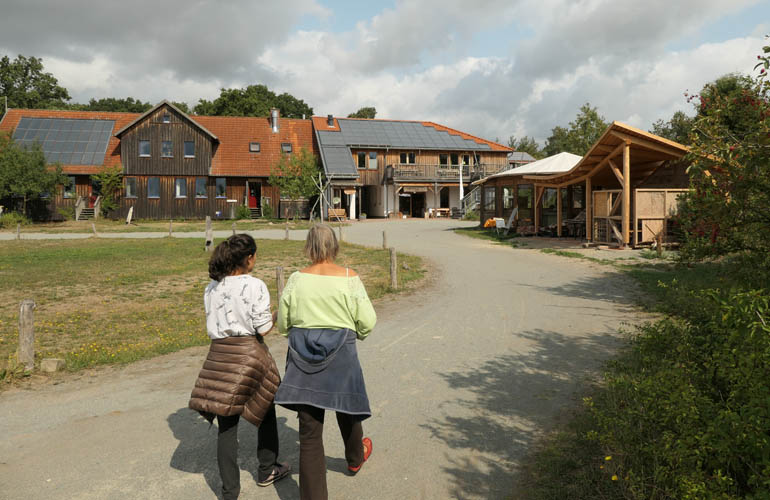 This is their main building, also heavily renovated from a prior use. It comprises seminar rooms, offices, guest accomodation, kitchen and a fairly small dining room. There is also a dedicated dance room, from which the teens run weekly discos, also a general store.
The project is 20 years old, has 150 members on 100ha, and is fairly remote from the nearest town or city. This has impelled them to create their own businesses, and also to create an interchange with the world through their extensive seminar program, and participation in numerous volunteer and educational outreach programs. Interestingly quite a number of members live in wagons. The place also has a slightly spread out feel, however all the new development is filling in the gaps in the central housing area, so a more cohousing scale design is emerging.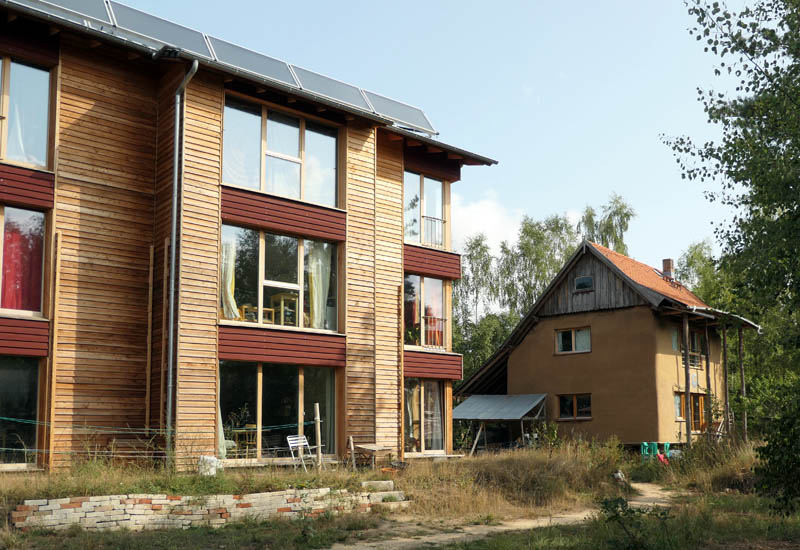 The community is building a new accommodation building every two years, and this is partly to replace the wagons, and partly in order to grow to meet the 300 member target size. This image has on the right the first house built, using hands on minimum technology straw bale approach. Beside it is the newest house with several self contained flats, and a more commercially built construction. Many of the houses have green areas around them for some privacy and amenity.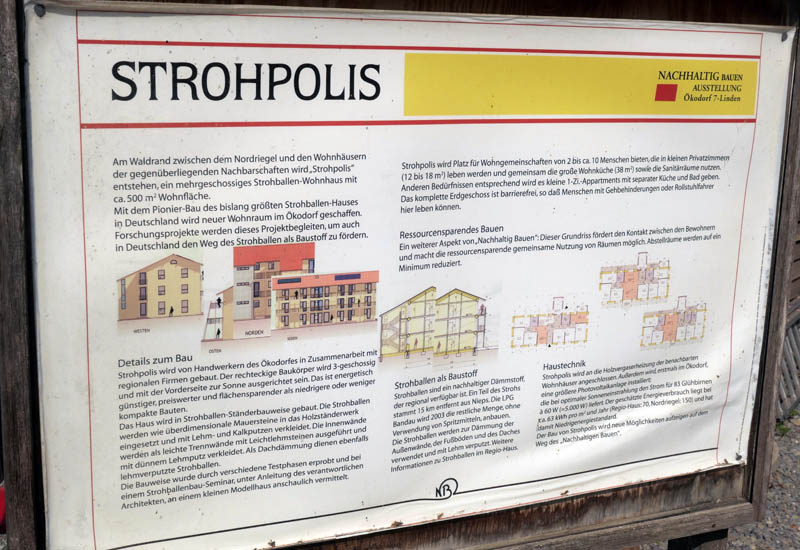 This is a three story straw bale house, and was one of the early buildings. It was built as 3 levels of 6 bedsit rooms that each shared a common kitchen and pair of bathrooms. As time went on these have been repartitioned into 3 more self contained flats on each level. The idealism of the 1990s having been tempered by the experience of wanting more privacy.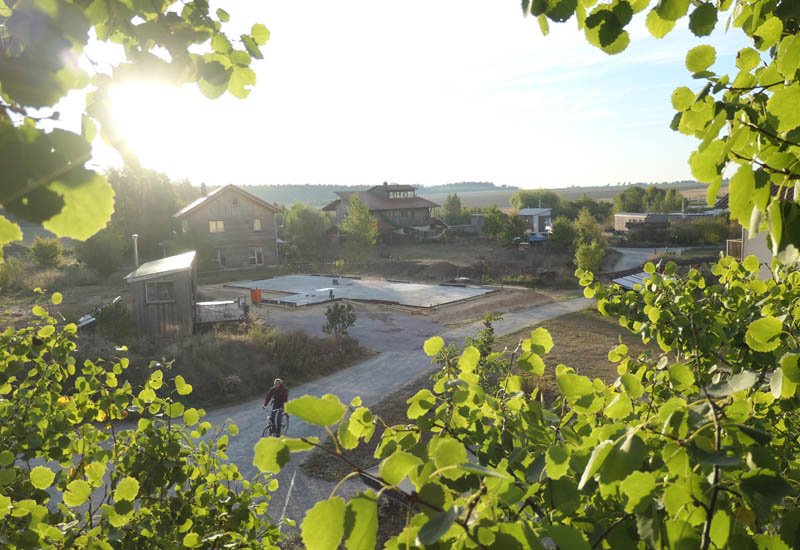 This view is of the central housing cluster where most of the new development is occurring.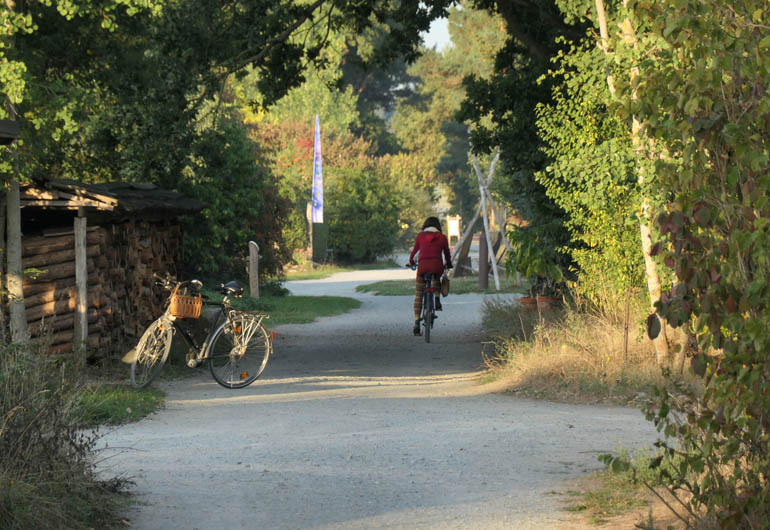 This picture reminds me of one from the Cohousing book. This path is commonly used by bikes and the carts they use for carrying goods.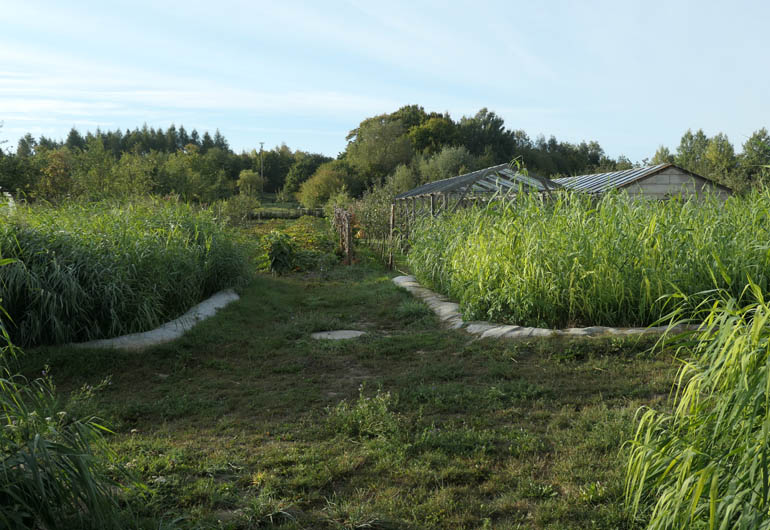 Unlike Zegg the project is 100% compost toilets, and this makes treating and recycling the grey water much easier. This is four bay reed bed system, and is odorless. Summers can be very dry so the deep well sourced potable water gets a double use.
Carrying on the ecological emphasis of the project, the entire complex is heated from wood grown on the site. Using a mixture of central heating systems and wood stoves in the wagons. The wood processing is one of the businesses in the community.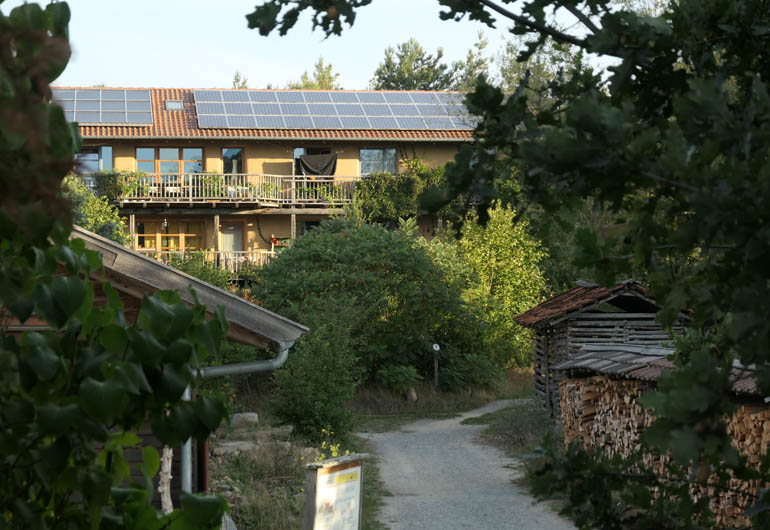 Ok, heres a picture of strohpolis, with its PV array, and the prolific firewood stacks.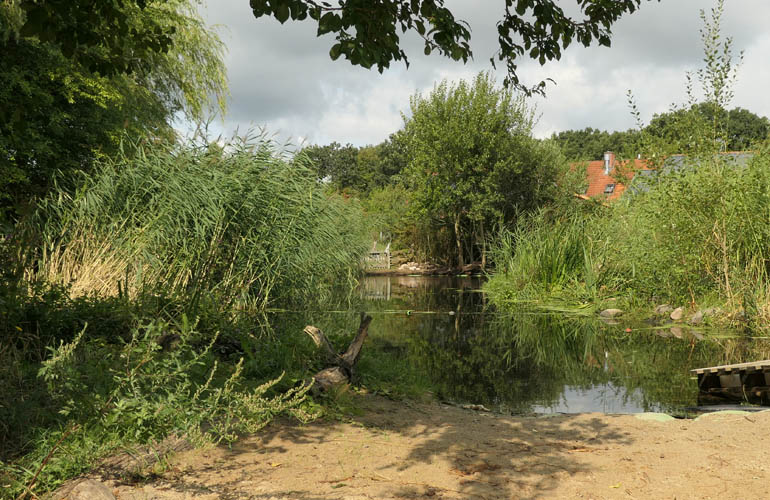 There is a very nice pond/lake, which while looking somewhat natural is actually a great working example of a permaculture style reed filtration swimming pool design.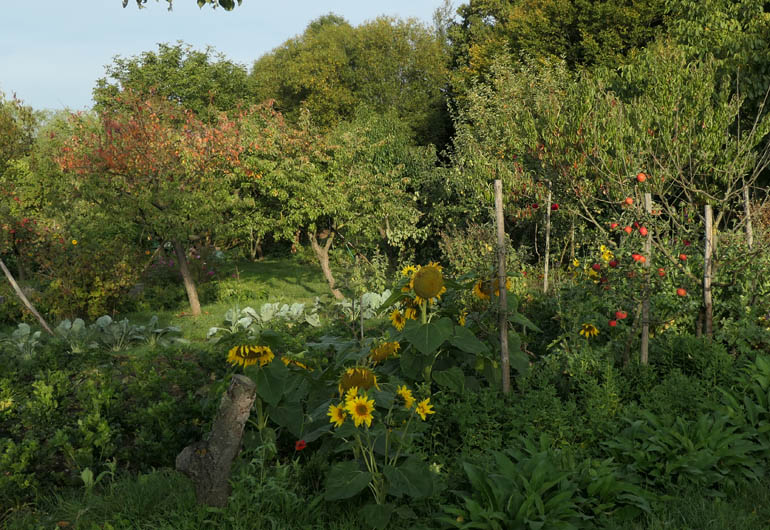 While the crops are more conventional row crops, the extensive orchards follow a permaculture design of mixed layers and guilds. Being late summer the trees were looking really happy and bountiful.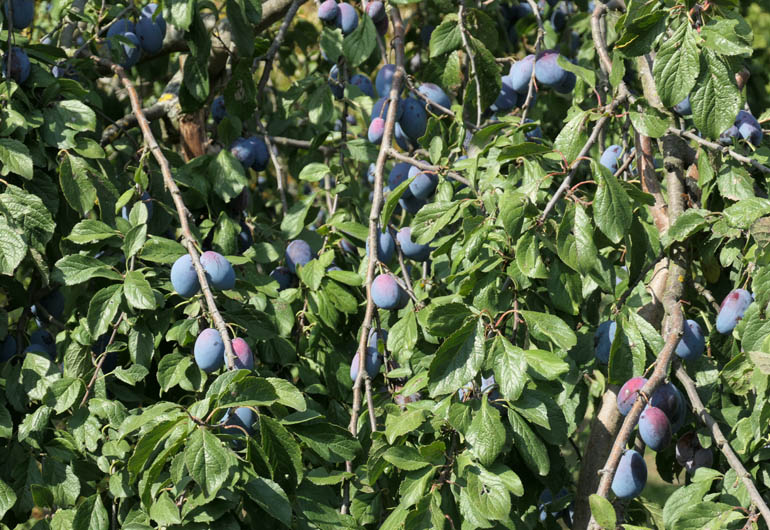 The european style, plums (pflaumen) they grow are egg shaped, and quite intensely flavored.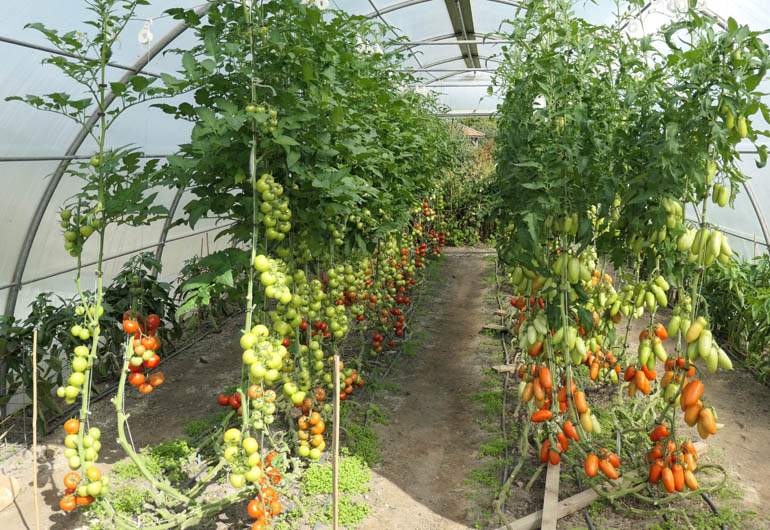 Several green houses contain large crops of tomatoes, peppers, cucumbers and egg plants.
This last panorama, really shows the ecovillage, as a seemless intregration of cohousing and agriculture. The overall package is very appealing, no suprise there. Image scrolls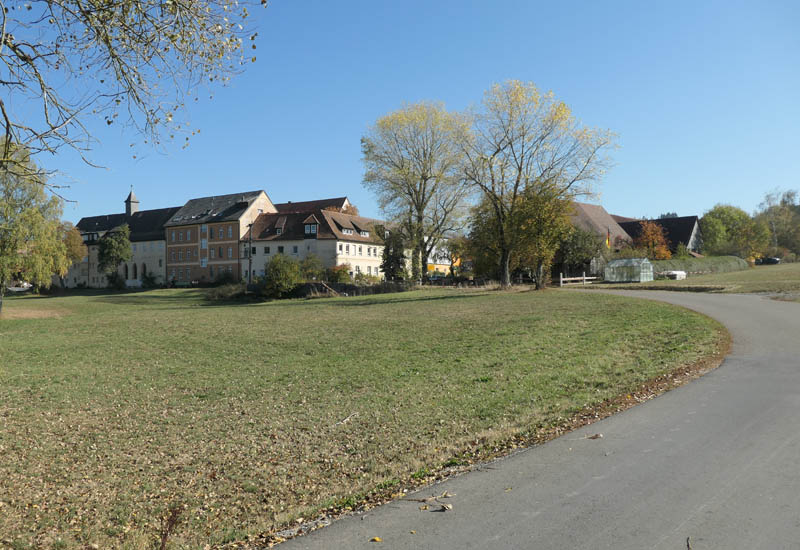 The third of the three larger communities is Schloss Tempelhof, located in the south. Its also the youngest at 7 years old. They were however blessed by starting from an existing building complex, which had been a former orphanage. Renovating it was significantly less expensive that building new. The oldest of the buildings, the schloss or manor house, is 400 years old.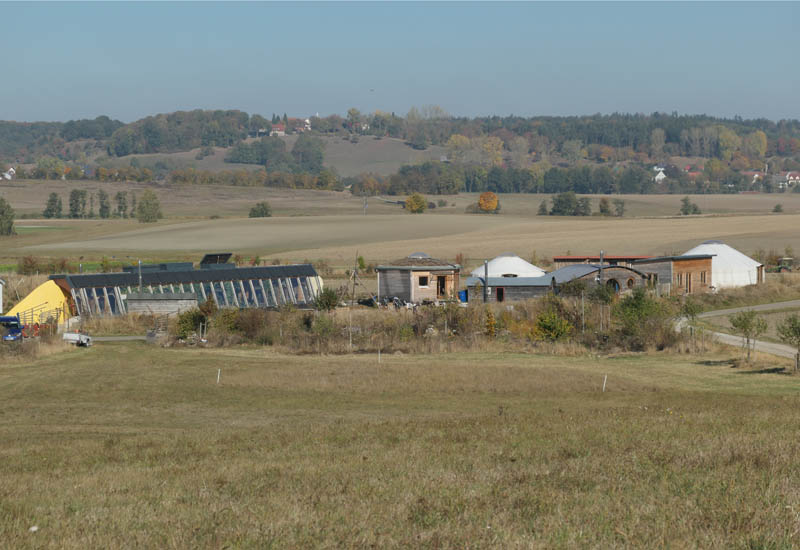 This is Templehof's experimental housing area. This was the first earthship style house in germany, and paved the way for more earthship builds. However the overall cost turned out higher than expected, germany being famous for its red tape. While the ecological and economic aspects of designs of such se autonomous houses are attractive, their lack of village scalability has downsides.
This is some of the newer buildings, of various styles. This in common with 7Linden, there exists no common architectureal theme, which can be unsettling. Left to right, office building, common house, and the existing school house. The latter is in the process of shifting to a new building as the school has expanded. This 'free' school is a big focus for the community.
This is the courtyard which is a nice outdoor dining area in the warmer months. Flats of various designs, many with small attached or shared bathrooms and kitchenettes, surround. People talked about the flats being quite small and lacking private outdoor areas.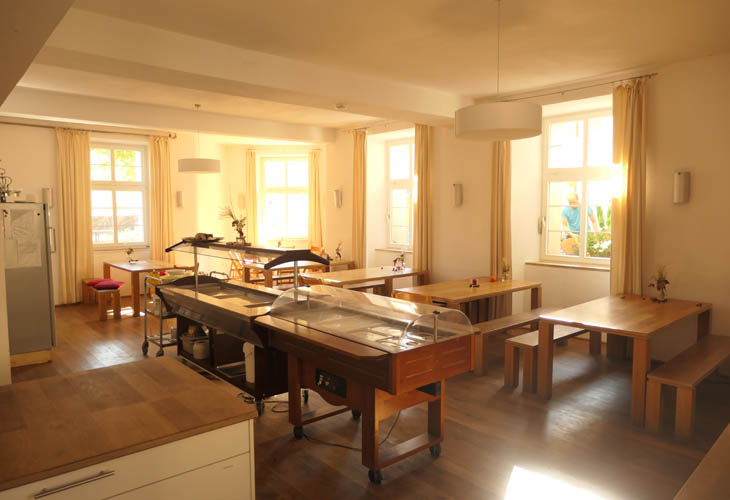 The dining room, situated in the manor house.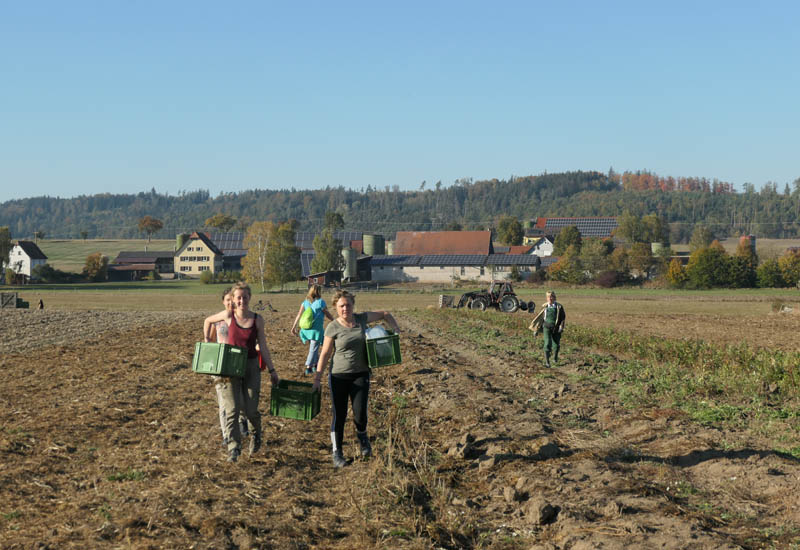 Like Sieben Linden the vegetable farming business is a serious undertaking, with managers employed to oversee operation. They produce some 26 tonnes of vegetables, around half for their own consumption, and the rest goes to a CSA vege box program. I enjoyed many beautiful autumn days spent harvesting various vegetables with the residents and volunteers. Note the way the roofs are packed with solar panels. BTW, this isnt just the ecovillage, all the nearby village roofs, facing any way but north are similarly plastered.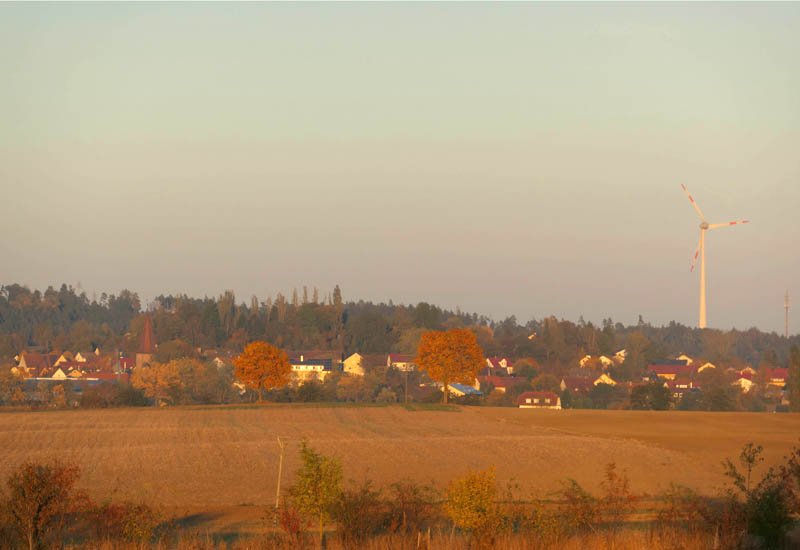 Sitting on the field, i can see at least three or four nearby villages. Throughout the region they are spaced a few kms apart, and its not too hard to get a picture of the historic agricultural and walk-ability basis of this design.
2018-10-21 www.zoneblue.nz/cms/page.php?view=germany-ecovillages

Summary
Notes on visits to the three largest ecovillages in Germany, 2018.
Related