Germany 2019c
So, later in the day we crossed the border into France, and spent the night at Haganue, ok so the H is kinda silent. It was a basic travelers inn, and expecting std bistro fare, I was immediately taken by the difference between french cooking and german cooking. Gosh, the french food is simple but flavorsome. The next day was spent in Strassburg. This part of France is somewhat of a football, having changed hands many times. Most recently France took it back from Germany as part of the WW2 settlement. Hence the younger people speak french, and the older people german.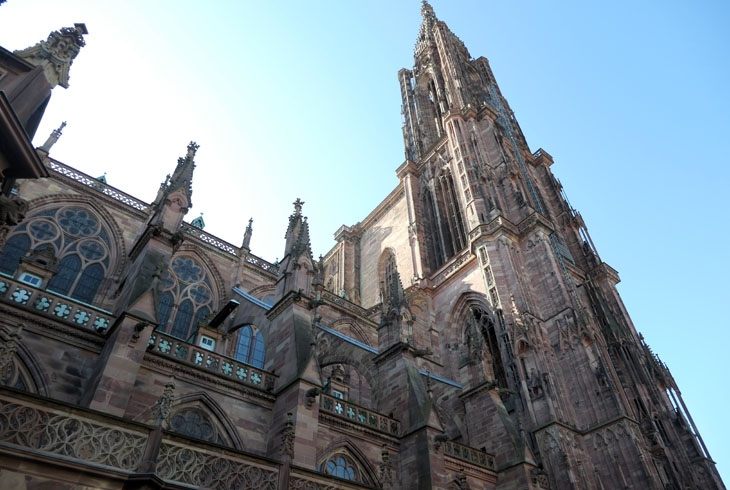 Another grand gothic cathedral. Its at least as ornate and detailed as the one in Koeln. However the second spire was never built.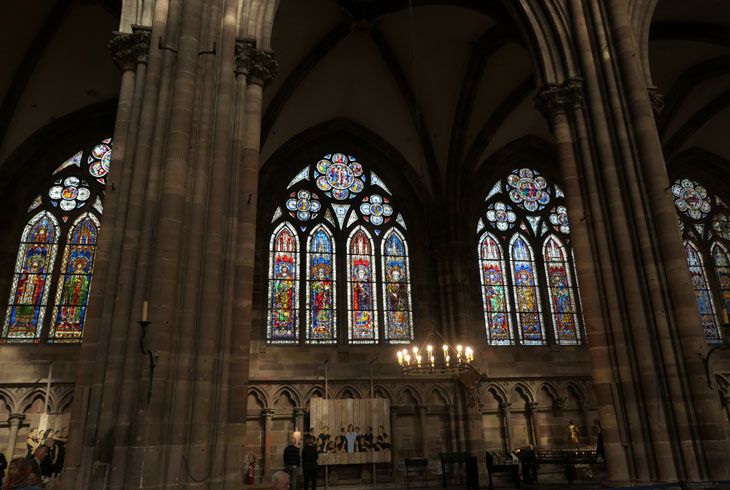 While the outside is airy and dark weather stained, the inside is quite grand.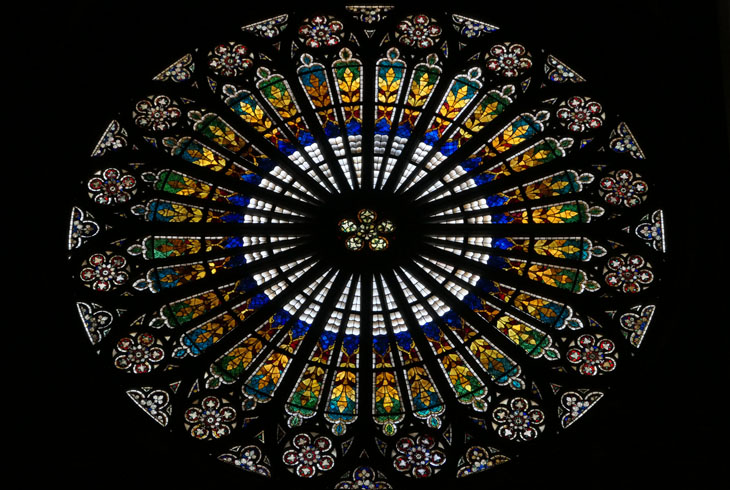 This famous rear window is unusual.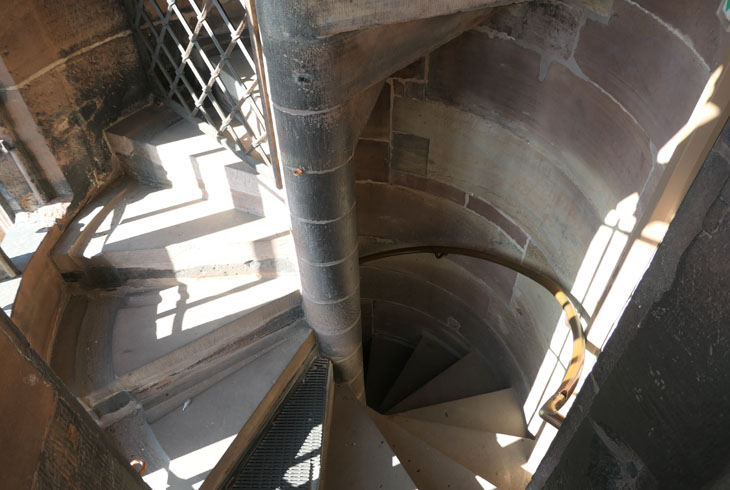 The best part about this church is has a rabbit warren of spiral staircases that you can climb to reach the foot of the spires. The staircases were a bunch of stacked brown sandstone blocks.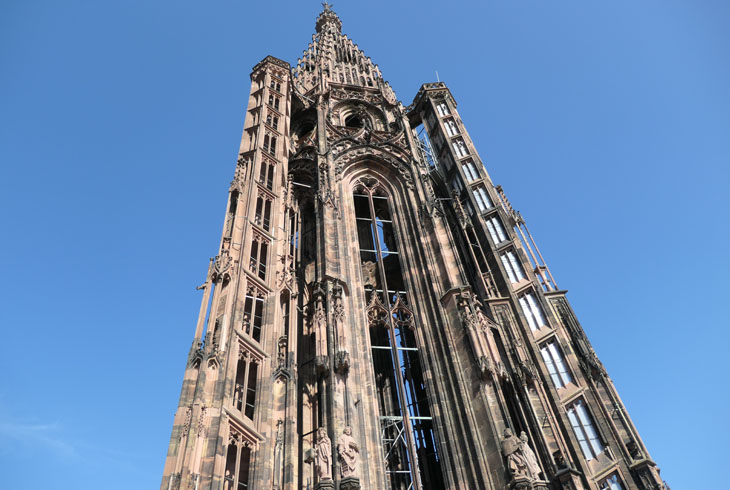 The spire is very airy, and thats to reduce the wind surface, to prevent it being blown over. It too is just a stack of sandstone blocks.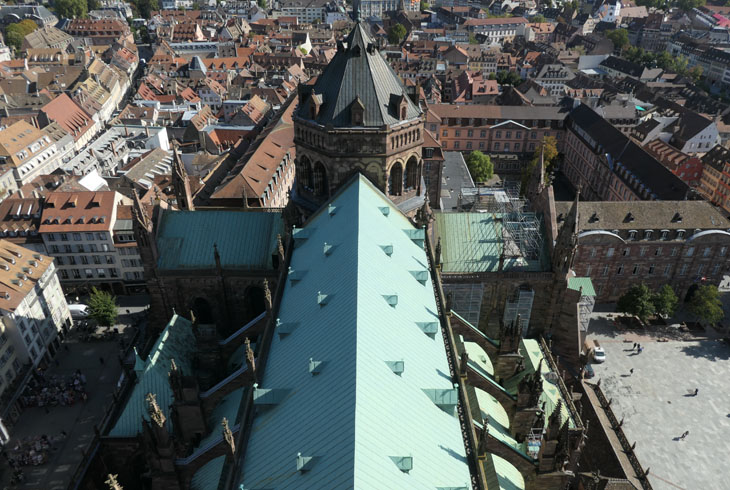 You dont normally get to see the top of a cathedral, but here you do. As well as a superb view of the beautiful old city.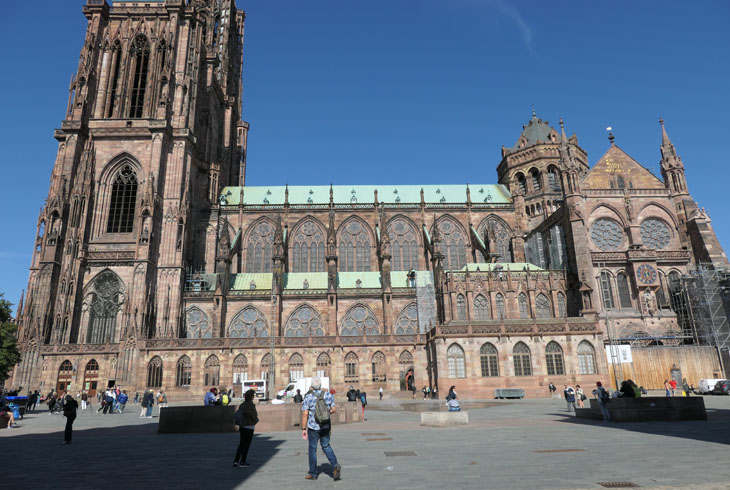 Its often hard to get a decent photo of these massive buildings for space is at a premium in the city centers. However on one side is a large plaza, that allows you this side view.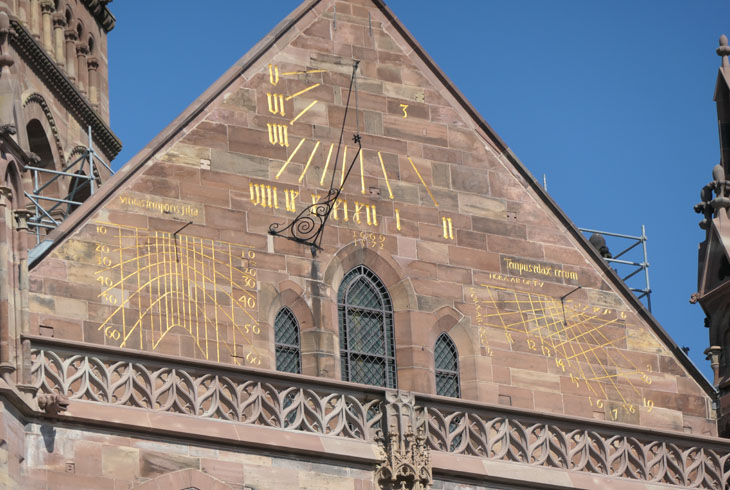 There are numerous sundials embedded in the building to help with the bell ringing schedule.

Actually the other side also has a decent plaza, and some nice old heritage buildings.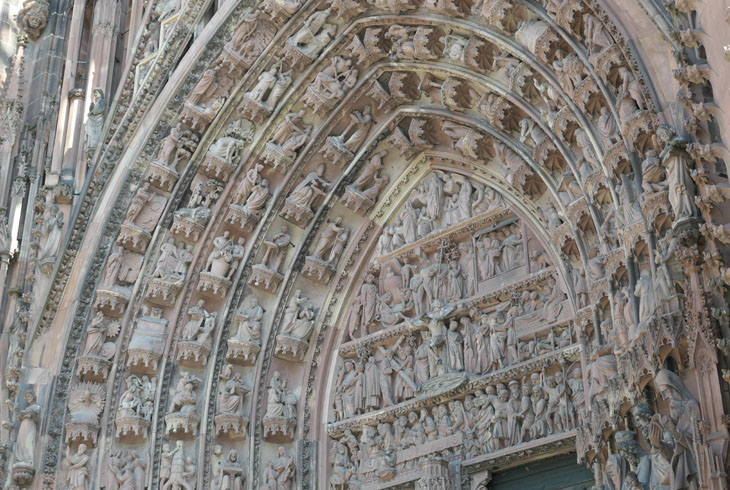 Front door detail.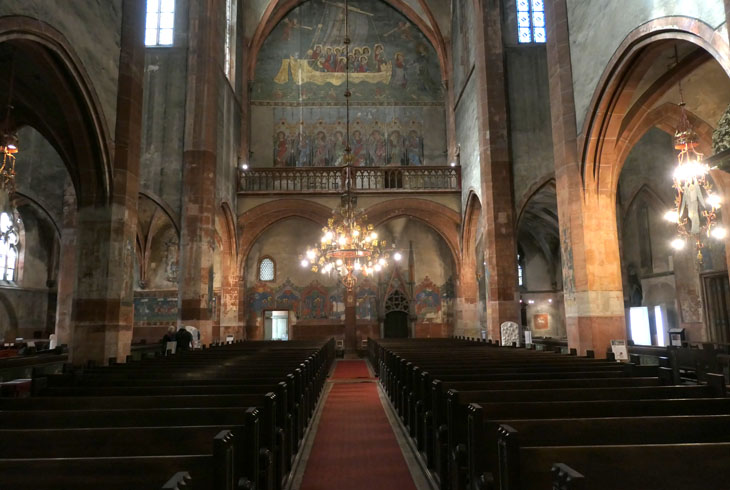 The day spent roaming the streets we came across numerous interesting churches including this simple one.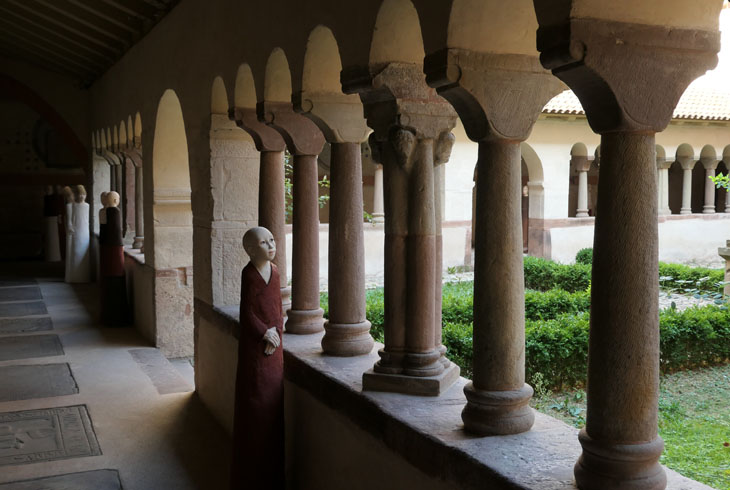 It's cloister, had some modern art.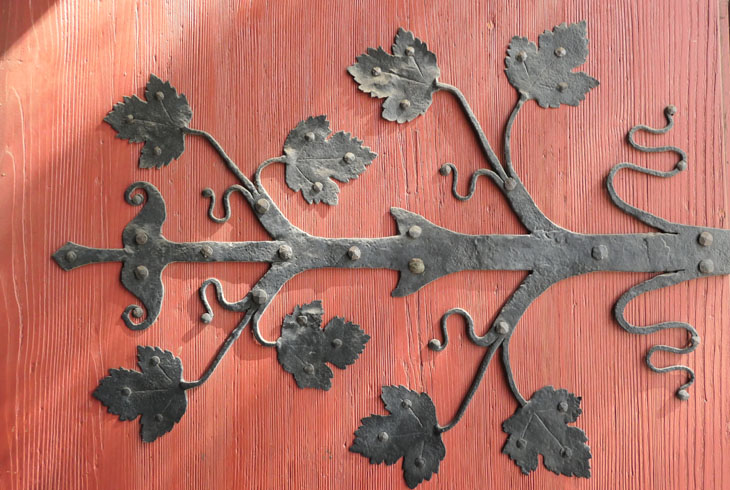 A typical door hinge, hand forged out of a single piece of iron.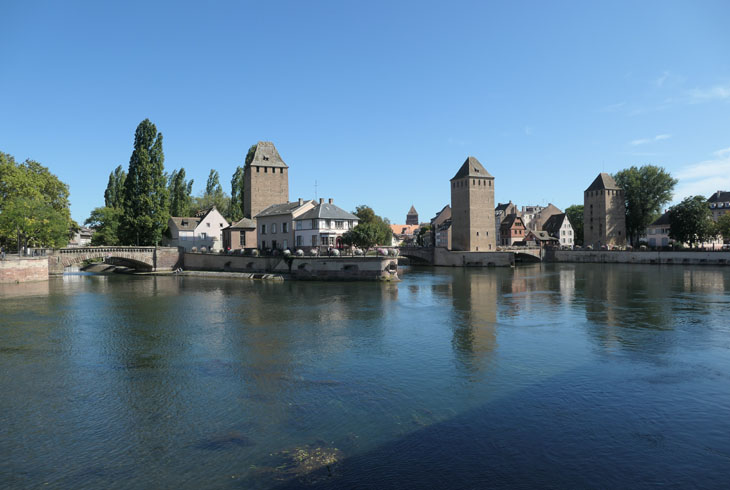 Ponts Couverts, medieval bridge.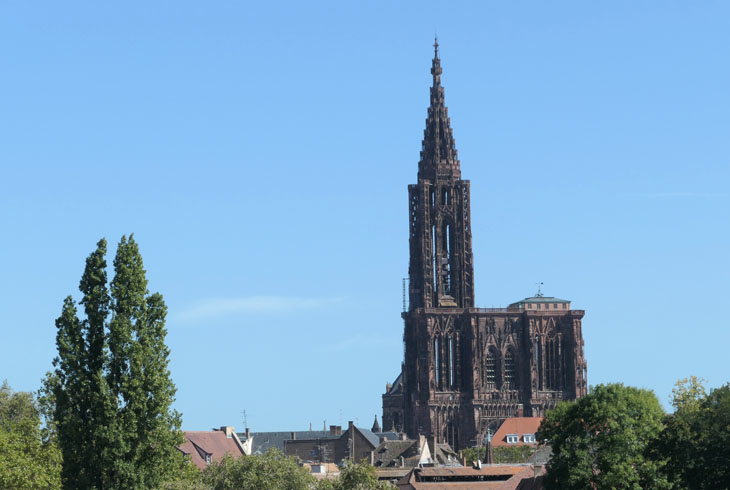 The cathedral in the distance, its really tall something like 140m.
Wandering around Petite Paris.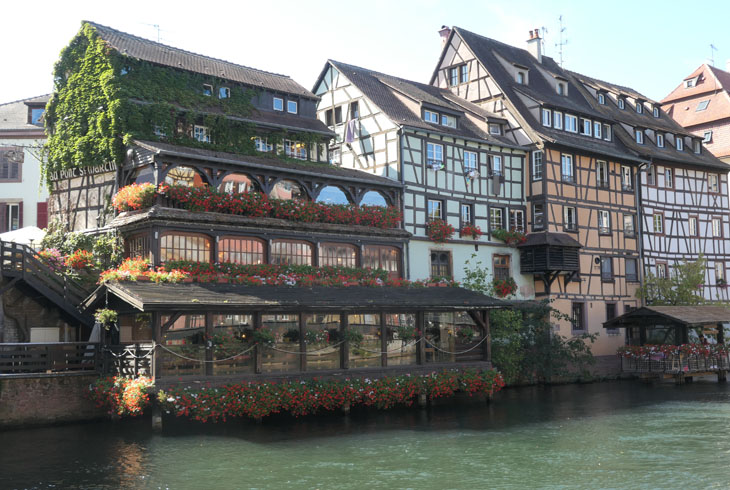 Ditto.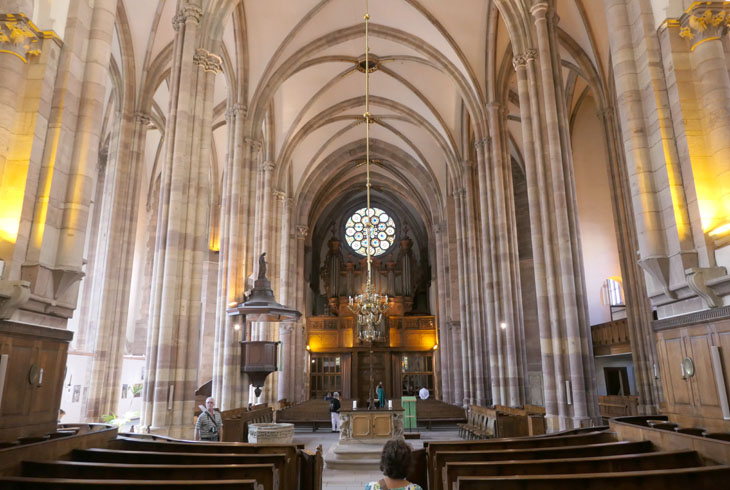 Another nice church. Gosh, even everyday churches are nice.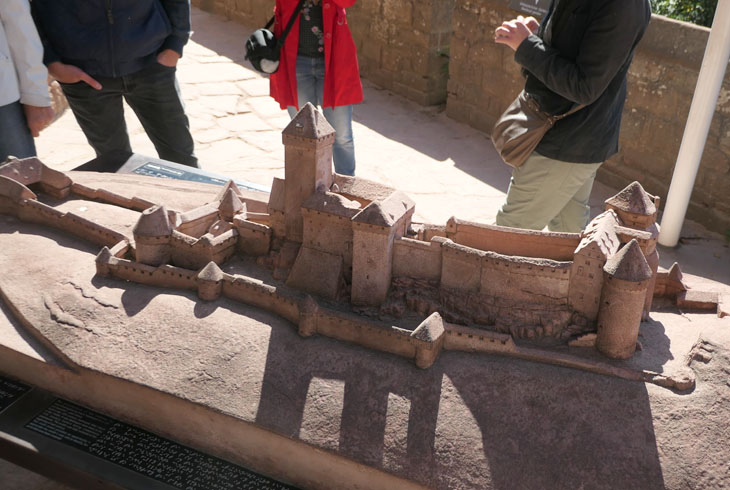 From Strasboug we head further south, heading for the castle at Chateau du Haut-Koenigsbourg. The castle is high on a prominant hill, like 700m high, the air is fresh. But you cant really get much of a view of the whole thing from below, so here is the model.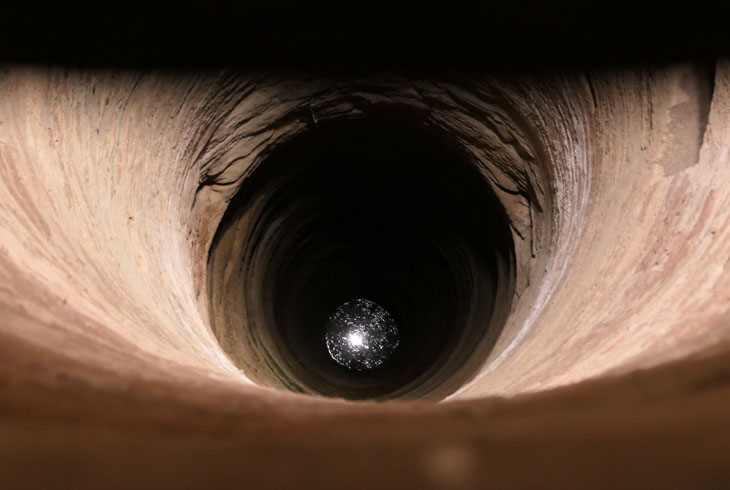 One of several wells inside the castle perimeter.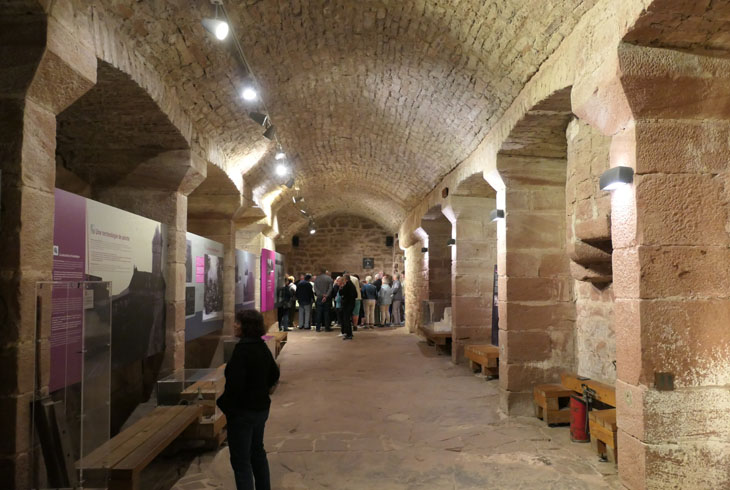 Valuted underground area. The complex is publicly owned, i think, having been restored from a pile of rubble, by one of the prussian kings around 1800. It has a heavily restored feel to it, unlike Berg Eltz which felt more period.
However here photography was permitted and i have hundreds of photos of the ornate interiors. And kachelofens.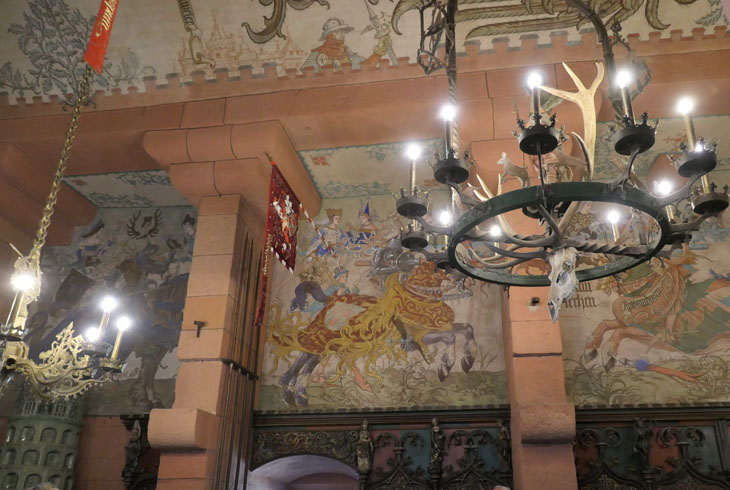 For example.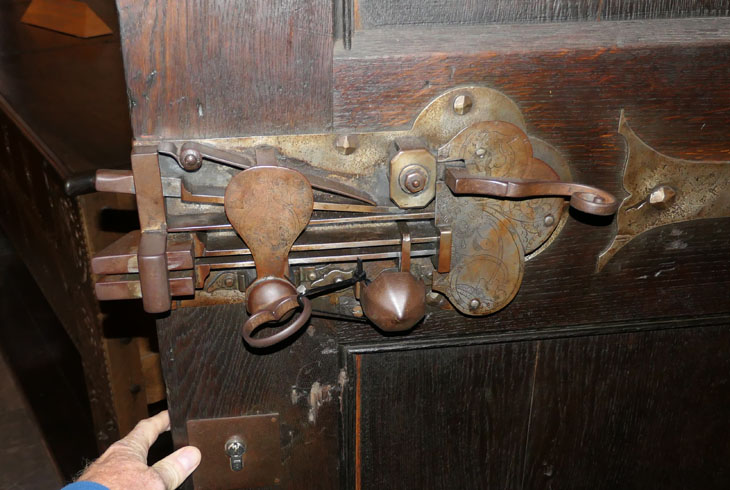 A door lock, opened with a huge steel key.
One of many internal draw bridges.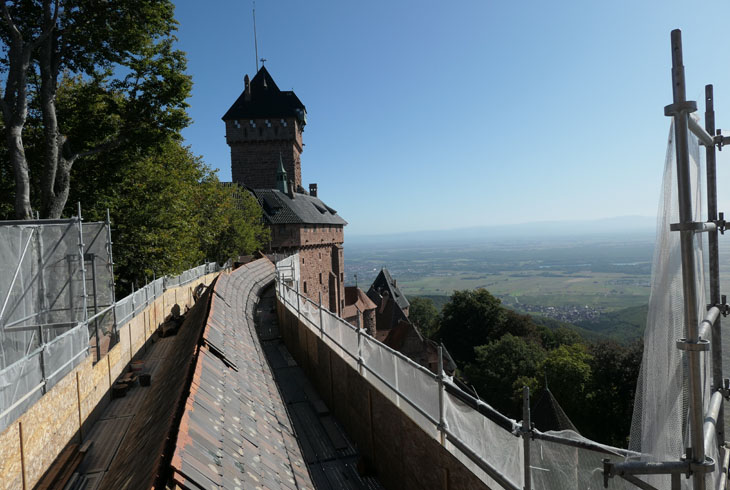 I suspect that a building like this under more or less constant maintenance. I pity the nation that has to maintain all this heritage it is a lot of responsibility.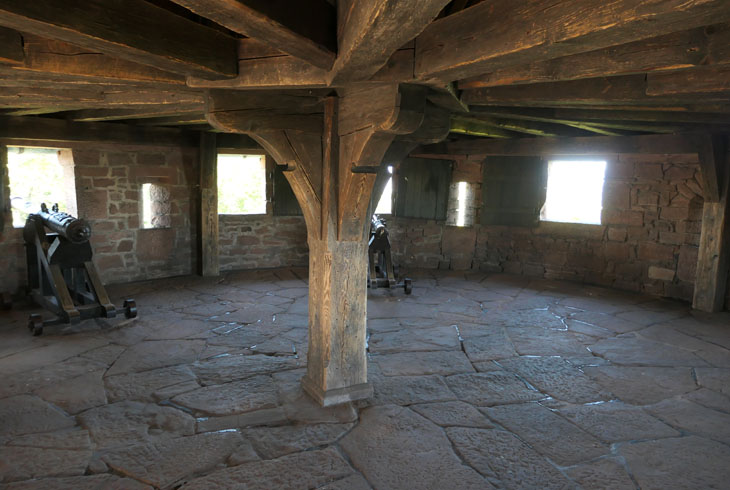 Inside the keep, which has a commanding view over the surrounding countryside.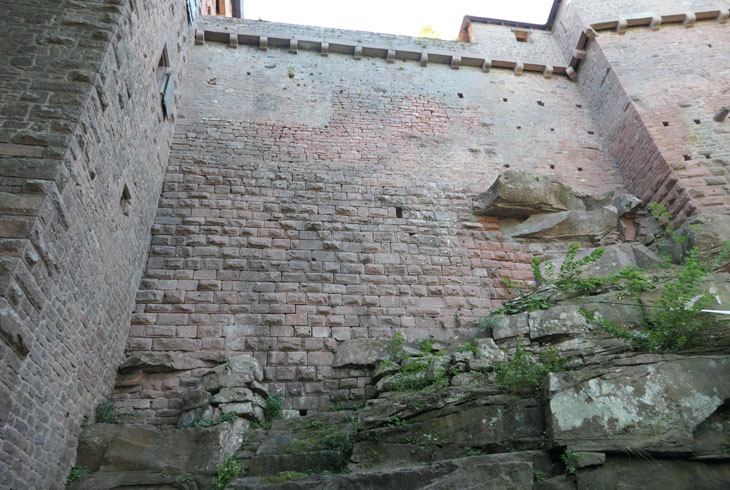 Burg meets berg.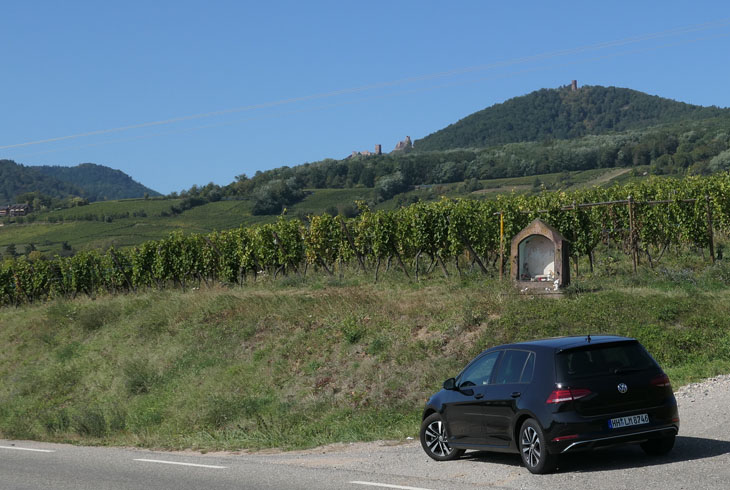 Our trusty little Fau Vee, that gets along the autobahn at 160 without breaking much of a sweat.
In the area there are a whole series of quaint historic villages. We find a B&B at one, and enjoy(?) a typical french breakfast of fresh french bread and coffee.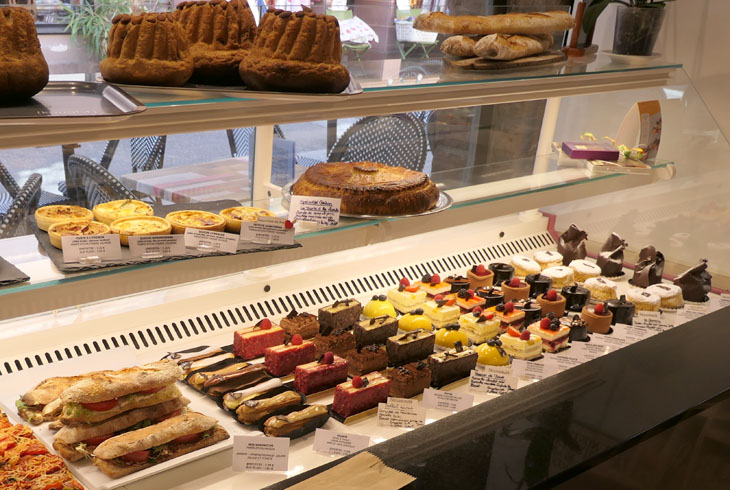 Typical patisserie. Cutesy stuff.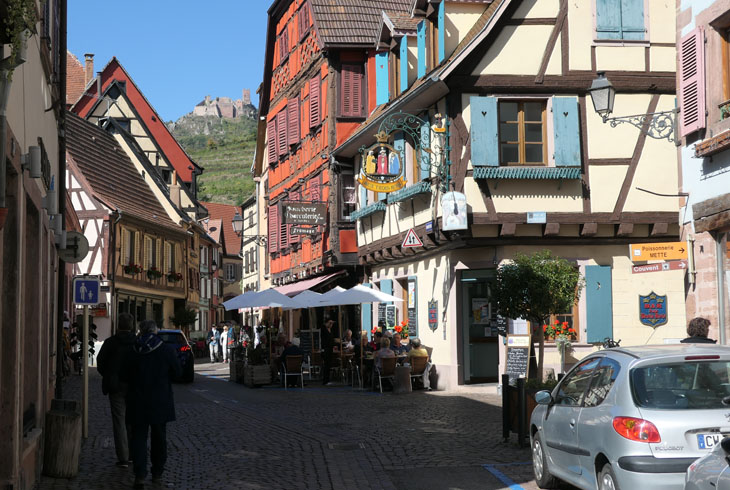 Ribeauville. A dead castle in the background.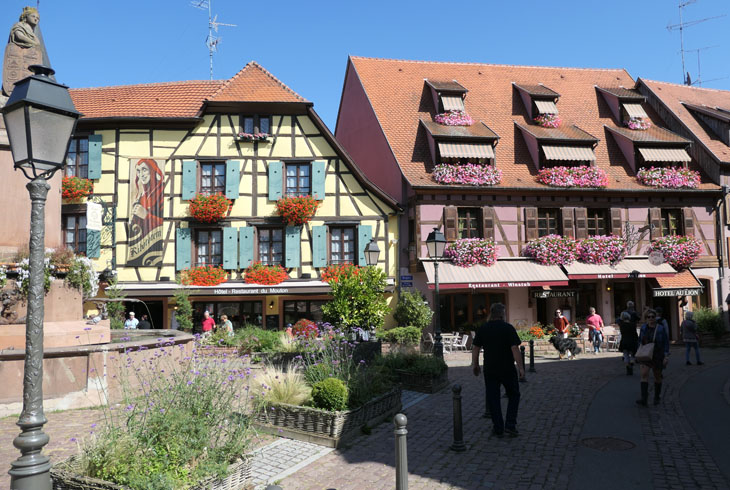 The heart of window flowerbox territory. Geraniums.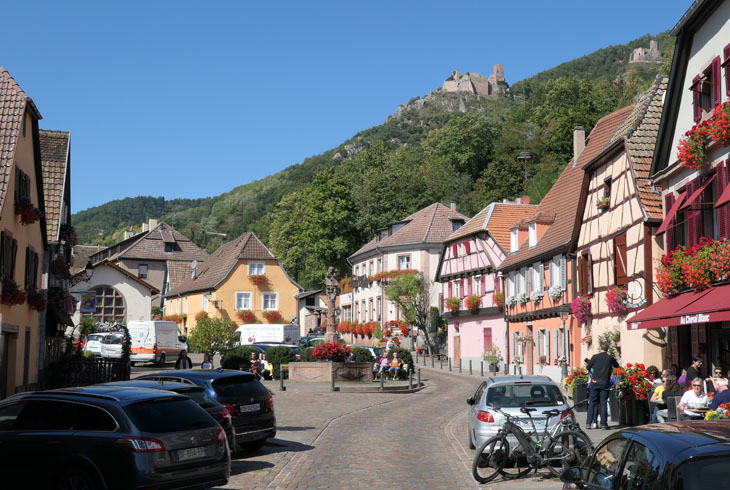 Market square.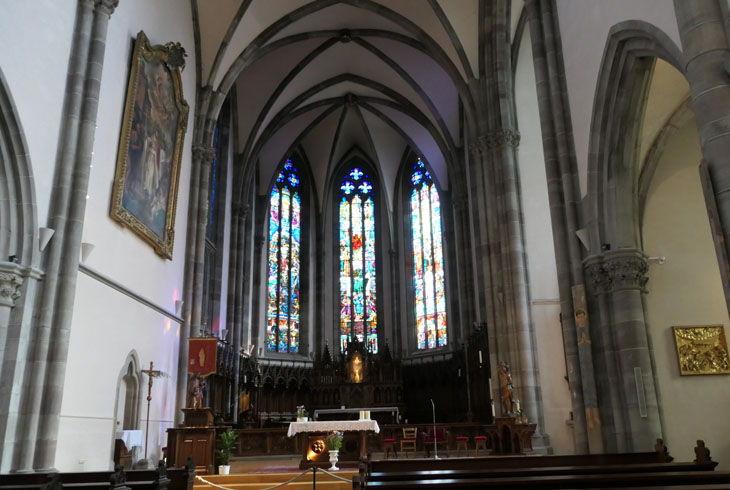 More lovely churches.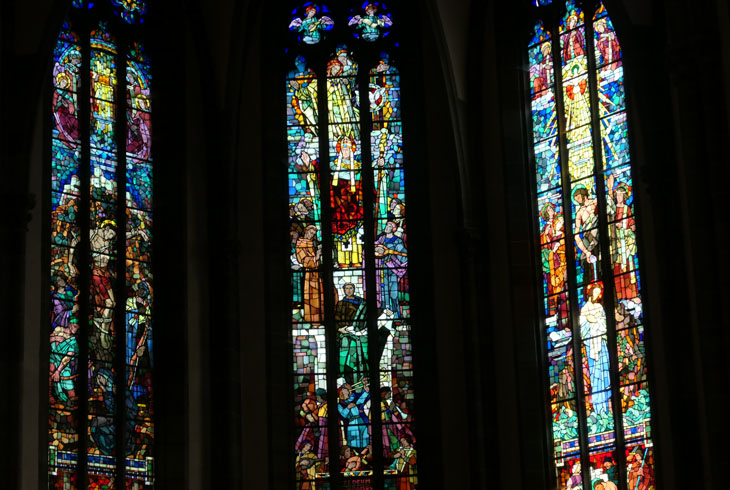 Yep.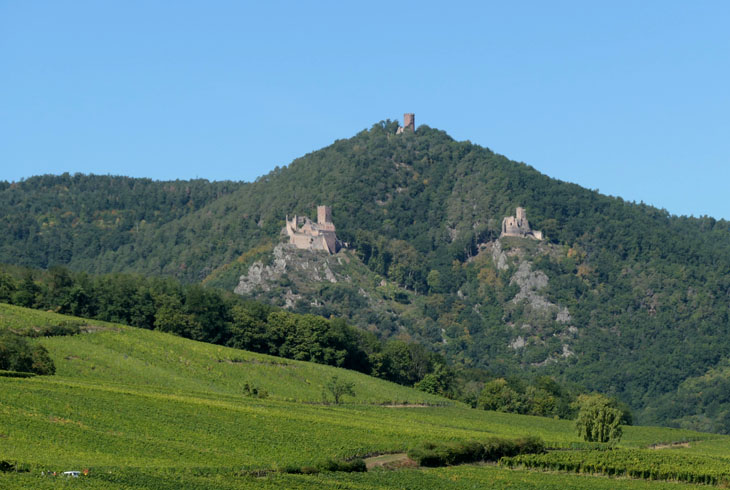 More dead castles, hills covered in grapes.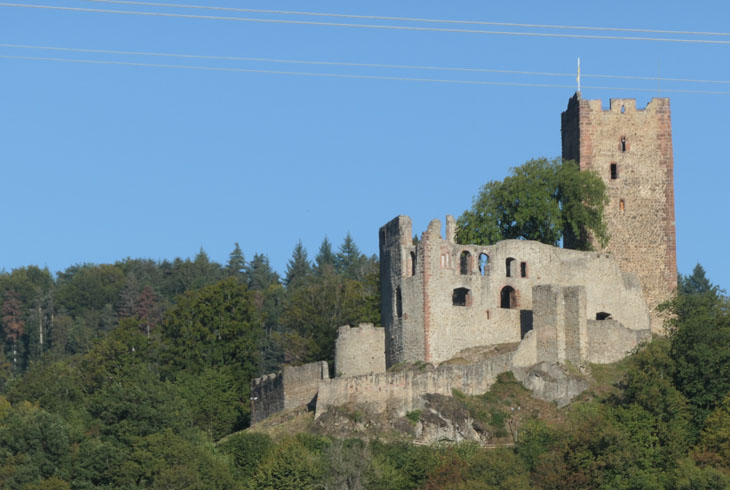 Ok. I guess this area was heavily contested with its fertile valleys, and navigable rivers for trade shipping etc.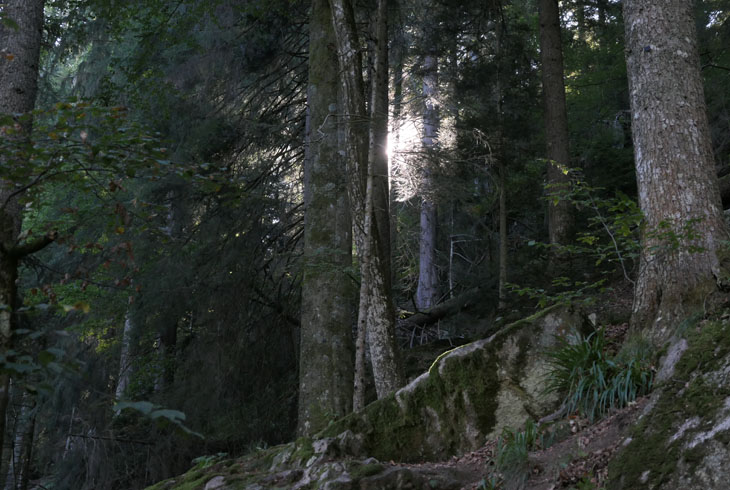 Time to return to Germany, we cut through the schwarzwald / black forest on route to see an aunt in the south of Stuttgart area. This photo shows why they called it the black forest, the altitude means a fur tree dominance.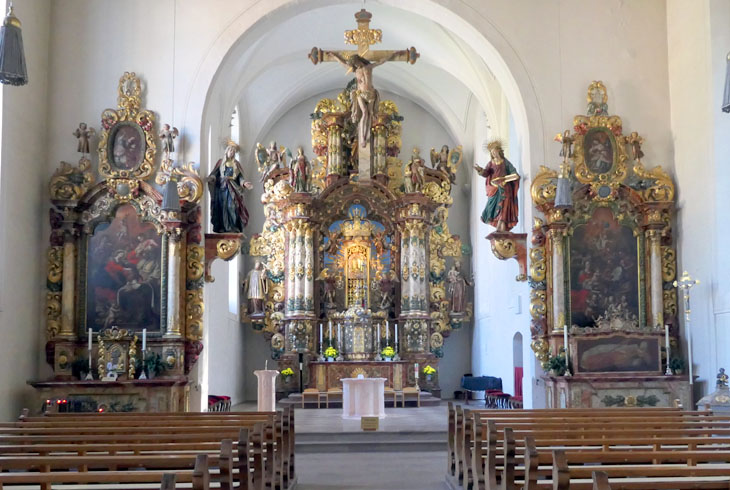 Cute little chapel.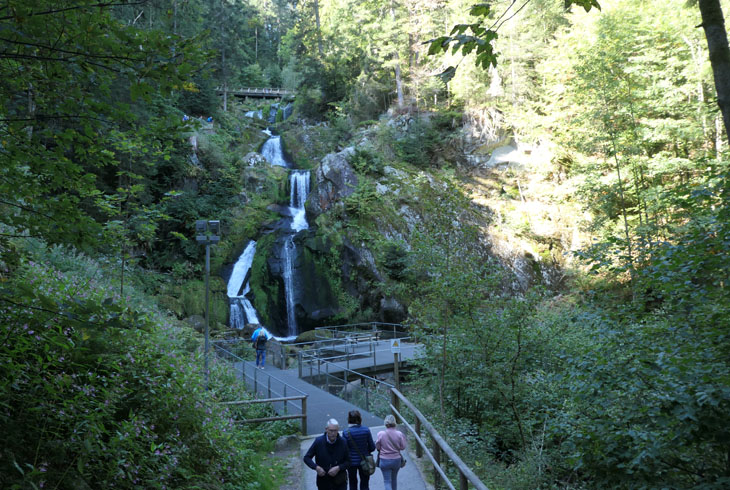 Germany's highest waterfall. This is the village of Triberg, which sits at 900m. Its the height of the Arthur's Pass summit, but is a complete city. Deep in the middle of the Black Forest. Interesting. We have to pay to get into the forest walk. And the car park.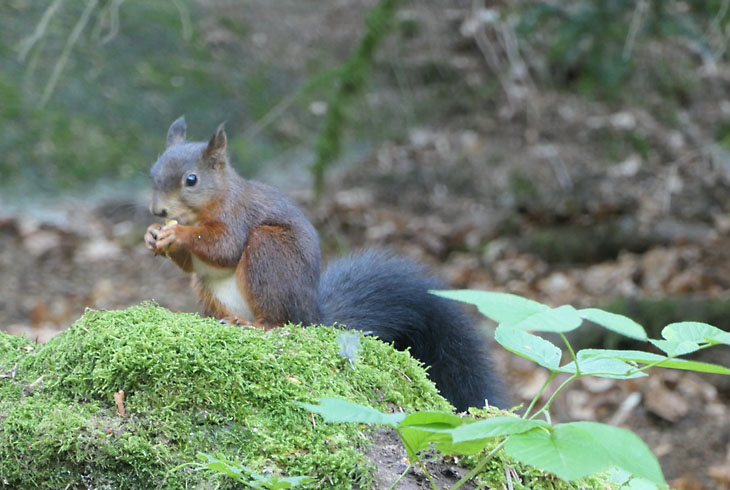 So, now i have three different squirrel photos from three different continents. And they are all different colors.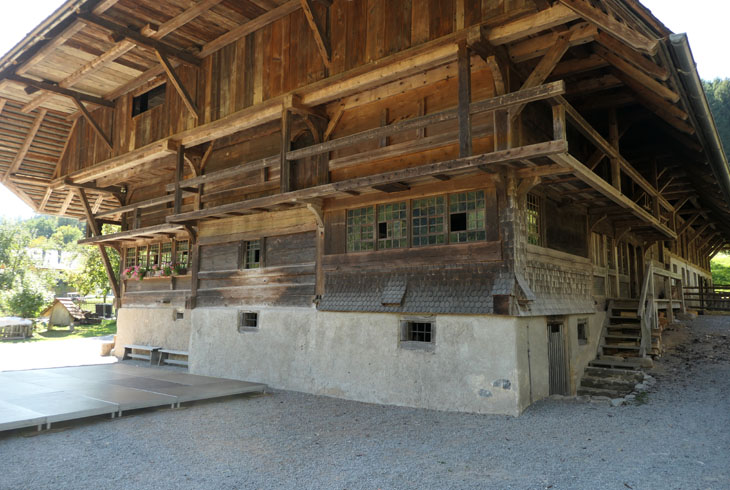 From there we head to another frielicht open air museum. This one features blackforest houses. It also is more like a museum in that the houses are more maintained, and generally they have all been preserved at the exact age that the museum acquired them. Complete with all the renovations. I guess this is the only authentic state they can categorically define.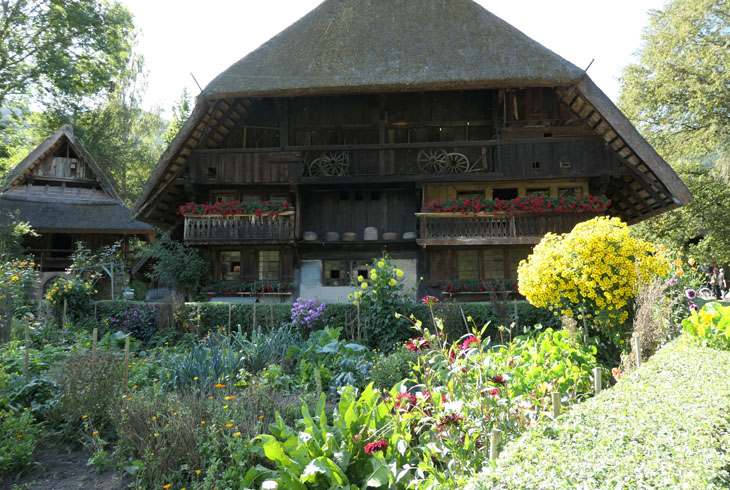 These houses while sharing similarities to the other ones we saw further north, have their own particular black forest features. Built on a slope so that the second floor could be accessed by cart. The kitchens and living area were generally more separate from the animals. There were generally four floors in total tucked in under that big sheltering roof. The black forest is a wetter area than in the north, and being at elevation, gets heavier winter snow.
Blackened kitchen.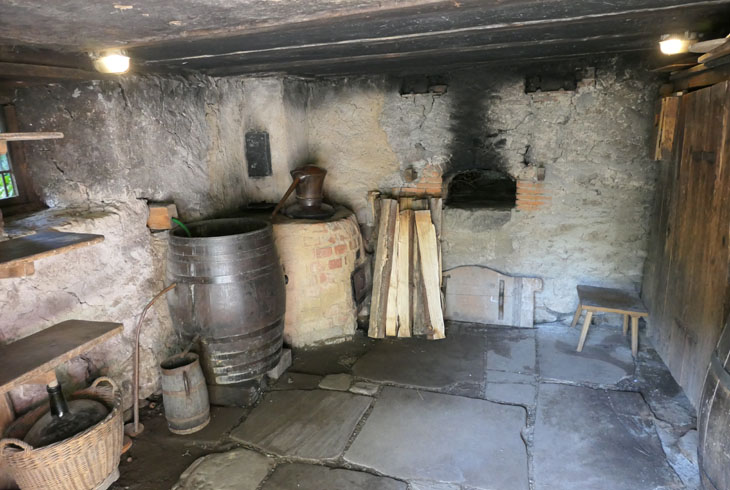 Bake house and schnaps still.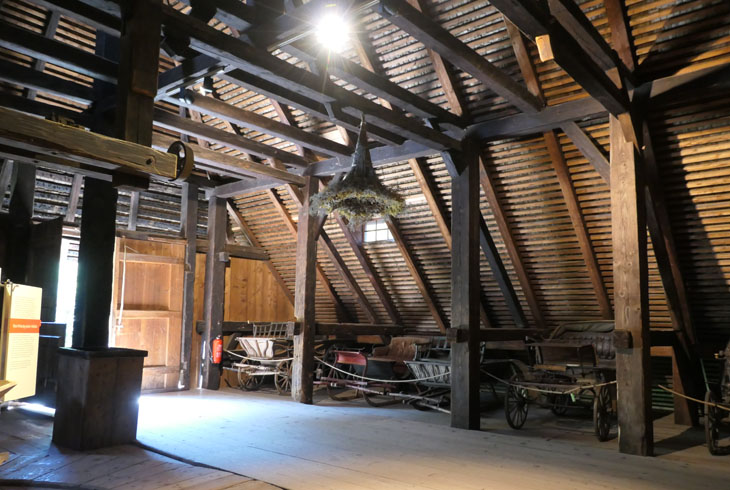 The upper two floors for grain and straw storage.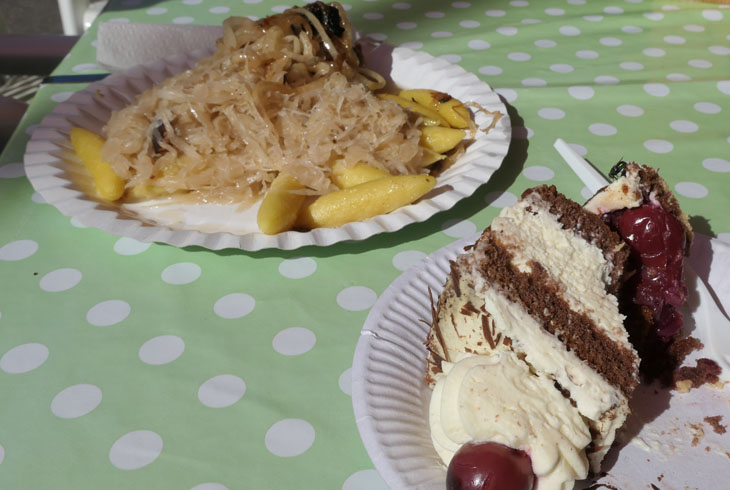 Lunch. Pork meatballs, sauerkraut and a kind of potatoey pasta. And schwarzwaldkircshe cake. These were the real deal. Schwebish alp specialties.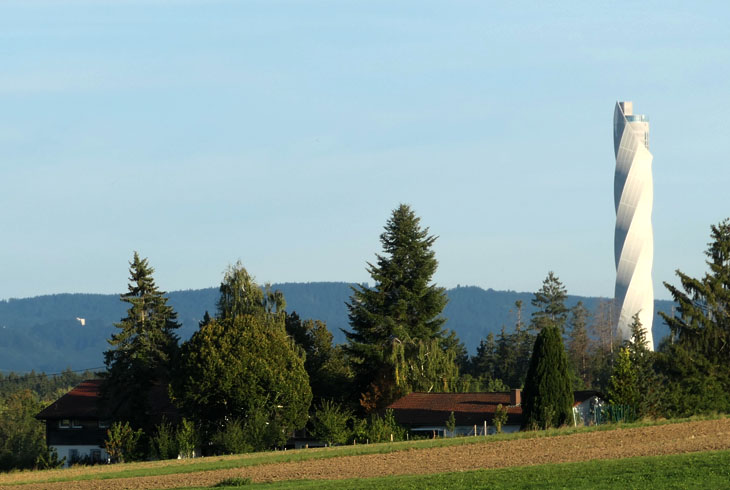 This is an unusual tower that can be seen for miles in any direction, near the town we stayed that night, Rottweil. Its 250m tall, for testing elevators.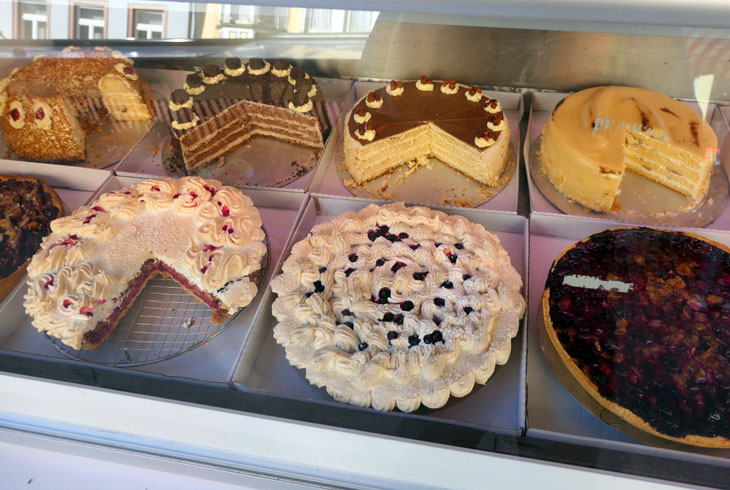 Rottweil is a nice town also, and the weekend market had farmers of every shade, one woman was selling grapes and had over a dozen varieties. This torte stall was typical of the elaborate german cakes. The guy thought i was mad taking a photo of his cakes. We don't really do cakes in NZ.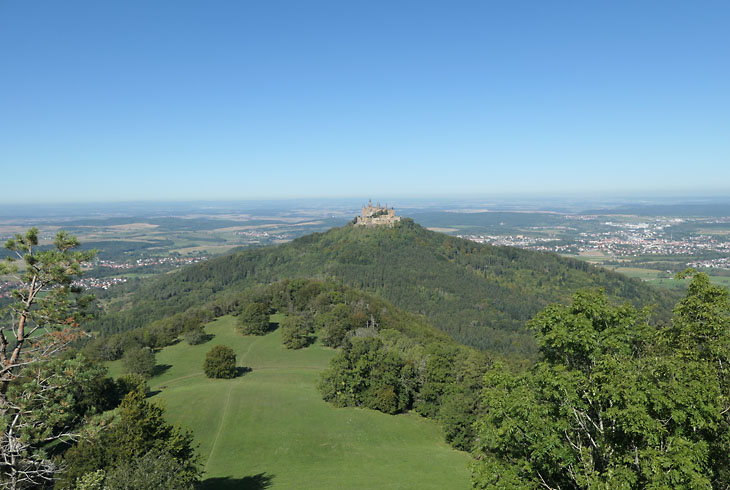 From some 20km away i could see this jagged outline on the top of a hill, and we made an unplanned detour to find out what it was. Finding Burg Hohenollern near Stetten, and being a bit traveled out, we decided to see if we could instead locate a good viewpoint. Google took is up a nice wee forest track which led up a nearby mountain past a small church, to a meadow where we could lay in the sun and get a good photo of the burg.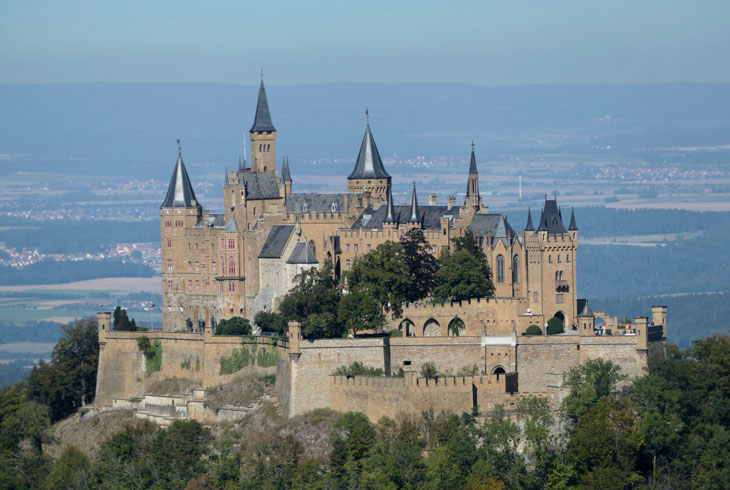 Voila.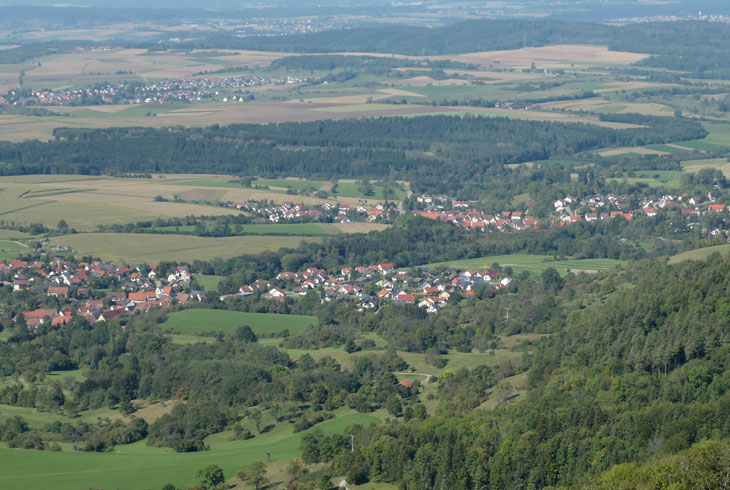 The surrounding villages are quite thick on the ground.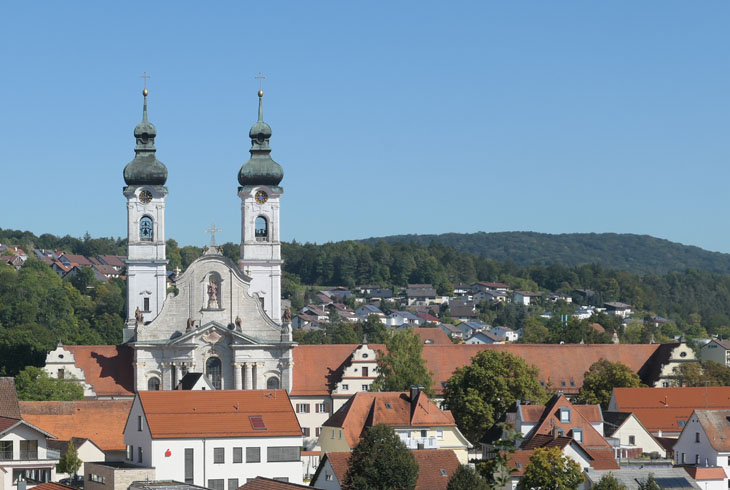 Now headed northward, we pass through Neuzelle, where there is a famous old Baroque church.
Its really quite different to the gothic style.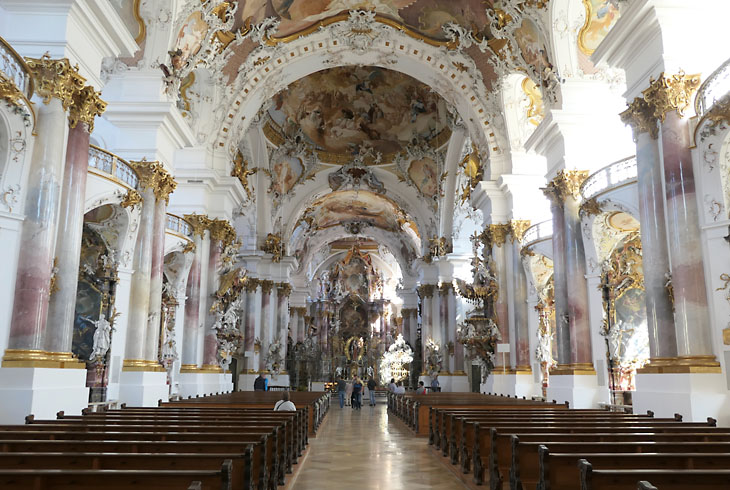 The inside is quite extraordinary in pink and white marble.

Seeing as we are passing that way anyway to take a wander around Rothenburg. Its quite touristy, but definitely unique in its preservation of the town wall, and non over-restored buildings, and you guessed it, a great vantage point to get high.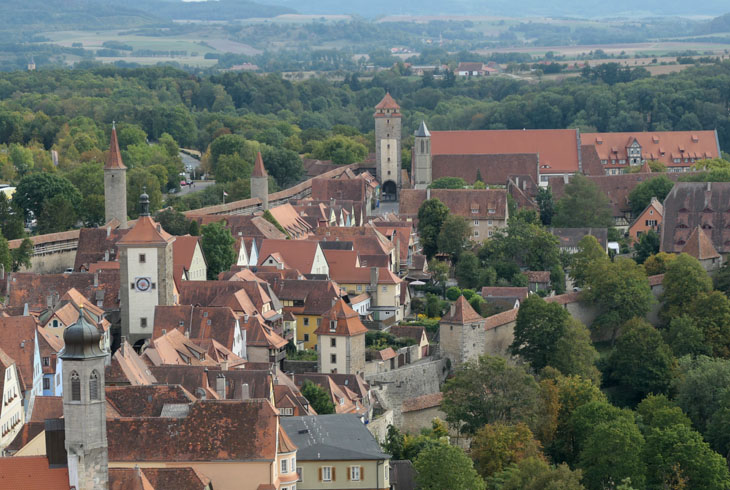 The south entrance gate is a long skinny section of the town.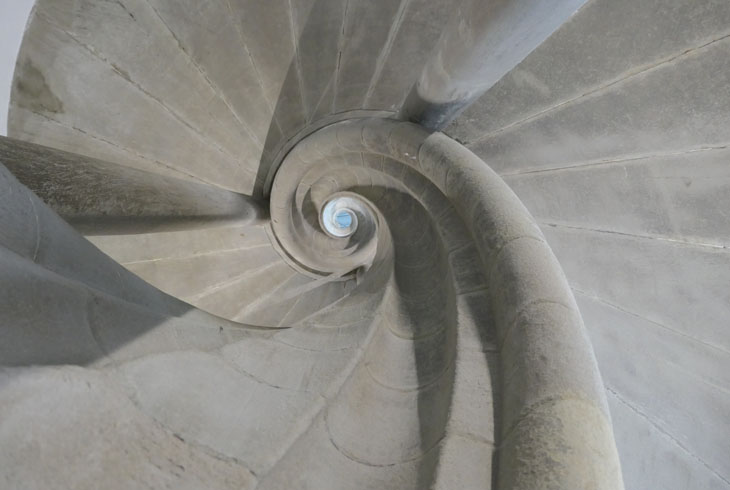 The stacked sandstone block spiral staircase, taken to a more elaborate extent. This almost optical illusion is taken from the bottom looking up. Its in the town hall.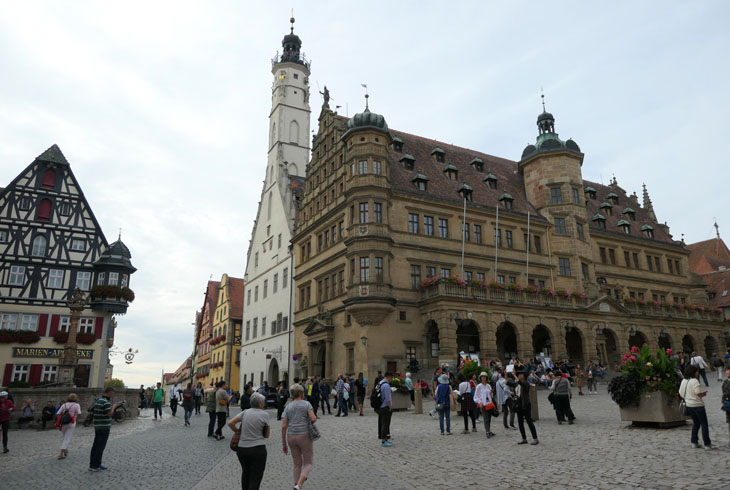 Thus. The final staircase up to the bell tower is not for the feint of heart, its tiny, narrow and just a bit rickety. But the view is fantastic.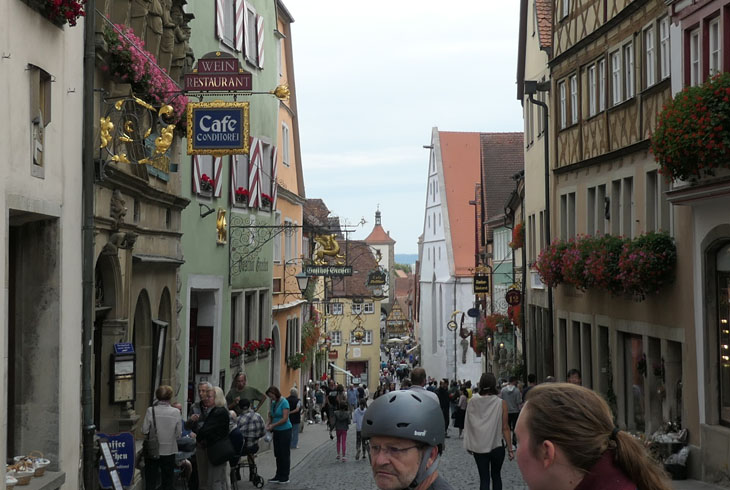 All of the old town is well preserved, despite an aerial pummeling in the last couple of months of the war.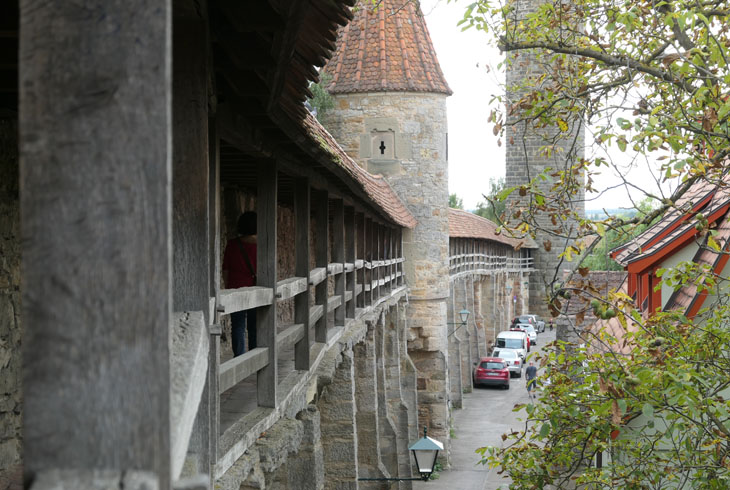 The defensive wall has a walkway / balcony around the entire perimeter. Which makes an interesting circuit.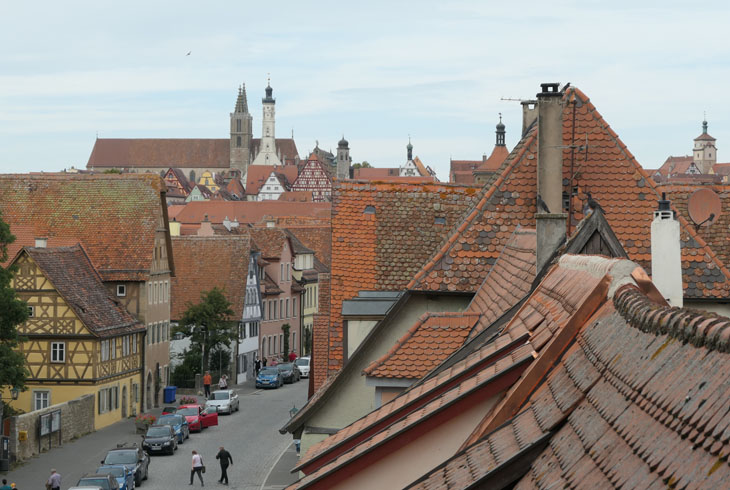 The tower and church in the distance. By this point we were too churched out to go inside.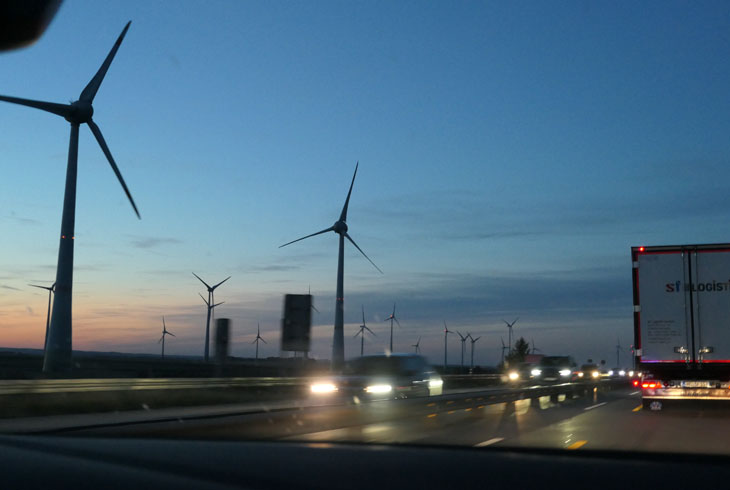 Sunday, and time to head back to Berlin. No back roads this time, autobahn the whole way.
So as our time remaining in Germany is drawing to a close, every other weekend is dedicated to trips away. This time we take the intercity train to Leipzig, to see the remaining daughter. Leipzig has a big tram network, and we spent the first day exploring. The weather is not getting any warmer as autumn settles in.
This is the Nikolaikirche, romanesque again, but with a distinctive round tower. Out the tram window is as close as we get.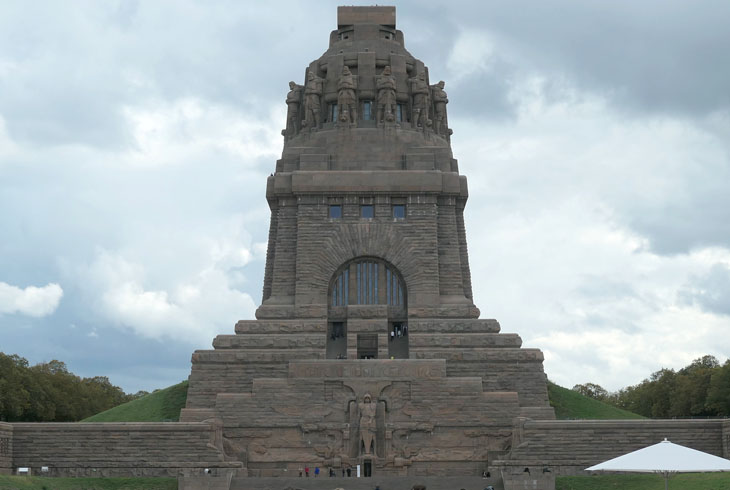 Our destination is the war memorial. From its pictures the first impression is as a hunk of rock, but its actually a lot more impressive up close. Its also larger than it looks, once you have to climb every step to the very top.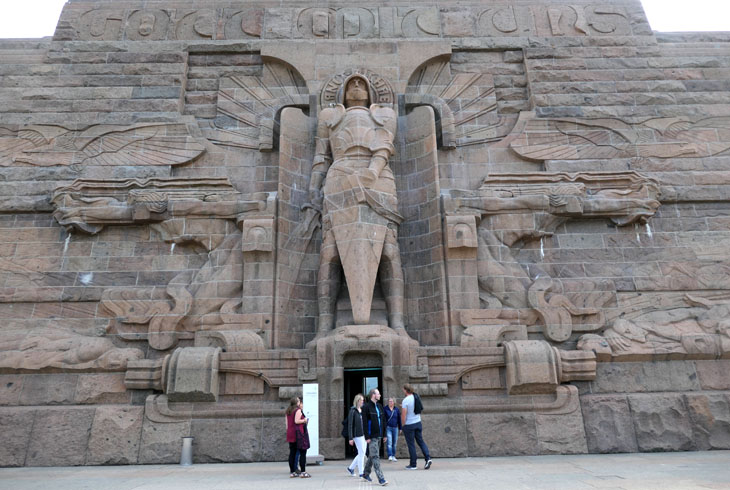 It was built to commemorate the battle of Leipzig where Napoleon was finally pushed back in the 18th century. This was the largest battle of the Napoleonic wars, and several hundred thousand people died. It was built a hundred years after the battle, out of stone faced concrete, cement having just been rediscovered after a 1500 year hiatus. The germans would actually lead the way with modern cement manufacture, with their attention to research and detail, leaving the brits well behind.

So there is a massive basement, then the crypta level shown here with this impressive circle of fallen warriors.
More detail.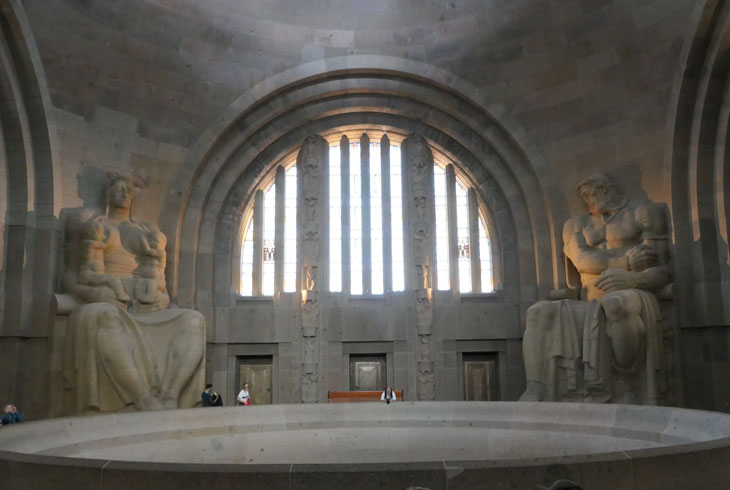 Then above that is the hall of fame with 4 figures representing the 4 virtues, that are at least ten meters tall.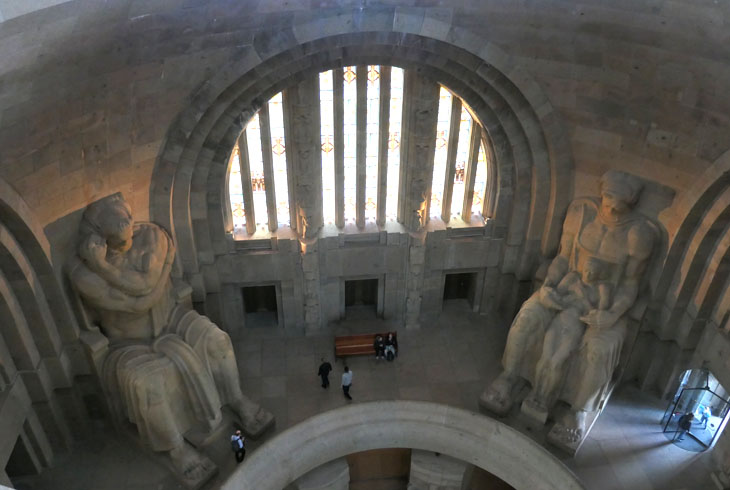 Courage, conviction, camaraderie, sacrifice.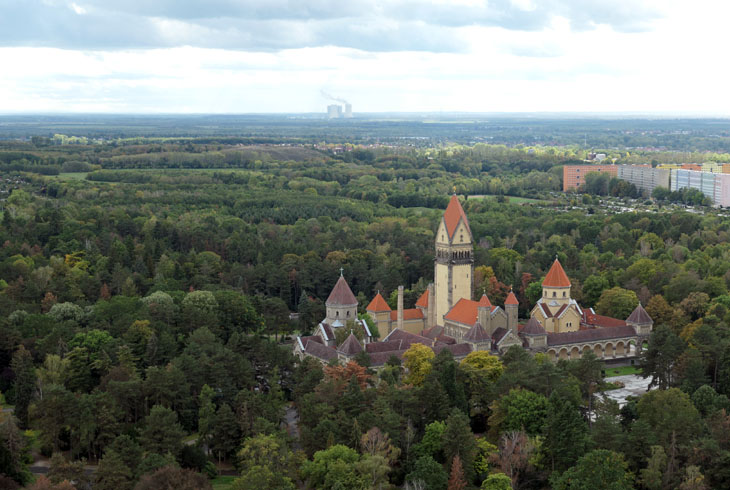 From the top the city falls away beneath you.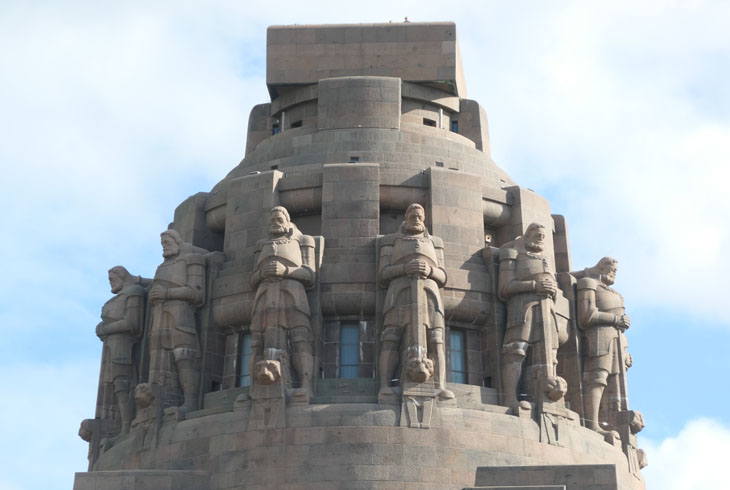 Above the ring of guards, there is a blunt balcony, and you can just make out a few people. That gives you an idea of scale.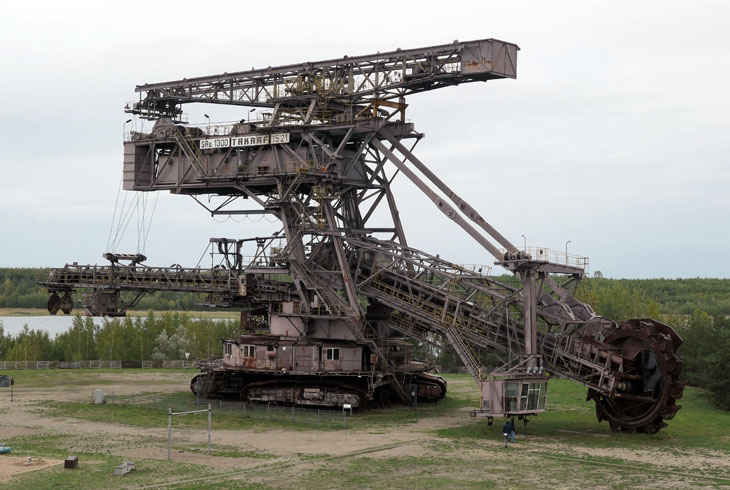 On Sunday we go see the mining machine museum. This area was a prolific producer of brown coal for decades. These massive machines were fascinating, and a suitably grey day to show off their industrial look.

There are a half dozen of these giants arranged in a circle around a amphitheater.
A little girl dwarfed by the incomprehensibility of the machine.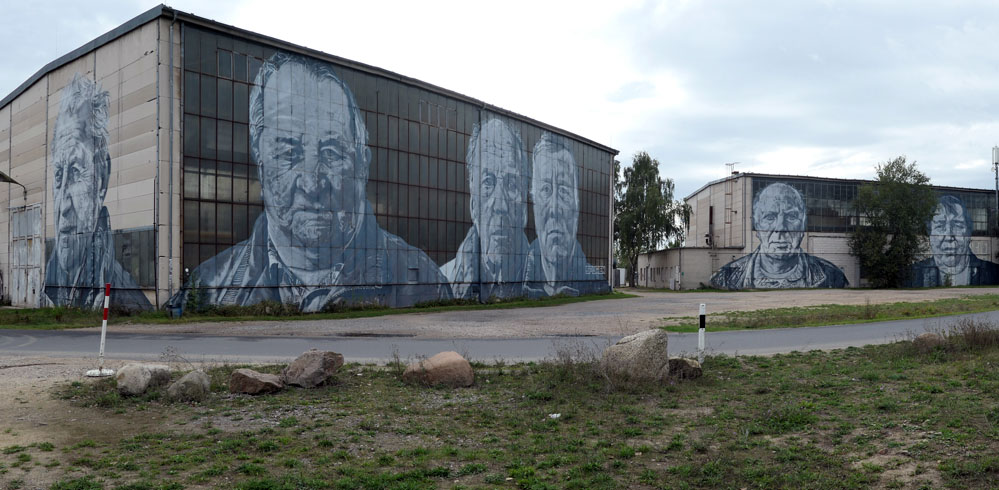 This huge mural of mining men was also striking.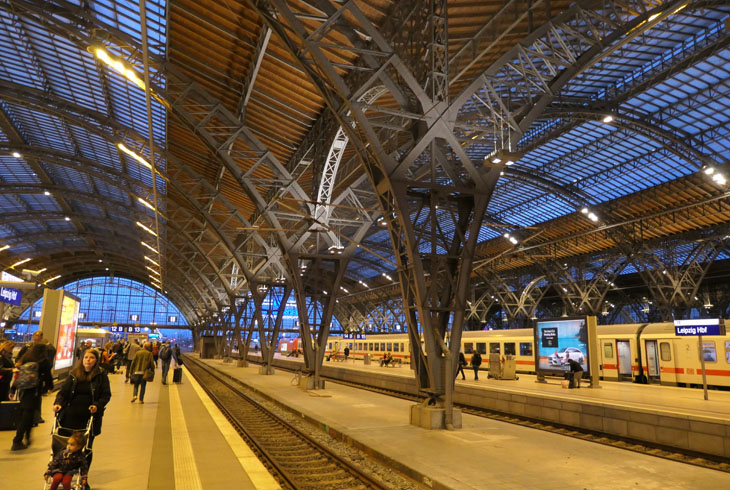 Leipzig train station, one of the biggest in Germany. Back home on the shiny white intercity train in no time at all.
2019-10-09 www.zoneblue.nz/cms/page.php?view=germany-2019c

Summary
Part c covers France, and the Black Forest.
Related