Trip10 Hopkins Landsborough
Date:
10/11/05 - 17/11/05
Highlights
broad glacial carved valleys
wilderness area
northwesters galore
Route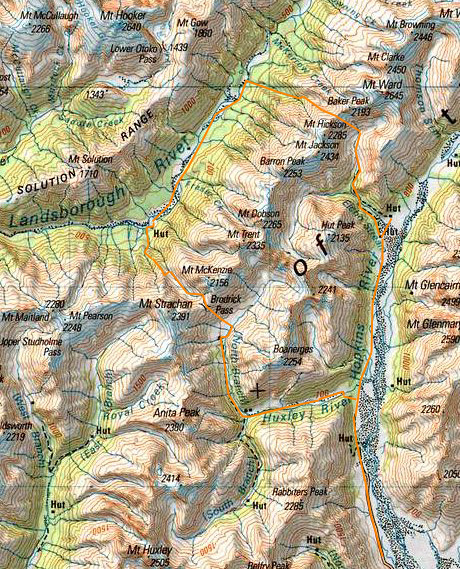 Start at Ohau Road End
Monument Hut
Elcho Hut x 2
Landsborough camp
Frazer hut
Brodrick Hut x 2
Return
Trip log:
Day 1 8km +50m
Day 2 12km +100m
Day 3 -
Day 4 15km +1600m
Day 5 12km +100m
Day 6 11km +1600m
Day 7 -
Day 8 21km +100m
---
walked=79km +3500m=total climb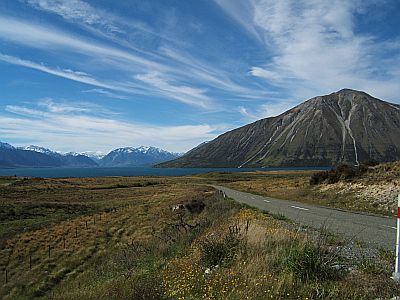 Driving south, you get to Lake Ohau. A chance converstation with a guy at tekapo internet caf (which also does helicopter flights) put me onto the Hopkins Valley, which various locals later described as a local treasure. This is the lake and the hill onth left is Ben Ohau. If you look closely you can make out various levels of the old glacier on its slopes.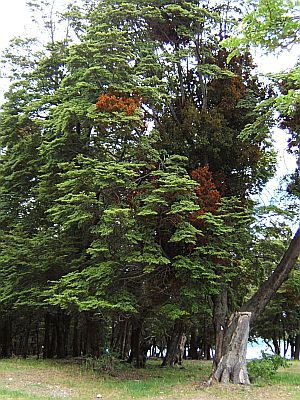 The mistletoe is pretty prolific around here (non-destructive parasite that grows on beech trees).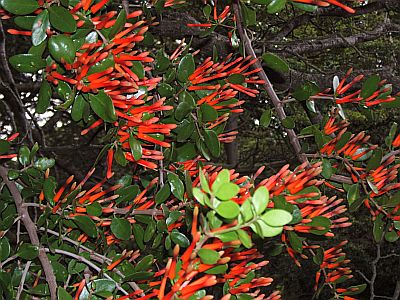 Closeup of Mistletoe.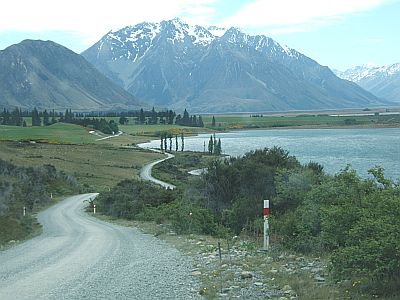 A 40km or so gravel road leads to the Hopkins road end.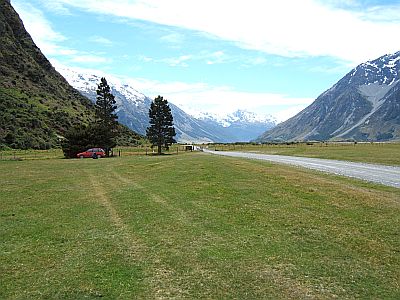 Thus.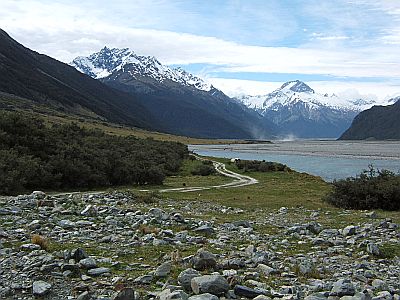 From there it`s a 4WD farm track for another 8kms. Note the wind picking up the sand in the river. And I was walking into this , probably a 65 km/hr headwind. These norwesters are real spritely.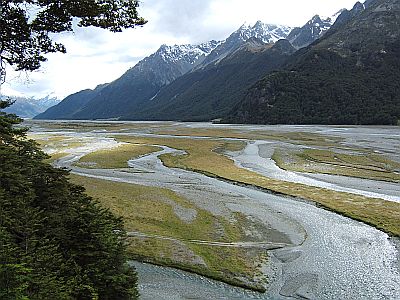 Like most of the big east coast rivers they are wide open braided rivers. I never did get to see one in flood, but this one is up with snow melt, and quite grey-y green.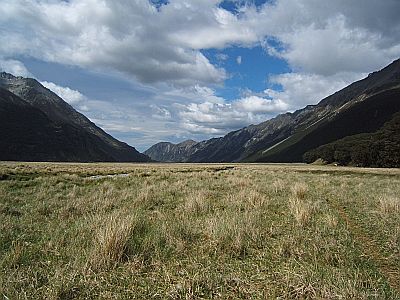 I just love these open rivers. The sense of expansiveness is completely freeing.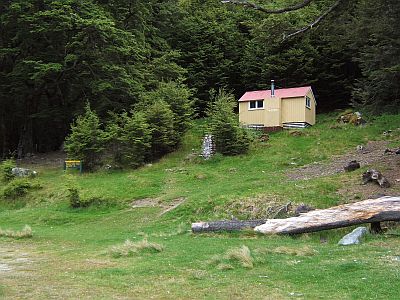 Monument hut is only 2 hours or a 20min 4WD trip from the road, and yet it is well looked after--normally something of a contradiction. 6 bunks with a new Pioneer stove. I noticed that all the huts in the Ohau conservation area were well and proudly maintained in stark contrast to Mt Cook and Arthur`s Pass, which, one might be forgiven for believing, don`t appear to actually possess field staff. He says cynically. It seems the more famous the park the less resources they have--channeled as they appear to be into managing bus loads of tourists. And look a sign!
I also spent 2 nights at Elcho Hut waiting out a dose of rain. This trip was not to be known for its good weather, with 2 sunny days in 8.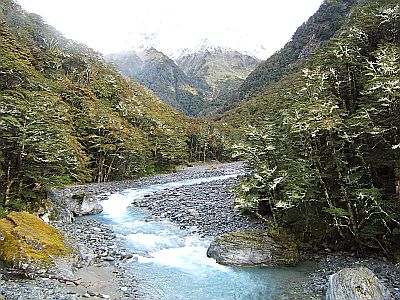 Upriver you then turn left into a side branch called the Elcho Stream. Still a fair bit of water for a tiny catchment. The snow is just pouring off the hills, plus rain now as well.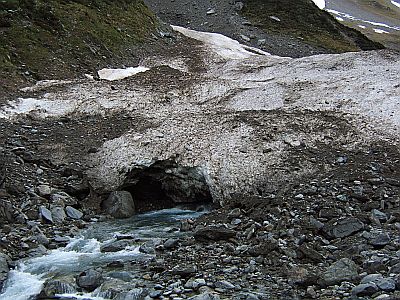 After a while you come to a huge pile of avalanche debris, which the river emerges out of. Its probably three storys high.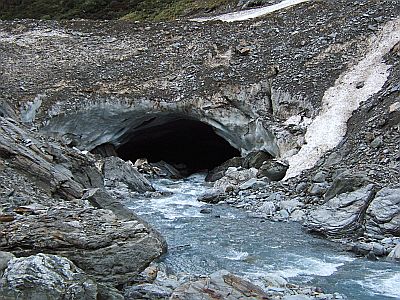 And yes, the river does flow into it as well. Logical really.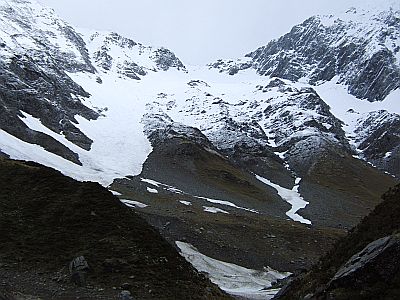 From there you are only about 1000m or so, and yet the way up to Elcho Pass, which is our route over into the Landsborough is snowed all the way down in the form of a permanent snow shute. Again its thick layer of avalanche debris, that doesn`t seem to have long enough to melt.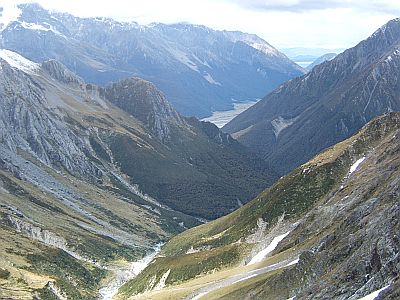 It`s a bit of a grunt, as they say, up to 1950m. The foreground is the Elcho, with the Hopkins behind.
At about which point we hit the low cloud layer, or the cloud layer hits us, or both. It turns out that what fell as rain below is a few inches layer of fresh new snow. Bum. Regrettably this record is bereft of the quite bizarre terrain at the top, whiteout as it was. Basically the wind drives the snow over the pass forming a rather soft cornice and dumps in under the pass, in very steep, very deep, very soft liberal quantities. It was a matter of using both ice axe and stick to get some traction and wading up a 60-70 degree thigh deep fresh snow slope, of some 50m in length. I think if I could have seen the exposure I would have been worried, but it really wasn`t dangerous, erm, well except for the risk of the whole bloody lot tumbling down, a thought which I was only too aware as I kept as much to the right as I could.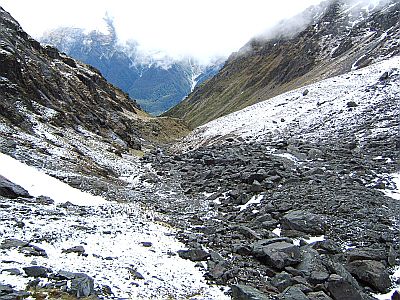 Once over the top, there is virtually no snow ( it having blown over to the other side) and a crampons off descent down loose slabby stuff. Bit slippery, always be mindful on descents, they say.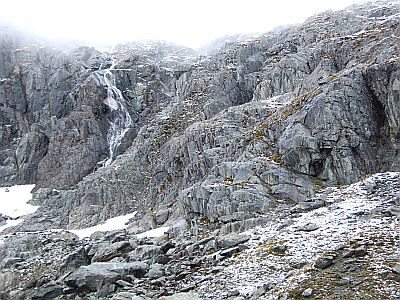 I made a somewhat out of character decision to proceed with this trip knowing that I wasn`t able to obtain a route guide for the Elcho Pass. DoC twizel, and the Twizel library and the internet yielded most of the route info I needed, bar this. Suck it and see is not an approach that works in the Alps, I learned that way back in Arthur`s Pass. Anyway back to the story. Im descending and I know there will be bluffs, due to way the contours bunch up on the map. These are them, and coming down is always harder. I take a educated punt on a certain line pretty much through the middle but keeping left enough to avoid the obvious waterfall. However then the ground just fair drops away, and I am about to start worrying when a young Thar drops out of sight about 20m away and below me. They are about as agile a creature as youll find in these parts, and yet it seems like a godsend. So follow. Everytime im wondering left or right there he or she is again. In this fashion we descend, and end up at the base of the rock lower centre right. I must have done something right to have merited such timely help.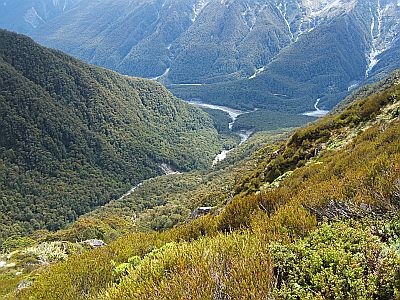 From there the descent down Kea Creek is real easy by comparison. Although there`s a bit of a high sidle on the true right to a plummet down a dry side creek bed to avoid a waterfall or two in the main stream. It was there in the classicly dodgy situation of an inch of snow on the old snow grass that I slipped and gave myself a fair whack on the head, and a good bruise on the thigh to boot. That made me sit up, and take much better care with my footing. Your quite vulnerable up in a place like Elcho Pass.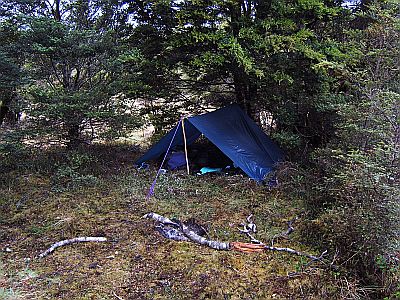 Once down in the Landsborough it was late and it was raining. After all this is the west coast we are talking now. I put up the fly then to find that the sandflys, which ive been dodging in ever growing numbers for the last couple of weeks as the weather warms, are downright prolific just in this particular spot. I made a fire, and that kept the little buggers at bay, until dark when they go home, wherever that is.
In the morning the weather seems to be looking up, and reveals the grassy, mossy flats that characterize the Landsborough. Im not exactly sure what keeps it from revegetating, I guess it`s the deer. Anyhow it makes for easy travel, and you get this sense of wandering, rather than tramping. Darn fine, if you ask me.
Oh, for those more geographically challenged the Lansborough is a 60km long river that runs all the way from Mt Cook down to Haast. It runs for the better parallel to the diving range, heading south. It`s a designated wilderness area and is hard to get into and hard to get out of. People that visit usually either fly in, raft through. If you walk allow 20 days, they say. As for me, Im just having a wee dip into it by accessing it from the Hopkins side.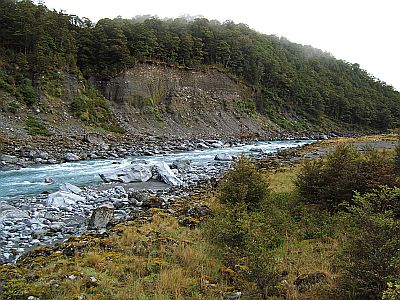 This river too is up, and cloudy.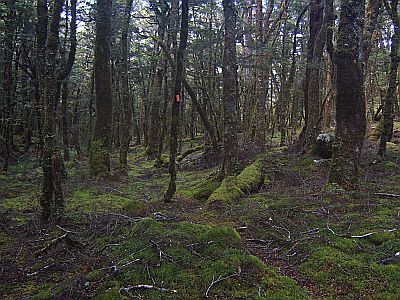 There are only two places in the whole days walk where the river butts up to the forest resisting travel. The first we use a new stoat line track through the dark, but quite open underneath beech forest.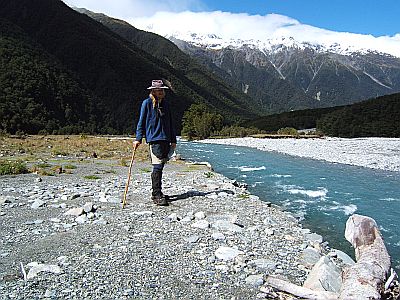 Now the suns coming out, and im faced with the prospect of being forced to cross the river, something ive been trying to avoid all day. However, faced with the alternative of a serious bush bash, up a steep hill, the choice resolved itself, based on economizing on effort aka laziness. The trick to crossing big rivers is to choose your spot and cut a good long pole (head height). The river crossing training from the old Airforce days has always stood me in good stead in the past. With a few nerve wracking moments and much swift waist deep water that you couldn`t see the bottom of, I managed to cross then recross successfully. Some letting go of attachment to keeping tight control of your footing is required. You have to let the river sort of waft you diagonally downstream, and use the pole in both hands as a third leg.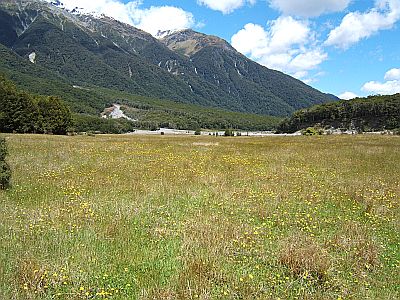 The destination in this case is Creswicke Flat, which is a fantastic large flat, what most folk would call a paddock, but sans animals.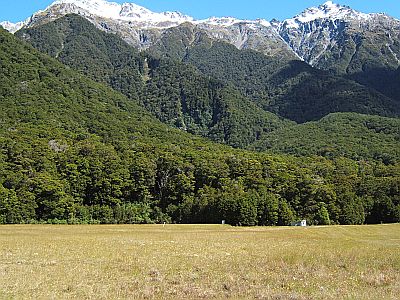 Its also home to the sole hut in the valley, Fraser hut, which is a hodge podge of materials various people have brought in when they fly into the airstrip on the flat. The middle ridge in the picture is the next days route up into the McKenzie River (you use the ridge to avoid waterfalls)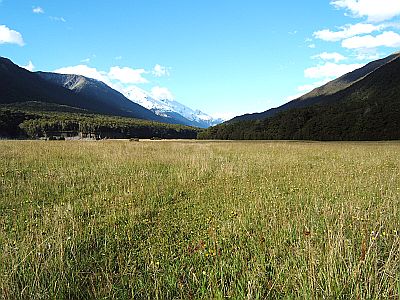 I spent ages just wandering around enjoying this place, drying out my gear and generally having a good time. Id would stay longer but I don`t have 20 days up my sleeve in case it really rains. The rain ive seen is nothing. When it rains no one goes anywhere. You just wait it out.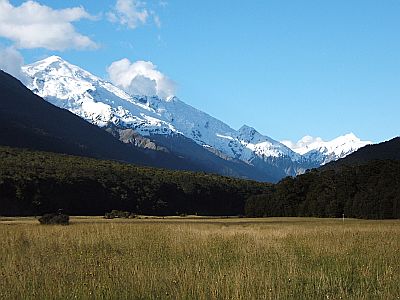 Well I guess you get the idea. Theres a huge range of peaks that local climbers climb around here, nice middle sized summits in the 2000-2200m range. Ill certainly be back some day.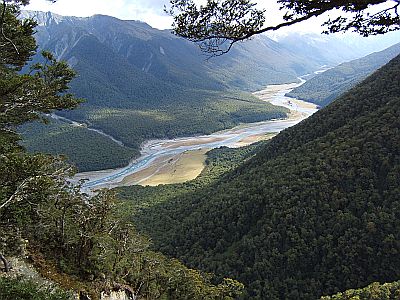 Next day is a straightforward but long climb up a deer trail along the ridge. The Landsborough is not much off sea level, about 300m so the climb up the ridge is about 900 vertivcal meters. Hot work. From a slip theres this great overview of the valley.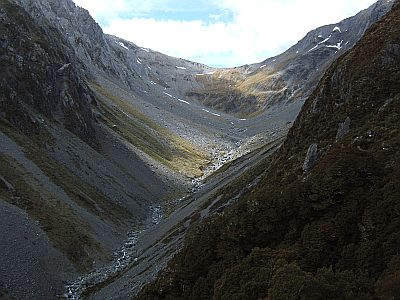 This is the headwaters of McKenzie Creek. It`s quite a big hanging valley, or cirque. Quite pleasant travel, but a cool wind has got up, that suggests bad weather is coming, so I am like outa there. Up and over Brodrick Pass, top of image.
This is the view down the otherside, into the Huxley River, another nice open river system, which feeds into the Hopkins.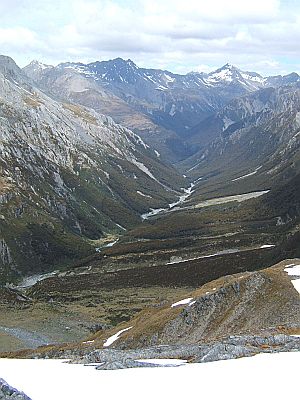 Looking south down the North Huxley. Brodrick Hut, our home for the night after a long day is just a speck on the ridge, lowish centre left. Boy, that hut has a great view.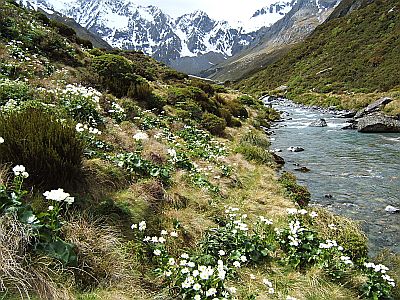 But to get to it I took a detour, not required as it transpires, down to the river. Whole fields of Mt Cook Lillies here.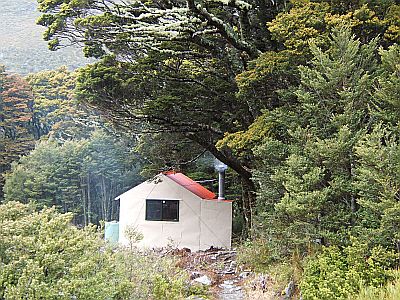 Theres the neat little 6 bunk hut, situated as it is on the uncommonly sudden transistion from tussolk to large beech.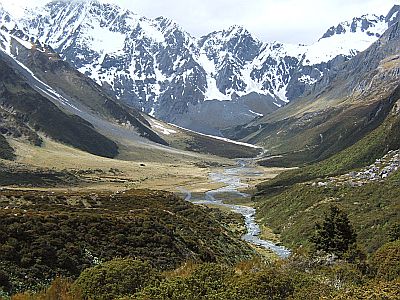 Told you, about the view. Id like to spend some time exploring around this great headwaters area one day too.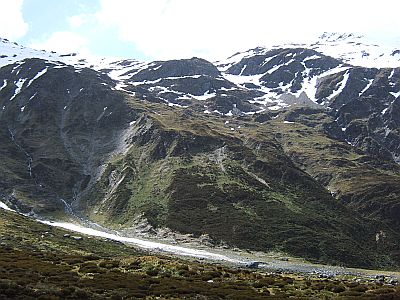 Looking further left is the route up the broad ridge to Brodrick Pass (1640m).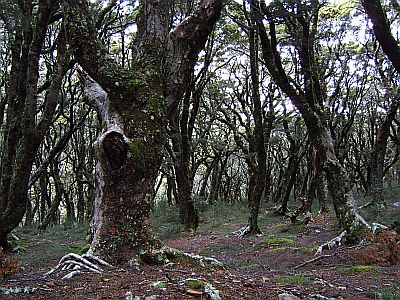 The forest behind the hut is real knarly LOTR type stuff. I spend two nights here while more rain borne on a southerly front gets out of its system.
Then it`s a nice easy valley walk down the Huxely, which is also tussolky, until you get to the bottleneck at the entrance, where there is a....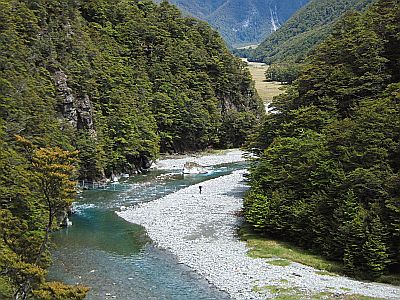 Swingbridge, and ...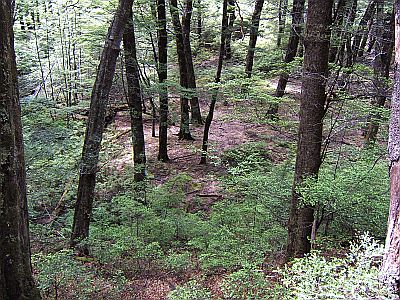 another nice example of how open the beech forest is around here, which leads to the Hopkins valley, which in turn leads to the car. Which in this case I am even more glad to see, what with all the wet days, I had started to break into my emergency `rice and dried peas` rations.
This trip was on the one hand very satisfying, it also paradoxically engendered a unusually strong sense of appreciation for all that society has created. Maybe it was the vastness of the wilderness, maybe the stark isolation. Id say that its time to go see the ocean. Despite the fact that the sea unsettles me like no mountain can, I find it strangely calming in a balancing kind of way.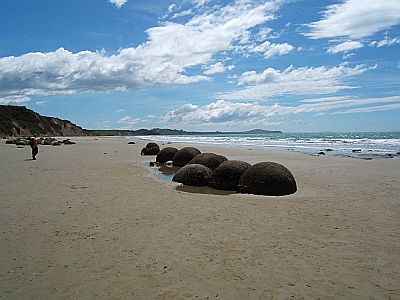 2015-01-01 www.zoneblue.nz/cms/page.php?view=trip10-hopkins-landsborough