Trip 3 Travers Rainbow
Date:
17/9/05 -23/9/05
Highlights:
two days of new snow
great open valleys and tops
nice climbing around Travers
creative route planning
Route: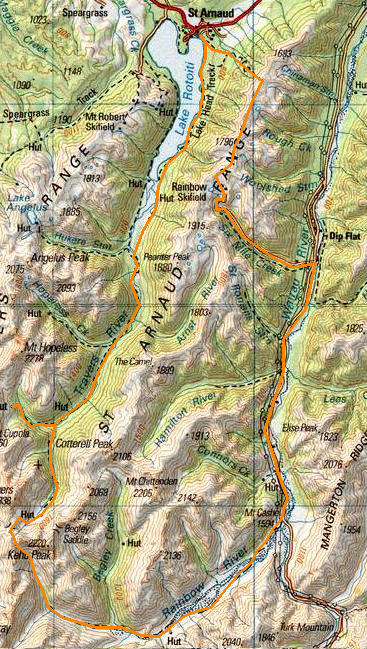 St Arnuard
Lakehead Hut
Cupola Hut
Upper Travers Hut x 2
Travers and Rainbow Passes
Rainbow Hut
Rainbow Valley
Rainbow Skifield
St Arnuard via Range
Trip log:
Day 1 9km +50m
Day 2 17km +850m
Day 3 8km +750m
Day 4 6km +1120m
Day 5 15km +1170m
Day 6 40km +1200m
Day 7 12km +790m
---
107km +5930m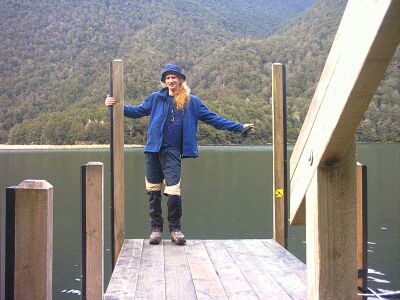 Returning from Blenheim left me enough time to leave fresh intentions with DOC and walk up the lake to the big hut Lakehead which while near the head of the lake is not really near the lake. Huts rarely seem to be situated aesthetically in an environment of dramatic environmental hazzards,and other functional reasons. However its been well renovated from the old box I remember it as from 20 or so years ago. My son might remember this wharf from our trip their 3 years ago.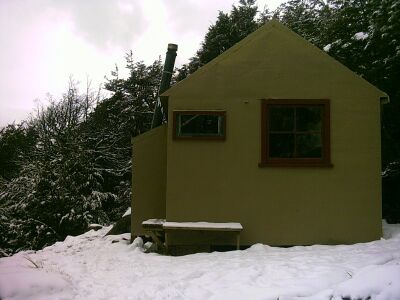 Next day feeling fresh, but with 7 days worth of pack i haul on up to Cupola. Beofre leaving i heard there was a heavy snow warning, so i headed up to 1400m with some intrepidation, although you might also call it spite. Thats just living on the edge I reckon. It snowed most of the way up and was pretty much whiteout conditions when i arrived. Its a cosy little NZFS60 with a double combustion burner to protect the sparse tree life. Some slothful hunters had been the last party and what a mess they left. As with Angelus only a few entries in the hut book over the winter period.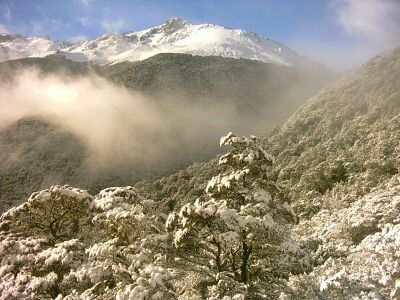 Over night (this was Sunday, when the dump was scheduled for Monday pm) about 6 inchs fell, the good stuff, fluffy as. It was hanging heavily in the trees as you can see, and allowed by the fact that it was so still. Snow falls silently in those situations. You just wake up and its there. Everywhere.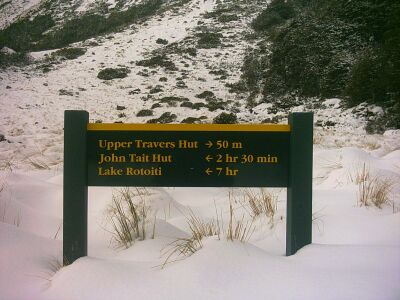 More is on the way so its time to move along. After retracing my steps back to the Travers river, the walk up to Upper Travers Hut via John Tait is carried out in the ironically clear conditions but with melting suspended snow dripping down my neck from the trees all the way. Not just the drip drip, but big globs of slush.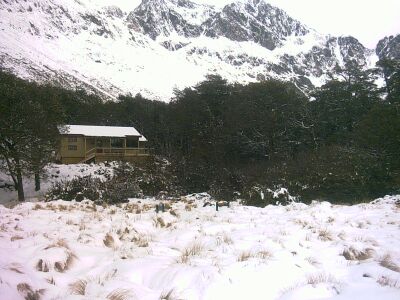 On arrival at Upper Travers we find a brand spanking new hut, designed for at least 30 to cater for summer tourist demand. The new Nelson Lakes colour scheme is red and pale kahki. Corogated iron cladding, big decks, huge kichen areas, two seperate bedrooms, fire exits and the the whole nine yards. This kind of hut would normally have coal supplied, however they were still working there way through a huge stockpile of wood cleared from the hut site. If you could find it under the snow that is. This was the monday when caterbury got its big dump ( schools closed for 2 days, sheep had to be rescued and all that). So i chopped a big pile of wood, got as much water as I could into the hut where it wouldnt freeze, and generally batterned the hatch so to speak. The taps were well frozen which is normal, so got it from the stream near by. ( At Angelus we had to attack the lake with ice axes to get water from under 4 inches of ice.)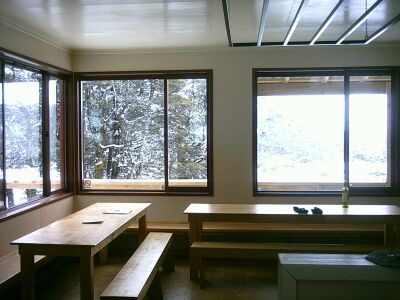 This has to be the first hut i have seen with godamn aluminium picture windows, and double glazed aluminium picture windows at that. Well one has to admit it works for me.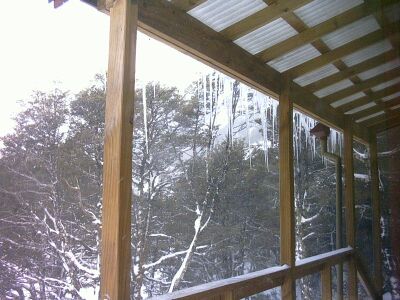 During my two day stay at U.Travers the icicles hanging from the deck grew and grew, you could almost see them grow.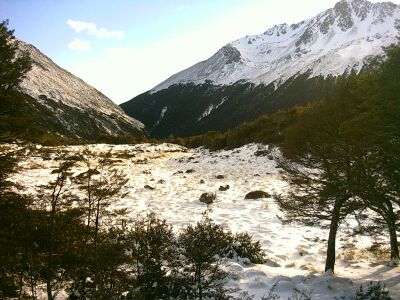 Well it was all a bit anticlimactic really, because there was only about another 6 inches of snow. I awoke to a clear cold morning with a stiff southerly blowing. I hadnt expected such a good day and dilley about until another party of climbers arrived. We decided to share the task of pluggihg steps up the Travers Pass.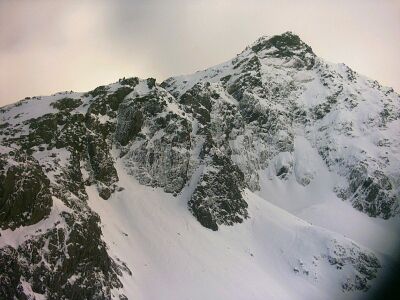 This is Mount Travers, at 2300m a neat climb if id got going a bit earlier. Instead we eventually got ourselves up the saddle, when the other two continued onto Sabine. I had a few spare hours which i spent climbing up the south ridge of Travers as far as I could get in the available hours. It looks quite imposing and a wee bit scary from any distance, but once you get up close and personal and break it down into manageable bits its easier and indeed, much like my south ridge climbing near Angelus, very hard snow and ice and excellent crampon bite. The south ridge has quite a few pinicles and steep bits to get past before you reach the final summit slope. I managed to get pass the bulk of them before turning around, with the summit seemingly just up ahead (upper centre). However with forshortening involved in such places i knew it was still another 200 vertical meters. You know these things when you have both a GPS, and an altimeter on your watch.
Near dusk i literally flew back down the valley taking some major short cuts, with these giant heel plunging strides. Back at travers i vowed to get going earlier the next day.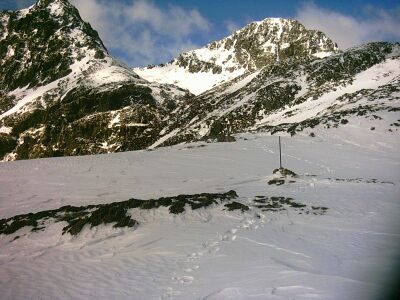 Got out the door by 7am and walzed up the ready provided footsteps from the day before. Im not silly, and knew yesterday that with a full pack that these steps would be the go. Reaching Travers Pass easily I then climbed south up a basin up to Rainbow pass in soft snow conditions. The passing of a second night on the powder dump hadnt done anything for the snow, it would need some moisture to glue it all together. The Rainbow Pass is as center left and about 1900m.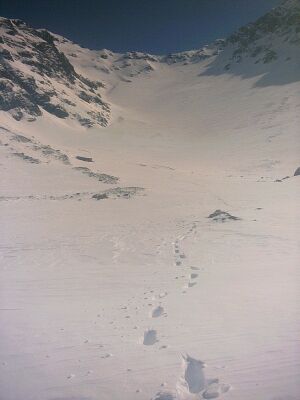 This picture is looking back up the other side of the Rainbow Pass which i have just come down. It doesnt look far but its a 45 degree drop of about 600 vertical meters. Quite daunting at first. The snow was all sorts from ice to powder to mostly a 4 inch softish layer on firm packed snow.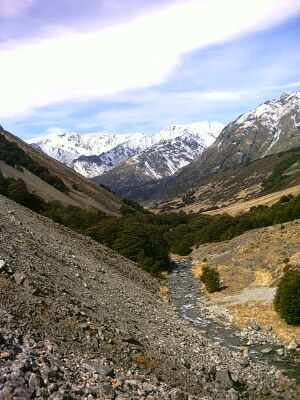 After not long at all i arrived in the head of the Rainbow river, which is a magical place, for the best part because its quite an open catchment. This is because large parts of it are grazed, and also because its sides are incredibly steep, and incredibly unstable piles of ever moving boulders. Every so often you would here a great crack and tumble tumble as barrel size rocks bouced down the valley walls. Sobering really, how dynamic these mountains are. It puts mere humanity with all its evolution of intelligence and all throughly in its place. One walks watchfully, and hastily through such places. And when you are not doing that you can roam at will picking your own route, and surveying the vast open landscape. Thats what i came for.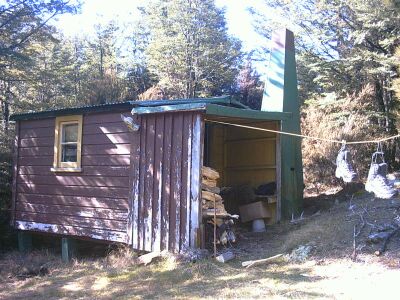 Strolled out you eventually arrive at the old Rainbow Hut. This is a real littel gem of an old hut, with a nice big porch to store firewood within easy reach, a (somewhat smokey) old fashioned open fireplace and a nice little tucked away postion which many trampers (according to the hut book) appear to have trouble finding. Thats what GPSs are good for.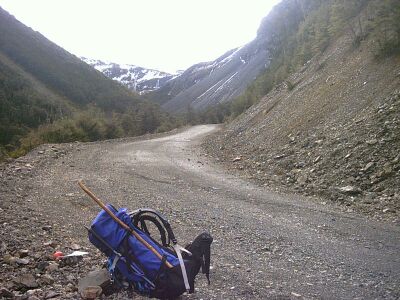 The Rainbow Stream connects into the Wairau, somewhere, Im not sure where, but I just walked along the lovely Rainbow Road, (which in summer they allow 4WDs through to Hammer). I didnt see a a single soul for 40kms or so, and later in the day hiked up the skifield road, and rolled out my sleeping mat in the public shelter. That way I would be ready to hit the snow early in the next morning. The skifield road is also a nice walk because again it creates a more open ambience than you typically get in damp mossy dripping beech forest.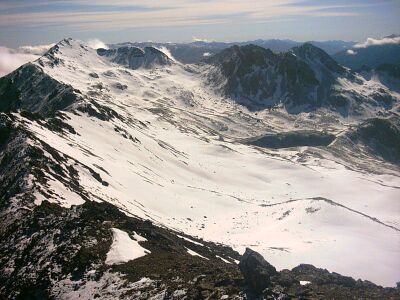 Away at dawn, I seem to have been blessed with marginally passable weather after drizzle most of the day yesterday. This certainly makes ridge navigation much easier, although I was prepared to do in whiteout if necessary using the GPS. Before too long i discovered that this route was / is/ or should be a locally kept best secret. It is not marked as a route on any map, buts parts of it are poled and rest has a trail of serially numbered stoat traps ( just join the dots) at 100m intervals. However the view is incredible and the walk gentle, not too many ups and downs, just a great range traverse at about 1700m. (The route follows the entirety of the ridge at left.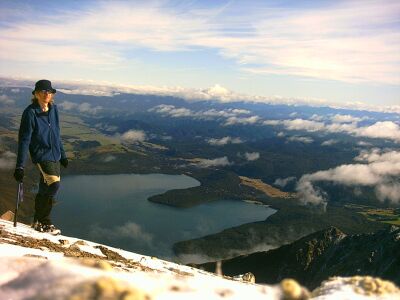 I took scads of photos on the ridge, but alas bandwidth, mumble mumble, i had to chose one, so, this is it. Near the end of the range you are literally up in the sky above St Arnuard and Lake Rotoiti, and you feel it. You also feel it in the knees and ankles upon the 1100m plummet straight down the St Arnuard track, back to town, aching but happy,
2008-10-25 www.zoneblue.nz/cms/page.php?view=trip-3-travers-rainbow