Gear list
Main items
Pack--Macpac cascade 90liters. These are tried and true packs for longer trips. My only comments are these: a) the ice axe attachment point is too high so the tip of it protrudes over the top and catches on bush. My vote would be to get rid of the lower compartment zip which noone uses so it can be mounted lower. b) the lower compression strap attachment point is weak.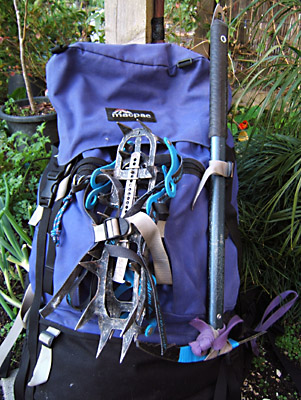 Mine are coming off now.
Parker--North Ridge, cheap 2 layer goretex clone--suprisingly fine, and didnt have to worry about damaging a $500 jacket.
Boots-- Salomon GTX7 Protrek. The tramping/climbing compromise boot is traditionally a challenge. I found these excellent above the bushline despite their narrow fit. Their rigid full shank means little twist and good edges on the snow. However despite the differential lacing locks, any distance over 15kms on the flat left me with sore feet. The only other boot I can think of worth trying would be Meindel Makalu Pro next time. An early failure in my first pair resulted in an excellently prompt warranty exchange from the Salomon distributor. 10 points there.
Gaiters--Macpac trekking gaitors, black. Cheap, but wear out quickly no matter what you spend. I repaired mine three times and they survived the trip.
Crampons--Austria Alpin 12 point strapon. Everyone i met said that semiauto crampons dont stay on well enough on boots with even the little flex these have. I had no issues with these, and they look like theyll give many years service.
Ice axe--Trango 65cm walking axe. This axe is made of a surprisingly light and yet surprisingly strong alloy of some kind. It does tend to blunt if misused on rock, er, as is sometimes the occasion. I chopped off the fixed leash and also the rubber lip on the handle, which impedes snow penetration.
Hydration bladder--Platypus 2litre big zip 2. I have to say that these are brilliant. I think this is the first trip ive drunk enough fluids above the bushline. Over 15 weeks of continuous daily use not so much as even the suggestion of any taste. The zip works, and the bladders are simply very very hard to destroy. I saw much older ones that mine that were still not leaking, even though they looked like a mangy old screwed up plastic bag. One complaint though: the bite valve comes off too easily and i lost 2 before buying a Camelbak bite valve. These stay on better, and also you can get their right angle tap peice which is double good. However the Camelbak bitevalve takes more sucking for the same result. Take spare bitevalves! The hoseclip also breaks, but can be repaired.
Shelter
Sleeping bag--Domex Pioneer Endurance Pertex , 700g of 600weight down. It`s rated to -16 degrees, but for my lean body, I need thermals on below about 0. However at least half the time I used it unzipped because it was too hot. I still don`t like the way the down shifts around. They state this is an advantage, as you can manage the warmth, but I find it moves too quickly, like overnight. Its compact and lite, and all round I was happy with it. Our other Domex bag has a more filled feeling and the down stays put. Still made in NZ, which is more than you can say for Macpac or Fairydown, whose bags are much more expensive.
Silk liner--Domex, worth $45 anytime. Very compact.
Waterproof Sleeping bag bag--Sea to summit , roll top pvc/nylon--excellent.
Fly--2 person, about 2.25m x 2.25m. Could be a bit longer in my view.
walking stick used to support fly.
Pvc coated nylon groundsheet, about 1m x 2m
Closed cell foam mat cut down to 73cm long, used only occasionally
Gadgets
Locater beacon--GME 310, 21.5/243MHz. Kept in the small `map` top pack pocket. Take the pack, even on day trips.
GPS-- Garmin Etrex, reliable and worth taking. I get about 7 days out of 1 pair of NiMHs, with management. Quibble: the top left battery contact for some reason is a spring and this has now broken off. A little silicone grease on the seal keeps the water out.
Watch--Highgear summit compass/altimeter. Seems to use batteries, and gets unstable near the end of battery life. Otherwise excellent. This is the first trip ive used one on and its indispensable now. Above the bushline they tell you pretty much exactly where you are on the map. With daily pressure calibration they give you useful weather information.
Camera--Fujifilm 4MP E500 camera with 512MB xD card. Proved reliable and easy to use. About 5 days per pair of NiMH.
Camera case-- Delsey Gopix shock and splashproof case. Excellent top opening model, can be opened and closed with one hand. With a modified strap so I could wear it around my neck tucked securely under the pack`s chest strap, see photo.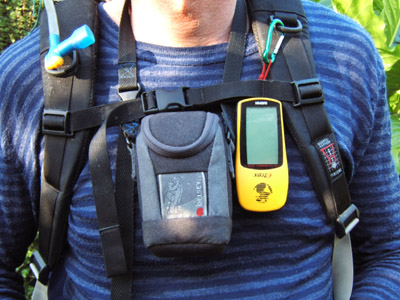 Cooking
Stove--Trangia meths stove, basic model, now 20 years old and still going. Takes a while to get going in very cold situations. Take a foil windshield for outdoor use. � litre of meths per week in original retail container stored in rear pack pocket
*Pot/utensil-- one 6x3 inch stainless pot, sized to store above inside and
one stainless spoon
Travel Clothing
Feet-- thick wool sox, 1 pr + 1 pr to replace wet ones
Legs-- summer weight polyprop longjohns, one or two pairs, under Macpac cross terain shorts--excellent.
Upper body--summer weight polyprop top with long sleeves under
Fariydown `Zone` windfleece jacket, with full length zip--excellent, lived in this while walking. Quibble: needs more upper pockets and less in the waist strap zone.
Head--Doyle`s polarfleece `sun` hat--keeps you warm and protected from the sun. Cheap sunglasses.
Hands--windfleece gloves. I lived in these too but went through 3 pairs. They don`t last at long when in contact with rock: they wear through in the finger tips. I tried 3 brands: Black diamond, OR, and EarthSeaSky and none lasted more than 8 days heavy use. They arent that cheap either, about $50 ea. There has to be a better way.
Hut clothing
Winter weight longjohns x 1
Polarfleece trousers
Thermal top, ice breaker, woolen--excellent, I lived in this when not moving.
Spare polarfleece jacket, short zip
Mid weight polar fleece top, short zip
Spare sox, heavy woollen x 1
Spare polar fleece hat, used a few times when I lost my main hat
Sunhat, used from end November onwards
Spare polyprop gloves, not used even once
Spare polar fleece gloves, used a few times
All stored in large home made pvc coated nylon waterproof drawstring bag, sized to fit profile of the pack and about 18` high. Make sure the pvc side is outside the drawstring, or it wont close.
Misc
Sunglasses plus spare sunglasses
Route guidebook, Moirs Northern and Brabyn Southern
Maps, 50K series mostly printed from CD
Waterproof map cover--Sadly no one seems to make these for A4 sheets. $2 PVC stationery pouches with zipper on the long side work well folded in half, but only last about 14 days. I also used a PVC velcro top pouch I got from Living simply in Newmarket, which while too big was durable, and has an attachment point to hang it from. Maps are real easy to lose! Folded in three I tucked it down my windfleece, and secured it with a cord around my neck.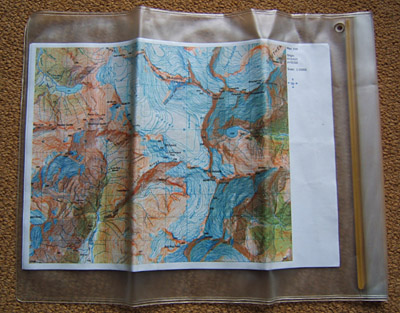 Manuka walking stick, about 20mm x 1m
1 thin scifi novel
1 small notebook for trip journal notes
small amount of newspaper for drying boots after river sections.
20m of 6mm emergency rope, not used
Nylon overtrousers, used twice
First aid kit in small tupperware box, see below
Survival `bag of tricks` in drawstring bag, see below
First aid kit
12x3x4cm tupperware that lives in top pack pocket containing:
Elastic bandage x 1
Sterile dressings x 6
Steristrips x 6 --next best thing to stitches
Bandaids
Tape
Rescue remedy
Tweezers
Spare torch bulbs--using NiNH on Maglites: take lots!
Annual hut pass, a a few hut tickets
Spare pen
Spare matches
Sun block in a film canister
Spare Lip sun stick
4 needles
`Survival` bits and pieces kit
Small draw string bag containing:
3mm cord, about 20m
Pocketknife, swissarmy
Compass.
Whistle
Pen
Lighters x3--note that these don`t work that well when cold or wet
Torch, mini maglite with mouth holder accessary-- about 14 days per pair of NiMH
1 pr of spare NiMHs in plastic case--keep these dry or they rust
Mini tripod, alloy--about 6 inches in length with telescopic legs.
Repair kit: thread, velcro, square of heavy duty nylon fabric.
Small roll of electricians tape
Spoon
Lip sun stick
Key ring size emergency LED torch--useful to locate spare bulb for maglite! Still looking for a robust 2AA LED torch.
Car key
Cooker wind shield
Strips of rubber inner tube for emergency fire starters
A few other things I cant think of just now
This bag is in daily use, and is about 12x16cm all up.
This, along with maps, books etc, are in turn enclosed in a second smaller Sea to summit roll top waterproof bag sized to the pack top pocket.
2008-10-25 www.zoneblue.nz/cms/page.php?view=gear-list